The world is recovering from lock-downs where we had to put aside outdoorsy hobbies such as fishing. Most of us had time on our hands where we could learn to grow a herb garden or make sourdough. Now its time to get back outside and into nature, whether camping, hiking or my favorite, fishing! The Travel Virgin unveils 'Best Backpacks for Fishing-Top 25 Picks for 2022'.
This website contains affiliate links. If you use these links to buy something we may earn a commission.
We independently research and recommend the best products
If you're new to fishing, you may not have everything you need but as you gather your supplies, there is an important item that you will need. Sure, you might have a rod and a few hooks, but where are you going to keep your bait? Your lures? Your lines?
Whether you're a seasoned fisherman or a newbie, 2022 is the year to revamp your fishing gears. What better place to start than with a new backpack? We've compiled a list of the 25 best rated backpacks that will surely bring your fishing game up to the next level. Whether you're on a budget or willing to spend a little extra, we bet you won't be able to pick just one!
The Wild River NOMAD has a lot going for it. Not only is the backpack itself large enough to hold everything you need for an overnight trip, whether that be strictly on the water or also with a little camping too, with one reviewer commenting that they could fit multiple spare shirts and a coffee thermos for early morning fishing, but the pack itself also allows for fishing at all hours with its integrated lighting system. The price is a little steep, but you're getting a heavy, resistant material bag and four tackle trays to keep all your gear locked and organized.
While not the most compact tackle bag, it is marketed as Elkton's "extra large" option, what the rolling fishing tackle box has in its favor is right there in the name. It rolls, giving you multiple options to transport everything you need. Have a lot of gear weighing you down or just too tired to carry your tackle strapped to your back? You can roll your gear behind you without having to worry about wearing a hole in the bottom of your bag. Hiking through some rough terrain? Just strap that bad boy to your back and put your mind at ease.
Here we have an affordable option for beginners who want something a little cooler than your grandpa's plastic or metal tackle box. The sling design makes the bag perfect for multi-function use, take it fishing, hiking, climbing, whatever adventure you have in mind, this bag is perfect. It's not as big as some of the options on this list, making it great for the casual fisherman. Someone who doesn't need multiple trays of bait with them. What it lacks in storage, it makes up for in its flexibility. You'll never have to worry about fumbling with your tackle bag again.
Liked the Pond Hopper but were concerned about the lack of a tackle tray? Not to worry! That's an option too with the "Large" Pond Hopper sling with box. While it's the same size as the version already listed, the added box really makes this a must-have for the amateur fisherman who wants everything all in one place but who doesn't need a huge bag to carry a ton of gear. The rest of the design is the same. Same hands free ease and dual pockets. Same sleek design making it perfect for the cool, modern fisherman in your life.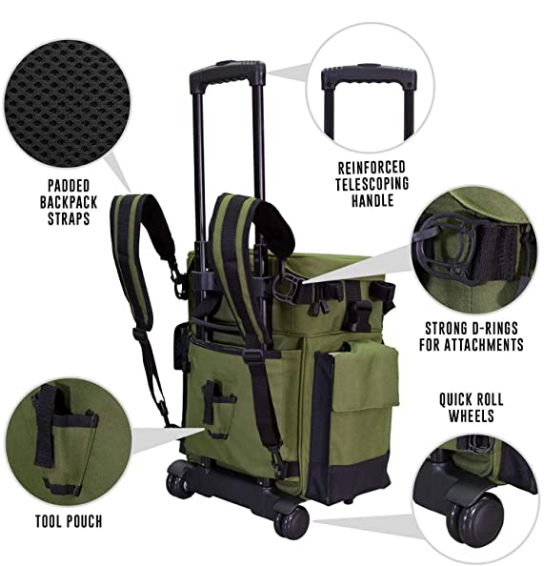 The Rodeel backpack is another budget-friendly option for both beginners and veterans at the fishing game. It's large enough to hold multiple tackle trays, so the well-prepared newbie and seasoned vet will have plenty of space to hold all their gear. Don't need that many trays? Well, lucky you! You've got extra space for anything else you need for an overnight trip, so you don't have to cut your fishing trip short to head back home. It's a heavy-duty option perfect for all weather and all terrain. You won't be caught unaware with this strapped on, and you'll look good wearing it!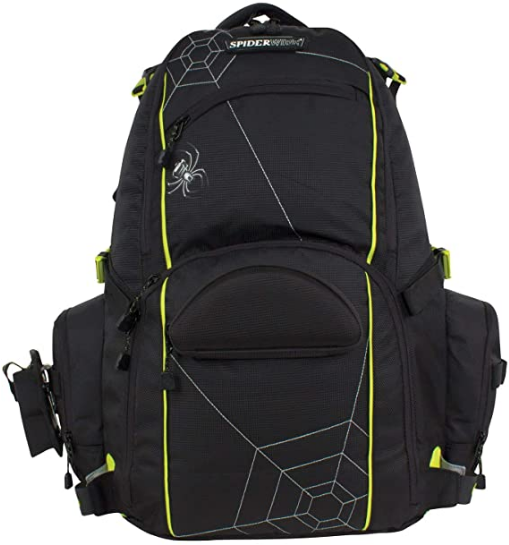 We're back to our pricier options with this one, but it's well worth it with the Wild River tackle bag. Like more than a few other options on this list, this bag comes with two tackle trays, but there's room for more than that. You don't have to worry about not having the room to hold everything you need for a day on the water. Want to go for some pre-dawn or night fishing? Don't worry about fumbling for a light, the bag's got you covered with its LED light system. It's even got a USB charging dock, so you don't have to worry about draining your phone battery.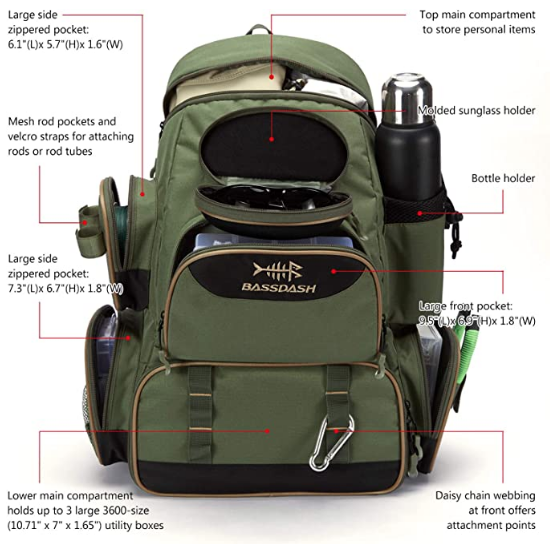 This bag has it all for the adventurous fisherman. It's affordable, sleek, and, above all, versatile. A notable feature of this bag that sets it apart? Whether you prefer a sling or a two-strap bag, this is your bag. The straps are adjustable and can be suited to fit whatever is best for you. A downside? This bag is, again, on the smaller side, so it's not for you if you like to bring a lot of gear on your fishing trips. It's also water repellent, not water-resistant. So, if you're the type to bring electronics with you, keep that in mind.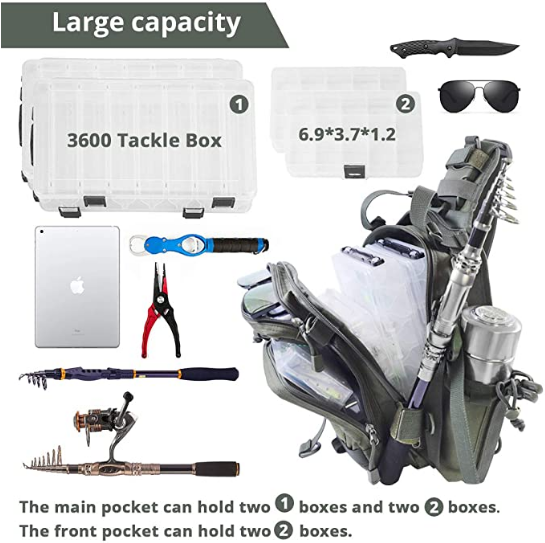 For a newbie this is a great choice! This bag covers a lot of bases to put your mind at ease. Worried about bringing valuables with you while you're out in the wilderness? This bag's got a false bottom. Worried about the discomfort of hiking long distances with your bag strapped to you? The Day Tripper has padded straps and a padded back. Worried about the saltwater eroding the material? Not with this bad boy! You don't even have to worry about having to carry your rod. It's got pockets for that so you can be hands-free to and from the water.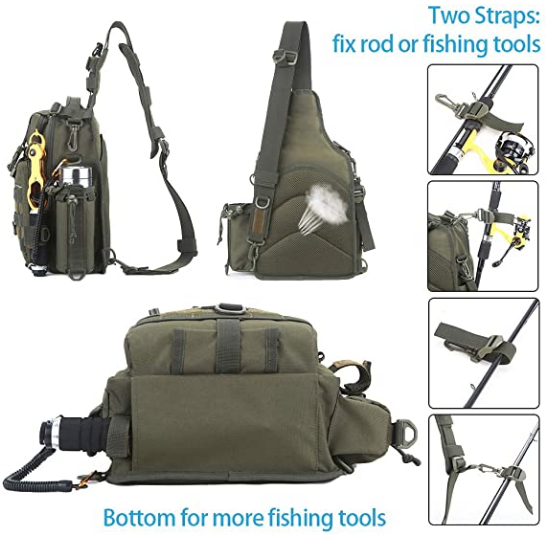 This tackle backpack has a nice balance of size and price. It's got multiple pockets, so you don't have to worry about throwing all your stuff into one big pocket. You can stay organized so you can get what you need right when you need it. This bag's also good for the fisherman who likes style options. Unlike some of the other bags on this list, this one's got different patterns and colors to choose from so you can choose the one that best fits your style and needs or those of the fisherman in your life you want to surprise with this beauty.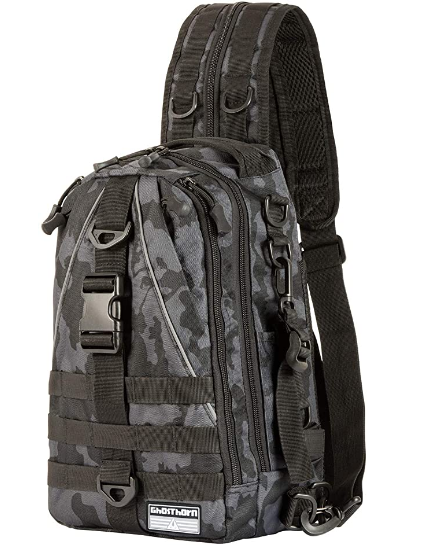 This bag claims to be all you need for a fishing trip in one compact place. It's got all the pockets you could ever need to keep your gear organized, including a hard pocket for glasses (sun or otherwise). It's waterproof and has a rain cover so you don't have to let a little drizzle keep you from going out fishing. Even the zippers were designed with quick, easy access in mind. They come with loops, not tabs, so you barely have to think if you need to grab something from your bag. This bag is your choice for a relaxing day out fishing.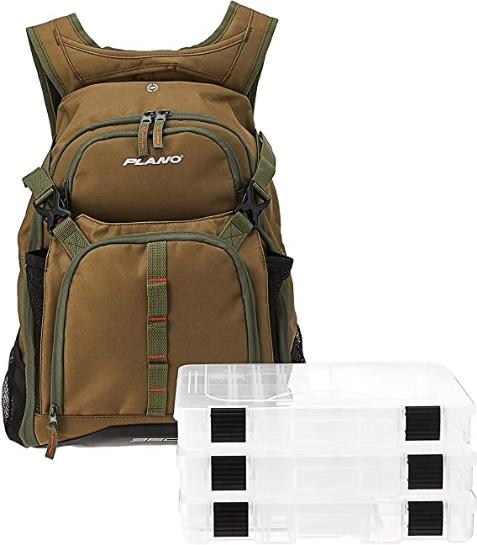 The Plano E-Series may seem like a simple backpack, but don't underestimate it. What it lacks in flair, it makes up for in function. Everything about this bag is intentional to make it an essential for your day out in the wilderness and out on the water. Its bright orange interior makes it easy to see what you're looking for, even in low lighting. It comes with three protective tackle trays to keep your gear organized and safe from the elements. Even the color is perfect for blending in while out in the woods if you're a camper and not just a fisherman.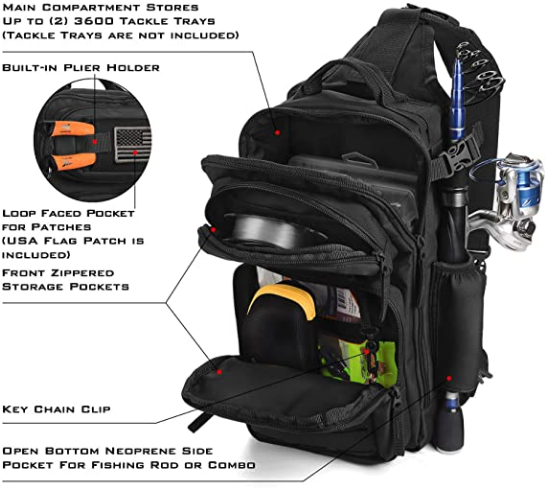 This KastKing design is made with the adventurous outdoors person in mind. Being able to move around with ease while keeping your gear safe is the top priority. Its padded adjustable straps make it great for long days out hiking to find the perfect remote fishing spot. Even the most disorganized fisherman would have trouble misplacing things with its organization system that has ease and function in mind so you can go with the flow and focus on having the time of your life out on your fishing trips. On top of that, it's an inexpensive option to suit the fisherman on a budget.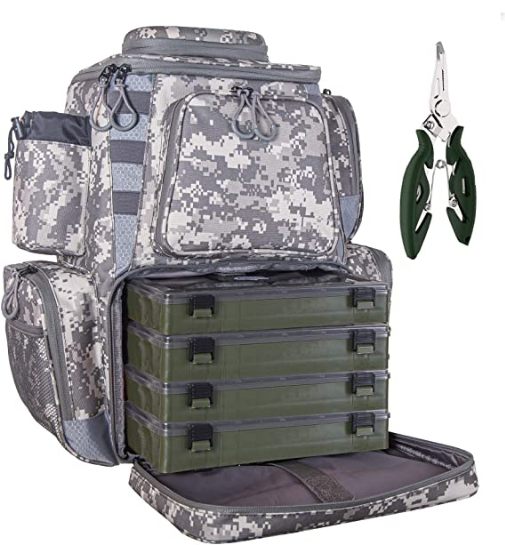 Looking for an all-in-one tackle bag that doesn't break the bank? This might be the backpack for you. It's got all the features that make a great tackle back. Loop zippers, waterproof zippers to make sure no water seeps in to ruin your precious gear and belongings, all-weather material so you don't have to wait for a sunny day to get out there and go fishing. It even comes with tackle trays and a rain cover, so you've got all your bases covered with one simple order. This bad boy even comes with its own set of fishing pliers, so you're all set!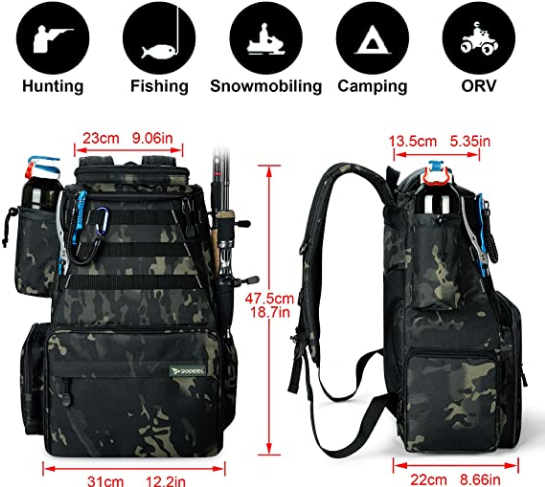 Did you like the Rodeel bag listed earlier, but were worried about the size? Then this one's got you covered. This bag can handle four large tackle trays, so you never have to worry about space. You'll have all the room you need for any fishing trip short of being a commercial fisherman. Despite how much it can hold, it's not a bulky bag, you won't look like you're about to go backpacking through Europe with it on your back, so it's perfect for everyday use. You'll be ready to make each day an adventure with this bag in your life!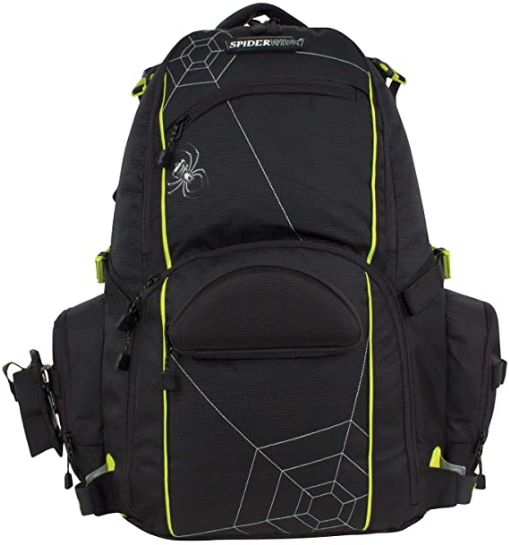 Simple can be best. That's the case with the Spiderwire tackle bag. It comes with three medium tackle trays which fit comfortably in the bag's lower compartments while the upper compartments are designed to keep any of your other belongings safe and secure. You can even adjust the storage compartments to suit your needs. What more could you ask for? Oh? You're concerned about having to carry your tackle bag and a cooler? Not with this bag you don't. It's got an insulated compartment so you can keep cool items cool and warm items warm without having to worry about lugging around something else.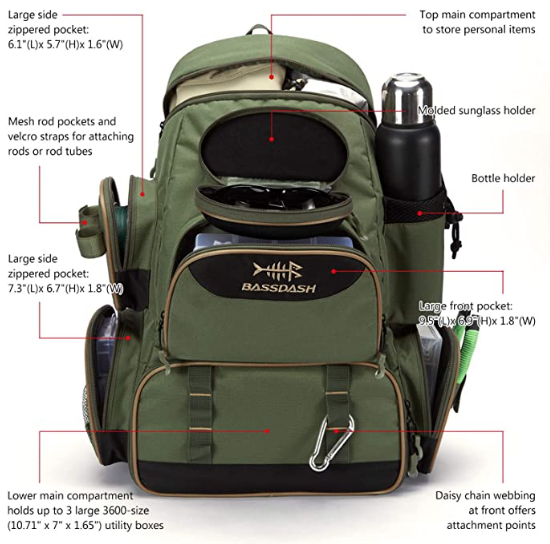 Is your main concern comfort? Then, look no further, you've found the right bag! Just a quick perusal through the reviews of this tackle backpack and you'll have your mind at ease. The votes are in, and this baby's got comfort in spades. It's padded which makes it soft enough that the only workout your shoulders will be getting is from lugging home your haul at the end of a successful day out fishing! It's even got comfort in organization. You can choose to have anywhere between six and eighteen compartments depending on your needs. Your mind and your shoulders will thank you for this one!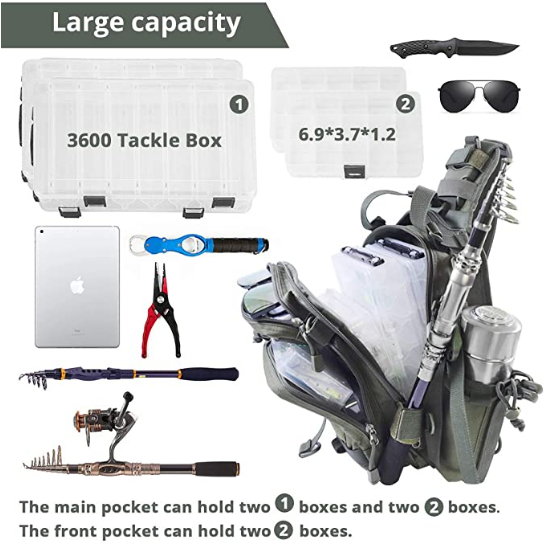 This is your best bet for a budget friendly bag without having to sacrifice quality. It's made from a durable nylon that is suitable for all weather conditions. It's got strong stitching, wide, adjustable straps, and it's water-resistant. This backpack is not as fancy as some of the other options on this list, but its price is the real draw. It's not a tiny bag, it's not going to fall apart at the first sign of rain. Really, whether you're new to fishing or you've been doing it for years, this is a reasonable option if you're in the market for a new tackle bag.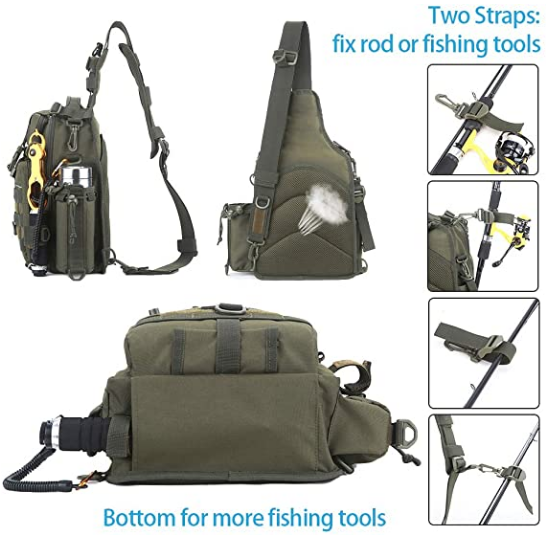 This bag is marketed as being "magical", I mean, what more could you ask for? It might be the game changing tackle bag for you! Its straps are both adjustable and detachable so you can change them up however you need them. It's even got fish grippers so you can show off your catch of the day all the way back home if you're the type of fisherman who likes to flaunt his talents. You'll look like a pro with this bag as part of your gear. No one will doubt you're a serious fisherman, whether that's true now or still a little down the line.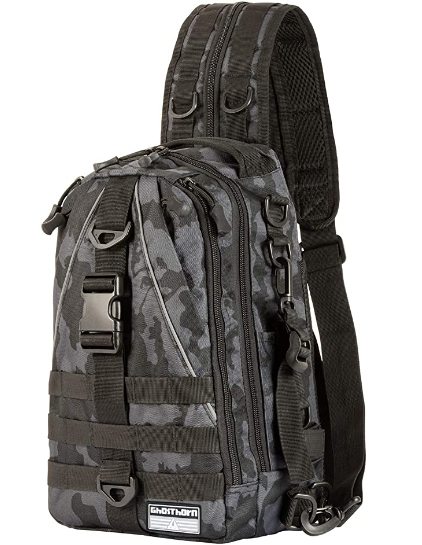 Do you want a tackle back that's compact and doesn't confine you to one way to tote it around? The designers at Ghosthorn have you covered. This bag can't hold as much as some of the larger bags on this list, but not everyone needs a lot of gear with them! It can still hold everything you need for a great day on the water. Its straps can be adjusted to be worn not one, not two, not three, but four different ways. Despite its small size, it's still got an expandable water bottle compartment, so you don't have to sacrifice hydration either.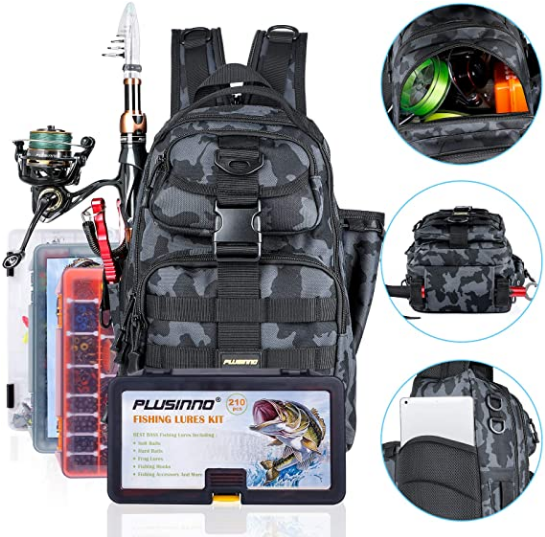 At first glance, this bag may look small, but don't let looks fool you. One user claims this bag holds four, count them, four tackle trays. That's nothing to sneeze at. Another user can't get enough of how many versatile pockets this bag has. It's got a rod belt for hands free, easy transport, which is double the case if you prefer a collapsible rod. You'll be a regular outdoorsman with this bag. You'll have everything you need within reach for the water or the woods. No matter the type of fishing trip you go on, you'll be happy to have this bag.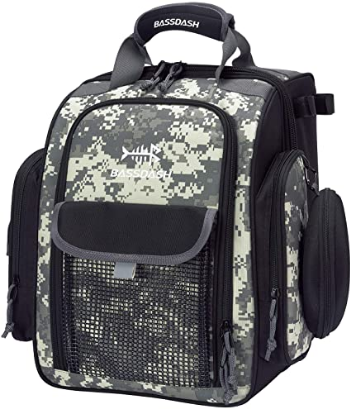 BASSDASH has another installment on this list, and for good reason! It's hard to pass up this option. The bag is compact, but still manages to hold four tackle trays and has side straps for two rods. It's not only got multiple internal pockets, but they're zippered to boot, so you don't have to worry that some jostling will undo all your meticulous organization. It's got mesh straps and has ergonomics in mind so you don't have to worry about discomfort so you can fish all day with ease. There's space for all your gear and a few personal items as well, you'll be all set.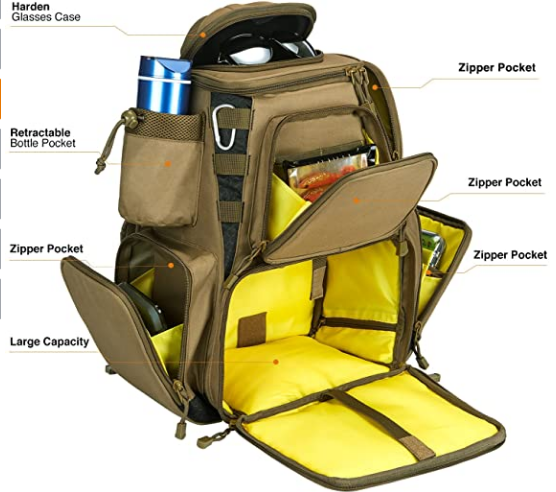 This bag claims to be 20% more water resistant thanks to its special sewing technology, which may make it the perfect bag for the fisherman who doesn't mind getting into high water. Figuratively and literally! This bag boasts a large main pocket that can hold four tackle trays (included with the bag), a hard and protective glasses pocket, a retractable pocket for nearly any sized water bottle or thermos, and more. You won't have to worry about running out of room with this bag in your possession. Amazon prices can change, but it's worth noting that khaki seems to be the most cost-effective option.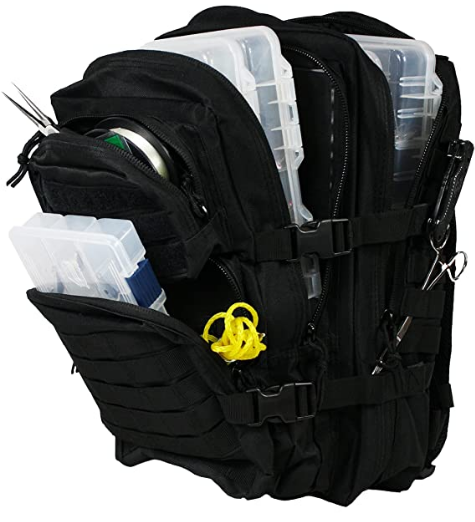 The Osage River is essential if you plan on trekking through slippery or steep terrain to get to your favorite fishing spot. Specially designed to help you keep a lower center of gravity, so you don't have to worry about your gear making you lose your balance. It's got enough storage you can hike hands-free and its mesh padding will help keep your shoulders from aching even after a long day of wear. It's a compact bag that can stretch to fit all your gear, so you can travel with ease. There are numerous colors available, go find your favorite!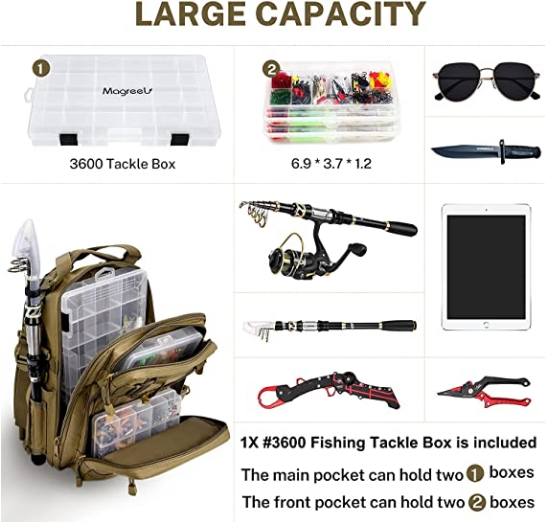 Premium, durable, and efficient are all words that can and have been used to describe this tackle backpack. It's not fancy, there are no lights, no frills, but it gets the job done and at a price that can't be beat if you're just looking for a simple bag to do the trick. It can hold one large tackle tray and two small tackle trays, so the average fisherman shouldn't have a problem with fitting everything they need. You'll be able to keep all your gear safe and organized with this bag. This bag would be a great way to start your fisherman journey.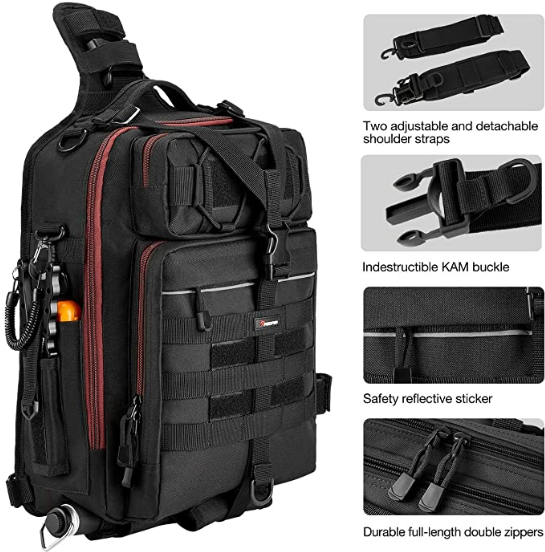 This bag has your peace of mind as a priority. It has thirteen pockets, so you never have to worry about digging through one big compartment to look for your belongings, but that's not all. This bag is perfect for areas with low visibility thanks to its reflective sticker detailing so you never have to worry about being caught in the dark. Add that to its adjustable and detachable straps that can make this bag both a sling and a backpack for maximum flexibility while on the move and its adjustable straps to keep your fishing rod safe, it's an option that's hard to beat.
Did you find something you like? How could you not? With so many options available, you'll have no trouble picking a new bag from our list of the best! Now, get fishing!
Recommended Reads