Best Resorts in the US-Top 30: When you find the perfect place for a getaway, you cannot wait to share it with others. The Travel Virgin unveils the top 30 resorts of all times in the US. Come savor with us the best of what America has to offer in splendor, comfort, cuisine, luxury, and the outdoors.
 1.     The Lodge at Woodloch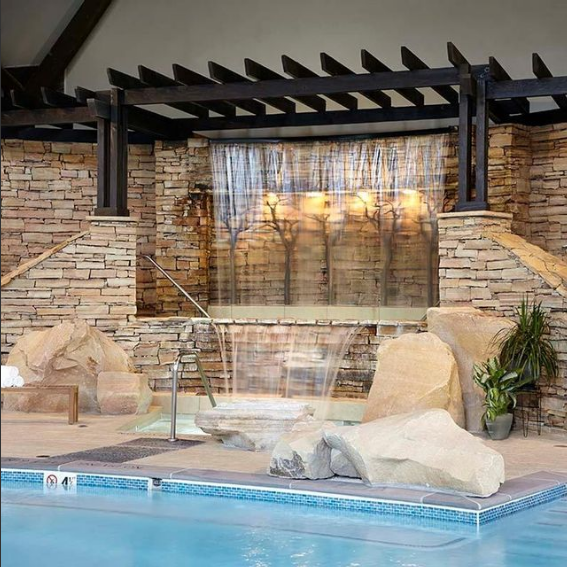 Look no further to embrace an experience of personal awakening. A holiday is an opportunity to shift your focus away from the whirlwind of life and unto yourself. Where is a better place to accomplish this than at a quiet and serene resort in northeast Pennsylvania on a 500-acre wooded resort with a private lake? This resort is just ninety miles from New York, making for an excellent quick getaway as well as a long stay vacation.
Arrive under a porch that enters a garden hall filled with plants. The 14-foot glass cupola provides a breath-taking view of the lake. All guest rooms feature private verandas and elegant plush decor with oversized marble bathrooms. All three restaurants use only the freshest local ingredients, or from the resort's garden. The 40 000 square foot spa with 27 treatment rooms is a must-visit. Connect with one of the three different forest bathing instructors for a luxury experience of relaxation.
Outdoor experiences include fly-fishing or trail biking trips through the woods. For the plant lover, there are garden programs, and the braver hatchet-throwing might do the trick. Archery and disc golf are also available to try your hand at. There are also fitness and mind and body programs available.
Spoil yourself with the finest cuisine, such as marinated lamb loin with mushroom risotto, balsamic reduction, or haricots verts. Overnight packages include beautifully crafted gourmet meals for dinner at arrival or lunch before departure. Treat yourself to a classic cooking or baking demonstration by the chef's kitchen.
2.       The Ranch Malibu-Best Resorts in the US
This intimate, iconic wellness retreat, is accessed by a gorgeous winding road into the Santa Monica mountains. Moreover, it is the quieter, more exclusive side of Southern California. This resort has had a rich history since 2010, with a following of global celebrities, rich business types, and wellness fanatics. This ranch welcomes only 19 guests at a time and offers exclusive wellness programs. There are absolutely no photos allowed here(To protect the rich and famous).
Each of the nineteen guest cottages has a queen-sized bed (It is 1 person per cottage unless couples request to share). The rooms are decorated, with a neutral color pallet that is gentle on the eyes and the spirit. The retreat has limited Wi-Fi and no television in the rooms to limit the outside world.
The cuisine is earthy, crunchy plant-based, and anti-inflammatory as part of the detoxing program. Most of the ingredients are sourced from the onsite garden or local farms and are organic. Favorites are warm spinach or zucchini lasagne made with homemade dairy-free ricotta cheese.
Enjoy a four-hour hike every morning before breakfast. Relax with yoga, meditation, and long hikes during the day. You never really leave the ranch as the staff keeps you busy from sunrise to sunset. The idea behind the ranch is to bring a new level of mindfulness to your body. With the addition of cooking classes, you can bring home the new cuisine experience.
3. Mandalay Bay Resort and Casino
If you are a night owl this is the perfect vacation destination for you. Try your luck gambling the night away, see a play at a theatre on site. Hang out at the water park, (complete with sand) in the afternoon or visit the shark aquarium. Treat yourself to a spa visit at the 30 000 square foot spa with the previous night's winnings.
Mandalay Bay Resort & Casino is one of Las Vegas's largest resorts accessible by tram and abuzz with action. Here the possibilities are endless, whether you want to relax, party, or go sightseeing. Be sure to visit the famous libertine Social Restaurant to splurge on a meal prepared by the famous James Beard award-winning chef.
4. Salamander Resort & Spa-Best Resorts in the US
This pet-friendly retreat in Middelburg, Virginia is ideal for families with young children or business travelers. The rooms are spacious with balconies and terraces.
The horse décor fits in well with the equestrian theme of the resort.
There are a lot of outdoor activities such as golf, tennis, fishing, riding, and, of course, a swimming pool.
What set this retreat apart is the unique 22-stall equestrian center. On top of this, there are nine paddocks and a riding arena. This is an ideal resort for the outdoors person or someone that loves to take their pets with them on holiday.
5. Miraval Berkshires Resort & Spa
If you want to get away from everything this resort in the heart of the Berkshires is the place for you. Be warned however that this is a device-free resort. You may have your cell phone with you if you do not make loud calls.
Miravel has an amazing 29,000 square feet spa with a large variety of treatments. Messages consist of Swedish, Thai, relaxing, energizing, and more. The Deep Mountain Massage with arnica and rosemary is recommended and will surpass your expectations.
There is a myriad of activities such as an epic pool area perfect for lounging, beekeeping classes, and rescued horses for equine therapy. If you want to be in sync with nature, this is the place to be. The food is provided directly from the farms and the mindful eating program equates to smaller portions but you can order two main courses if one is not enough.
6. Carillon Miami Wellness Resort-Best Resorts in the US
This resort offers the best of sunny Miami, nestled on a swath of Mid-beach. The all-suite hotel has been renovated in 2017 and guest accommodations are now a minimum of 720 square feet, with a full kitchen, common spaces, and F&B concepts.
There's also a whopping 70,000-square-foot spa; more than 300 complimentary fitness classes offered each week; four pools; and an onsite doctor overseeing medical wellness.
The New Strand Bar & Grill overlooks the ocean, and the restaurant serves up organic produce that is in season in South Florida. For the outdoors or fitness enthusiast, this is a must-visit.
7. Miraval Austin Resort & Spa
Miraval overlooks a lake and two nature reserves with breathtaking views and is just outside Austin. You will not want to leave the resort, but the city is close enough if you need anything.
The 117 rooms have recently been renovated and are serene, and restful. All rooms have private balconies and look out over the hill country. Some rooms overlook Lake Travis, with its many boats. Thoughtful details include full-size amenities, meditation cushions, slate tile work, singing Tibetan bowls, and plush robes and slippers.
The food is healthy and all-inclusive. Breakfast and lunch are self-serve with kale salads and gluten-free pancakes. Dinner consists of dishes such as steak with vegetable purees to scallops with a passionfruit sauce.
Amenities are abundant with 30 treatment rooms and more than 75 treatments offered at the spa, cooking and cocktail classes, an equine center, two pools, and an onsite farm.
8. Miraval Arizona Resort & Spa-Best Resorts in the US
This, adults-only resort, is spa heaven in a desert. It is an hour's drive from Tucson city international airport, situated in the Santa Catalina Mountains, 25 miles north of downtown. Since the ranch is in the desert, it provides immediate access to hiking and biking trails.
Miraval is all about health and wellness. The resort fees are inclusive, and transportation to and from the airport, and all the healthy meals, over 120 wellness activities, and snacks are included in the rate. Wellness activities include:
highly active—bodyweight training;
the beekeeping program;
the Sonoran Desert walking tour;
Cooking classes are available, and you can consult dozens of experts on everything, from your diet and many other subjects.
There are 5 restaurants and bars, such as the Cactus Flower Restaurant where you can create your own food experience; Palm Court where you can enjoy smoothies, fresh juices, gourmet coffees, and small treats; Brave Bill Lounge for light snacks and full bar, Oasis Poolside Bar, for casual eating and drinking, and the Brave Bill Lounge.
9. Blantyre
If you are looking to be spoilt by friendly and warm staff, the Blantyre in Berkshires is just the place for you. It is a Tudor-style country house on 117 acres. The Blantyre is furnished, with nineteenth-century antiques from France and England.
In the guest rooms, you will find extensive book collections, fireplaces, and fabric-lined dresser drawers. The main dining room offers live piano music and a country-house dinner menu with French influences. The food is average and is complemented, by an extraordinary wine list. In the winter, snow barbecues are held at the tennis courts, transformed into ice rinks that are one of a kind.
10.  The Greenbrier-Best Resorts in the US
This national historic landmark, established in 1778, has been the host of many famous people, including 27 presidents. This true grand hotel offers something for all ages. Laying in a picturesque mountain setting on 11000 acres with no less than 5- golf courses, this resort is a must for every bucket list.
The resort offers signature rooms that feature Dorothy Draper Decor, although the deluxe rooms have a more subtle decor. Legacy cottages and Greenbrier estate homes. Do not miss out on their chocolate showpiece that is carefully handcrafted, by the award-winning pastry team under the supervision of the executive pastry chef and U.S. chocolate master Jean-Francois Suteau.
This hotel offers something for all ages. Play a round of golf, rejuvenate in their luxury spa, treat yourself to a yoga session, or try your hand at gaming. For the children, there are storybook readings. The phrase shop till you drop is definitely appropriate here as The Greenbrier boasts 10-lobbies, thirty shops, and twenty eateries.
11. The Equinox, Resort & Spa
Located in the heart of Vermont's beautiful Green Mountains in the Manchester Village of Vermont. The Equinox provides the perfect base for outdoor explorations. Stunning natural landscapes surround the resort. The resort provides unique experiences you won't find anywhere else, in a relaxing atmosphere.
Steeped in history, the Equinox is an icon of life for two centuries in New England. Since 1769 the Equinox hosted presidents, served as a hotbed for American Revolutionaries, and hosted guests in one fashion or another. This scenic 1927 Walter Travis-designed golf course is a challenge to any player's ability. Enjoy the crisp air and spectacular views of the surrounded spectacular mountains views.
Relax, unwind, and recharge in comfortable accommodations with contemporary amenities. Rental guests enjoy full resort access to the spa, a state-of-the-art fitness center with a heated indoor pool, daily fitness classes, golf, tennis courts with a mountain view, outdoor hot tub, steam room, sauna, & complimentary Wi-F
12. Cal-a-Vie-Best Resorts in the US
Forty-five miles north of downtown San Diego in Vista California, lies an idyllic wellness retreat. It looks like a picture right out of the French countryside magazine. It is a beautiful setting with rolling hills, lavender fields, and vineyards. A beautiful building with chateau chick rustic woods decor, antiques, and glitzy chandeliers make you feel relaxed and right at home.
Enjoy cottage-style charm with antique furniture. There are 32 villas and suites, plus a private outdoor area. Each room comes with a fluffy king-size bed, including a memory foam mattress, comforters, and down pillows. Don't forget the towel warmers and huge tub to relax in after yoga.
Accommodations, food, unlimited fitness classes, and multiple spa treatments, with various stay options as well as airport shuttle are included in the amenities. Wi-Fi is generally strong and included in the rate. The Wi-Fi is excellent for those that crave some deep, restorative sleep.
13.    Ojai Valley Inn-Best Resorts in the US
If you are discerning, yet laid-back luxury seekers that appreciate the finer things in life, you are at the right place. As you arrive at this magnificent Spanish revival hotel, time seems to slow down. In the tall oak trees, birds chirp happily. Peaceful streaming fountains provides serenity that relaxes you immediately.
Retreat to a warm fireplace in your room. Relax and soak in an oversized and separate shower. Hand-painted granite tiles and cobalt blue accents accentuate the Mediterranean design. The opulence of their 300-thread-count Egyptian organic cotton sheets make you feel like the bed is as plush as can be, and you'll feel like royalty.
Enjoy a spa treatment in the afternoon. Visit the pool and drink in the magnificent views. There is Wi-Fi but remember you are there to unplug.
14. Shou Sugi Ban House
As the first higher-end wellness retreat in the Hamptons, Shou Sugi opened last year. It is a discreet area in the Hamptons on a back road. Greeted with an oversized buddha when the gates open one know you are in the place of relaxation and meditation. Inside the gate lays a three-acre thoughtfully pebbled landscape.
We are met with a low-slung spa in front of the main house. Large comfortable plumb white sofas greet you. Fresh tomato and carrot juice are laid out on a table under a soaring ceiling creating a blissfully easy-going pace.
The 13 villas are standalone units sprawled across the 3 acres. Throughout a cream color is used for a calming atmosphere. The large white bed is very comfortable. The spacious bathroom with a wooden Japanese soak tub is a place you will want to spend long hours soaking. All the villas are decorated the same and are designed for relaxation and retreat. Strong Wi-Fi and other tech are available included in the price.
Food
Shou Sugi's food is the highlight with choices like Long Island duck breast, Quale eggs gently laid on cooked grains green salads, Grilled Japanese eggplant Danish seed bread, and lots of ripe avocados. No alcohols are served, as this is a detoxing vacation. Food is enjoyed around large communal tables. It allows conversation with fellow guests to stretch well into the night.
 15. Castle Hot Springs-Best Resorts in the US
Another historical gem, with a history so rich, smack-down in the Arizona desert. This beautiful lemon-yellow lodge at the end of the citrus lane holds an almost Victorian beauty in a desert oasis. One can excuse thinking you have entered a John Wayne movie set as you head north 50s mile from the Phoenix airport. The final 10 miles are the stuff cowboy movies are made of.
The dusty, boulder-filled road that leads to the resort, can turn from a sandy way to a rushing river in minutes when the monsoons rip through Phoenix in the summer. Descendants of donkeys set loose in the 1890s when the copper and gold mines in the Bradshaw Mountains went bust. Canyons are dense with Saguaro, (a cactus that are only growing in the Sonoran Desert).
History
The hotel first opened as a first wellness retreat in Arizona in 1896. In the early 20th century, patrons like the Roosevelts, Wrigley's, and Astor's, wintered at Castle Hot Springs. The U.S. Government leased the property to treat wounded soldiers After WWII. Even President JFK spent time recovering.
The rooms are free-standing cottages or bungalows. The swimming pool is fed by a hot spring that runs from the source through the property. The cottages have mid-century decor with indoor and outdoor fireplaces. Many of the cottages have outdoor tubs for soaking with water directly from the hot springs. Although Wi-Fi is available, it is strong in the main lodge but weaker in the cottages to encourage people to disconnect and relax.
The dining is fantastic with two very talented chefs John Amann and Chris Schuetta. Plans are in the making for cooking and other farm experiences. The bar is a chat-while-you-drink place, where you get to taste work in progress as the bartender experiments mixing different drinks while talking to you.
Hot Springs
If you are soaked through and your skin is like raisins, from the hot springs, there is a cowboy who guides you on horseback through the canyon. Don't miss out on the guided tour into the desert. The guide who takes you hiking into the desert is knowledgeable about surviving on cactus and insects. He narrates stories of the presence of Navajo ghosts.
The hot springs are special and very relaxing. They are pools carved from the rock, and the water flows back into the canyon. Around the pools are lovely lounging areas. For those that want to, there are showers and towels. The best time is to go late at night, You will likely have the pools to yourself. Floating on your back and looking up at the stars in wonderment, and breathing in the fresh desert night air provides healing.
 16. Ten Thousand Waves
This beautiful spa is located four miles outside Santa Fe. Getting its inspiration from the great mountain hot spring in Japan, it looks like it was lifted straight from the Hokkaido mountains into Santa Fe. Fragrant juniper bushes and pines surround the outdoor soaking tubs.
Each space has fresh clean lines that are characteristic of Japanese design. It is like soaking up serious ryokan vibes in this sanctuary. There are two communal tubs, one for mixed bathing and one for women only. The tubs are complete with a sauna and cold plunge features, and four private tubs. Treat yourself to salt scrubs, Thai massages, hot stone massage, and foot soak.
Glow lanterns adorn the outdoor wooden walkways and stairs that lead to three different kinds of suites. The rooms are classic Japanese with comfortable beds. The Izanami restaurant is in keeping with the Japanese theme. The food is an upscale izakaya experience that serves organic produce, wagyu beef, pork, and chicken. This place is not for children, leave them at home.
17. Sanctuary Camelback Mountain Resort and Spa-Best Resorts in the US
Just outside Scottsdale lie, this modern Southwestern spread across paradise valley. The Light stucco buildings and casitas are beautiful beyond expectation, designed in a classic Sonoran design and terraced into the north slope of Camelback Mountain.
This contemporary design offers exceptional views. The rooms are in hues of blue, orange, and green. Sleep on beautiful feather beds reminiscent of times gone by. The bathrooms have travertine showers.
Enjoy a drink at the bar Jade, where a happy hour can be very crowded, but retro cocktails are fun to sample. The restaurant serves fresh, locally sourced foods. Dishes are American food with Asian accents. Enjoy your food by the floor-to-ceiling windows.
18. Canyon Ranch Lenox
This old-school, picture-perfect wellness resort is in the Berkshires. The focal point of the architecture is Bellefontaine Mansion, an 1897 Gilded Age house. It used to be a Jesuit seminary and is modeled after the Petit Trianon in Versailles.
Rooms are warm and decorated in neutral tones with Italian bed linens and cherrywood and granite bathrooms. Service is in a different class, and the staff goes out of their way to make your spa and wellness experience memorable.
It is a truly invigorating experience, enjoying the 100,000-square-foot spa, saunas, cold-dip pools, and inhalation rooms. The main dining room has views across the Great Lawn to the mountains and serves breakfast, lunch, and dinner.
19. The American Club -Best Resorts in the US
The American Club is a Five-Star resort hotel in the heart of the small village of Kohler, Wisconsin. It boasts a lovely historic property with five eateries, an abundance of courtyards, and the Kohler Waters Spa in the nearby Carriage House.
The Kohler Waters Spa features water-inspired treatment rooms and therapeutic water treatments. The Spa is also awarded a five-diamond spa in Wisconsin.
The American Club caters to many outdoor activities such as kayaking, fishing, electric bike rentals, horseback riding and archery, and much more. You can also do yoga on the lake at a studio with floor-to-ceiling windows overlooking Wood Lake.
Golfers will enjoy the scenic courses in Kohler, including Blackwolf Run and Whistling Straits along Lake Michigan.
20. Hotel Boulderado
Hotel Boulderado, in Boulder Colorado, is a uniquely historic property. Not only, is it listed on the National Register of Historic Places, with fun features like an original Otis elevator, but it provides an option to stay in the historic or modern portions of the hotel.
Hotel Boulderado is a mountain luxury hotel and a century-old historic landmark, with a Victorian style. It's just 30 miles from Denver and convenient to all the city in Boulder has to offer. You can also stroll over to Pearl Street Mall and enjoy a walk down the Boulder Creek Path.
21. The Palace Hotel
The Palace is in San Francisco's Financial District. It is centrally located and is a convenient spot to explore the city while spending your nights in luxury. The Palace offers you the amazing chance to stay at one of America's grand old hotels and provides you with an experience of how the elite traveled in yesteryear. It originally opened in 1875.
The incredible stained-glass atrium with Italian marble pillars and Austrian crystal chandeliers is the ideal place to enjoy a cup of tea.
Activities include walks in San Francisco, exploring the Embarcadero, not far from the hotel, making your way to the wharf to see the boisterous sea lions, or taking a ride on a trolley or streetcar.
22. The Broadmoor
The Broadmoor is a unique property in the Rocky Mountains, Colorado Springs. The panoramic view of the mountains and elegant accommodation on this historic 5,000-acre resort is breathtaking. The resort opened in 1918 and has been hosting travelers on their western retreats for more than 100 years.
The Rocky Mountains is the playground for adrenaline junkies, and you can experience much of the activities on or near The Broadmoor. Activities at the grand resort include golf, tennis, falconry, hiking, rock-climbing tours, guided mountain biking, and fly-fishing.
In addition to that, the resort owns and manages attractions like The Broadmoor Soaring Adventure zip-line courses and Seven Falls (a series of waterfalls).
23. Palmetto Dunes Oceanfront Resort -Best Resorts in the US
Palmetto Dunes Oceanfront Resort is an Idyllic Island resort centrally located on Hilton Island South Carolina. The resort has the classic Southern Resort charms, including Palm trees and grand-oaks. Its proximity to what the rest of the island has to offer makes it ideal for shopping and dining. It offers something for every age group, therefore, it is an ideal destination for families.
The resort offers a range of accommodation options from one-bedroom units to vacation rentals with separate bedrooms. The accommodation is thoughtfully designed, to provide everyone with their own space. Washers and dryers are standard in all units. Those that want to prepare their food have a fully equipped kitchen.
The outdoors and Palmetto Dunes Oceanfront Resort offers outdoor activities for everyone. The resort boasts no less than three championship golf courses. For tennis champ the is a tennis center. Pickleball is very popular with families. Treat yourself to a bike ride on one of the many scenic paths or take to the water with a paddleboard or Kayak.
24. The Resort at Pelican Hill-Best Resorts in the US
In a pristine area just south of New Port Beach in Southern California lies The Resort at Pelican Hill. The stunning grand Italian Villas take you back to provance Italy. The hotel offers stunning views of the ocean.
This is a vacation resort ultimate in luxury intertwined with plush-style bedrooms. Restaurants that cater to the most delicate of pallet and food taste. Visit over tea on the verandas and enjoy the beautiful views and drink in the refreshing sea air.
Enjoy a day at the beach at Crystal Cove or relax at the iconic Coliseum Pool. The resort also offers an onsite fitness center, Spa, 36-hole golf course, yoga sessions, upscale shopping, and dining.
25. La Playa Carmel
La Playa Carmel offers a dreamy, romantic beach retreat. This elegant, grand, old hotel with a beautiful courtyard, private terraces, and the pool is set in Carmel-by-the-sea on the foggy coast of northern California. Experience the unique hospitality of the residence in this town with winding roads and fairy-style homes.
Wake up to a delicious champagne breakfast buffet daily while watching the fog roll in over the ocean. The paths and winding roads can be explored with rented bikes. Point Lobos Natural Reserve is just a short drive away where you can observe the seals in their natural habitat and enjoy the coastal beauty.
26. Naples Grande Beach Resort
Don't miss out on the breathtaking Gulf of Mexico views in this fantastic modern Naples Grande Beach Resort. This is a vacation of a lifetime with beautiful pristine beaches with deep blue calm waters. There are great spots for swimming on the resort's three miles of beach.
After a long day at the beach relax in a cool airconditioned luxuries room and play a game or read a book. An outdoor sport such as tennis and golf is available or take a walk through the 2,000-acre mangrove estuary.
The resort has several restaurants that cater to everyone's culinary needs as well as several bars to have lite bites and cooling drinks in the heat of the day. Order a drink while relaxing next to the pool.
27. Doubletree by Hilton Vail
Looking for a ski holiday? Look no further. Nestled in the Rocky Mountains in Colorado lies this elegant ski resort. Doubletree by Hilton Vail is comfortably located with three shuttles to the village. Vail is an excellent vacation spot with lots of activities all year round.
The elegance of the outside of the resort is mirrored on the inside. The rooms are comfortable, warm, and relaxing. There are three on-site restaurants to eat at. Join other guests at the outside fireplace and chat till the early morning hours. For the businessperson, there is co-working space to put in some office hours while on vacation.
Outdoor activities include skiing, bike riding, snowboarding, mountain biking (in the summer). Ski and bike rentals are on site. Sore muscles from hiking or a day on the slopes can be soothed in the hot tub by the outside fireplace.
28. The Cloister at Sea Island
This Forbes five-star award winner eleven years in a row offers privacy combined with luxury. This magnificent resort is located on an island on the coast of Georgia. The Golden Isles of Georgia are gems. Apart from hosting an event such as the G8 world summit, the PGA Tour's RSM Classic America's elite rubs shoulders here on these golden beaches.
Laze around on the resort's five miles of private beach. T-off at one of the three golf courses and enjoy a bite to eat and a drink at the clubhouse. If water sports are your thing, enjoy a lazy afternoon of kayaking through the marches or go for sailing lessons. Rent a bike for beach biking.
BONUS-The Biltmore Santa Barbara
In the heart of Santa Barbara along the charming Southern California Coast lies a Four Seasons Resort the Biltmore Santa Barbara. Experience the luxury and style of this upscale resort with a casino, spas, fine dining, and cozy fireplaces. This resort is excellent for tourists that want to explore the quaint and charming city with its red-tiled roofs.
Santa Barbara is full of shops and restaurants a lovely harbor and excellent wine tasting venues. After a long morning of exploring the local area, one can relax at one of two pools or play a round of tennis. Don't miss out on the fire-red sunsets over the harbor before going out for a night on the town.
Want to stay in relax in a luxurious room with room service? Curl up in front of one of the cozy fireplaces (in the winter) with a book. Take a long relaxing bath in their luxurious tubs in the bathroom.
Related Questions
Why are resorts better than hotels?
The main difference between resorts and hotels is that hotels provide travelers a place to spend the night at a certain destination. Resorts have a more spacious layout and have great recreational facilities like swimming pools, and areas for various sports, and other activities. Resorts provide food, drinks, entertainment, shopping, and other activities on the premises and therefore resorts are a destination on their own.
What are the 5 best hotels or resorts in the world?
The Inn at Rancho Santa Fe, a Tribute Portfolio Resort & Spa — San Diego.
The Marker Hotel — Dublin
Ellerman House — Cape Town
Hotel Goldener Hirsch, a Luxury Collection Hotel, Salzburg — Austria
The Langham, Shanghai, Xintiandi
Are all resorts pet-friendly?
Sixty-five percent of families in America now own a pet, meaning that 15 million Americans like to travel with their four-legged friends. Although many hotels and resorts across America have become more and more pet-friendly, it is best to inquire whether a resort is pet friendly before making a booking.
Exclusive Feature- What to Do if Your Hotel Has Bed Bugs and How to Check for Them
Recommended Reads–How to Become a Billionaire-A Guide Using the Life of Ten Billionaires 2021
Most Read Blog Article–The Top 10 Online Travel Agencies for 2021
Trip.com
Travel Talk Tours
Trusted Tours and Attractions