What Dubai is Famous for: A fusion of contemporary and traditional attractions, making it one of the top destinations for a family holiday. Amazing architecture, tall skyscrapers, traditional markets, incredible museums, or shopping malls, the city is a combination of old and the new, catering to all age groups. No wonder this Emirati gem is an attraction to visitors from all over the world. There are countless things to do in Dubai and listing down a few of them certainly does not do justice to this city of superlatives.
We have curated a list of the ten best things the city is famous for. Want to know more? Just keep reading!
Ski Dubai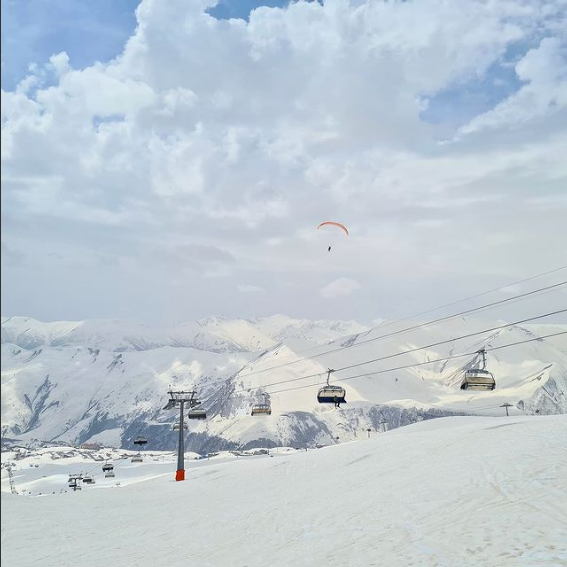 Trust Dubai to create mind-boggling attractions like a ski resort in the middle of the desert. Ski Dubai offers the perfect escape from the Dubai heat where one can spend an entire day in 6,000 tonnes of snow. A first of its kind in the Middle East, this ski resort features an over 80-meter-high mountain, an ice cave for children, and a park brimming with fun-filled snow activities. Watch the charming Gentoo penguins. An interaction with these adorable creatures will leave a smile on your face.

Desert Safari-What Dubai is Famous for
Enjoying a day in the heart of the deserts of Dubai is on the bucket list of most travelers. Venture into the middle of the rugged desert terrain and try an array of adventure activities – quad biking, sandboarding, dune bashing, and falconry. Retire to the Bedouin-style campsite and enjoy a bumpy camel ride, smoke flavorful hookah pipes, watch a spectacular sunset, dress up in traditional attire, and get your intricate henna patterns painted on your hands. Settle down around a warm bonfire and see extraordinary live cultural entertainment, including Belly, Fire and Tanura Dancing Show. Culminate your evening with a delectable dinner. It is undoubtedly one of the most remarkable experiences of your Dubai trip.


Miracle Garden
One of the most fascinating and largest artificial natural flower gardens globally, Miracle Garden Dubai is a paradise for all nature lovers. Located in the district of Dubai land, this lush garden features famous characters and monuments from across the world. The garden spans approximately 7,80,000 square feet in area and has a collection of more than 150 million flowers with unique floral arrangements. Stroll through the vibrant hues and verdant greenery, and you will feel as if you are in fantasyland. The garden is open only in the winter months, from October to March. There is also a photo booth, a souvenir shop, and a store from where you can buy some cute Disney merchandise.
Burj Khalifa-What Dubai is Famous for
What more can be said about this iconic architectural masterpiece? People worldwide dream of visiting the tallest structure in the world at least once in their lifetime. Hop into the fastest elevator to visit one of the viewing decks – on the 124th floor and one on the 148th floor. Once you step out of the elevator, you will be tongue-tied with the 360-degree stunning view of the entire city. You can also see some of the city's iconic landmarks, such as Dubai Marina and the Palm Jumeirah, with the help of the telescopes placed here. It also offers you a view of the distinct landscape with the golden desert on one side and the turquoise ocean on the other.
Dubai Mall and Dubai Fountain
The sprawling Dubai Mall is one of the largest shopping malls in the world. The mall is home to some of the best fine-dining restaurants, multiplexes, luxury and branded stores, and posh hotels. You can shop to your heart's desire in this mall, and once tired; there are plenty of entertainment options to take a break. The mall consists of Dubai Aquarium and Underwater Zoo, VR Park, KidZania, and an Olympic-sized ice rink. And surprise – An ATM is located in the mall that dispenses gold bars and gold coins. Don't miss the splendid Dubai Fountain in the evening, a choreographed fountain system that throws a brilliant spectacle of light, water, and sound.
Old Dubai-What Dubai is Famous for
Dubai is world-renowned as a glamorous and extravagant city. But there was a time when it was a small fishing and pearl diving region. If you want to get a taste of the bygone days of Dubai, then head to the Al Bastakiya quarter. The buildings and houses here are made of natural materials such as gypsum: teak, palm fronds, mud, and coral. Also known as the Al Fahidi Historical Neighborhood, this delightful Arabian village is lined with cafes, art galleries, restaurants, boutiques, and tiny shops. Check out the famous souks and shop for spices, herbs, footwear, essential oils, perfumes, dry fruits, traditional garments, and other Arabian trinkets. An important tip to remember is to haggle with the sellers for the best bargains. Also, visit the Dubai Museum to learn about the rich history and heritage of Emirati life.
Palm Jumeirah
Visit this magnificent archipelago for some of the most mesmerizing views of the city. Palm Jumeirah was constructed in the shape of a palm tree and consists of luxury villas, high-end apartment towers, exotic spas, upmarket restaurants, and five-star hotels. Jutting into the blue waters of the Persian Gulf, this colossal archipelago is visible even from space. You can engage private tours on speedboats and yachts or take the Dubai Ferry ride for some picturesque views of the island. Helicopter rides and sky diving sessions are also available on the island; if you are interested, you can try those as well.
Dhow Cruise-What Dubai is Famous for
Dhows are wooden boats  have been a crucial  part of the region's history and trade. These traditional wooden vessels have undergone a complete makeover and serve as floating restaurants in recent years. They are much sought-after as birthday venues in Dubai as well. Climb aboard this beautifully decorated, fully airconditioned vessel and sail past illuminated souks or striking high rises. Dhow cruise mostly happens on the tranquil Dubai Creek or the glamourous Dubai Marina. Relish some mouthwatering buffet dinner with an assortment of delicacies. Enjoy the live cultural entertainment onboard and soak up on the glittering waterfront.
Jumeirah Mosque
Located on the awe-inspiring Dubai Marina, Jumeirah Mosque is the only one where non-Muslims are allowed entry. This mosque is constructed with pristine white marble and is an outstanding example of Islamic culture and tradition. The structure is built with two stone minarets and a large dome. The mosque's image is printed on the 500-dirham note making it extremely special. You can sign up for a guided tour of the mosque to understand the Islamic culture and customs. Women must wear a headscarf called 'Abaya,' and men should cover their shoulders and knees while visiting this mosque.

Atlantis Aquaventure Waterpark-What Dubai is Famous for
Located within the Atlantis Hotel, the Palm, the Aquaventure Waterpark has over 30 thrilling water rides and attractions. It is a great place to spend time with your friends and family while enjoying the beauty of the city. It is one of the biggest waterparks globally, and it has a private beach and kids' play area. Once you have enjoyed the water rides, go to the Lost Chambers Aquarium, where you can get up, close, and personal with captivating underwater creatures such as sharks, sea lions, piranhas, dolphins, and stingrays.
Conclusion
Dubai is a treasure-trove of fun places, and it is almost impossible to visit every attraction in one single trip. Plan your itinerary in such a way that you can see all the fantastic attractions during your trip. But the city has such an appeal that you will always come back for another vacation.
Recommended Reads