Where is the Largest Mall in the World? Entrepreneurs have stepped up their game in setting up malls. Today, malls optimize the convenience of shopping under one roof. Housing everything in one place is time-saving and cost-effective for any shopper. Iran Mall, the biggest shopping center globally by total land area in 2021, is located west of Chitgar Park in Tehran, Iran. This is just off the Kharrazi Highway in northwest Tehran.
Where is the largest mall in the world?
Iran is the Islamic Republic located in Western Asia. It is also the second-largest country in the Middle East. Tehran, meaning 'warm mountain slope,' is the Capital of Iran, with over 9 million people. It is considered Iran's cultural, economic, and political city. It is dominated by Persian culture and language.
History of Location
Tehran in the 18th century was a small town surrounded by mud walls and four gates. Imagine how big it has grown now. The impact of tourism is one of the things that has boosted its expansion. Tehran boasts of great architecture and deep Iranian culture.
The liberal city Tehran is well known for its contemporary, well-designed stock of shopping malls. Tehran boasts of more than 400 shopping centers, symbolizing a true shopping paradise. A few notable shopping centers in Tehran include; Opal, Melal Boutique, Galleria, Arg, Kourosh, Aren, Sana, Palladium, and Iran Mall.
Iran Mall now puts Tehran on the global radar with a majestic landmark, and here is why this vast project will blow your mind.
The Iran Mall-Where is the Largest Mall in the World?
Erected in 2011, The Grand Bazaar of Iran gained this recognition as the largest in the world after the first phase in 2018, covering 1.45 million square meters with a net leasable area of 300,000 square meters. The second phase is still underway, but upon completion, the total size of the mall will be 1.95 million square meters (21 million square feet). Sounds exhausting, right?
This luxurious complex is the largest property in Iran and the Middle East, ranking it among one of the five most prominent shopping malls globally, followed by Dubai Mall with a total land area of 502000 square meters. The South China Mall in Dongguan, China has the title of  biggest mall based on its gross leasable area which is seven million one hundred thousand (7.1)  square feet. It was and still is an actual giant of a mall.
Magnificent Complex
To give you a glimpse of how magnificent this complex is, Imagine The King of Prussia mall in Pennsylvania, one of the largest malls in the United States. With a total area of 15 million square feet, The Iran Mall is about five times bigger than it. It will cover half the size of Central Park of New York.
Mr. Engineer Ali Ansari is the designer and the actual owner of this vast project; however, its chief investor is Ayandeh Bank. Engineer PedramAmanzadeh is responsible for project management and architectural design. To finalize this project took about five years.
The mall's primary purpose is to serve as a worldwide hub to upsurge the distributed supplies of Iran by fascinating Iranian manufacturers and traditional skilled workers from Qom, Shiraz, Qazvin, Tabriz, and Kashan.
So what goes on at the mall to explain occupying such a vast space? In terms of zoning, the mall has a 24 percent occupation of commercial space, the cultural activities have been allocated an 18 percent space, the public and recreational areas sum up to 31 percent.
The Mall Design
Did you know that over 25,000 workforces and 500 contractors participated in the mall's building?
The artistry put into some of these pieces of architecture was genuinely remarkable. The concept was to integrate a holistic design that captures all disciplines, including landscape designs, architectural design, structural design, environmental design, interior design, and specialist design technologies.
The designers used the model of the traditional bazaar to resemble it in the structure. This is because the founders wanted something that considered the national, historical, cultural, religious, and geographical beliefs, which would, in turn, help to attain a present-day Iran-Islamic style. 
Exterior of the Mall
The mall's exterior arrayed in stone and glass presents a minimalist design, which emphasizes the noticeable assemble of this project.
Embedded in beautiful designs this building, showcases different parts of Iranian plus Islamic culture. From the shiny chandeliers to the polished wood with artistic cuts and marble flooring, the mall's design is an embodiment of luxury.
Stunning Sections of Iran Mall-Where is the Largest Mall in the World?
The number one phase of the Iran Mall is home to a range of avenues that you will not get enough of; however, the most remarkable portions of this complex are;
The Bagh- Didar Garden (Meeting garden)
Covering 176 by 51 meters, this garden starts from the first parking to the second commercial floor. It is a perfectly designed green space to stop over in the mall. This garden concept originates from the Shazdeh Mahan Garden of Iran's which is in the core of the desert yet still welcomes you to a terrene utopia.
Mahan Garden commonly referred to as the Iranian garden, is listed as a national monument of Iran. The beautiful oasis is considered a haven of romance, peace, and tranquility.
This should be your to-go place in the mall if you wish to gather and hold an off-the-cuff conversation or get away from the constant shopping.
Bagh- Ketab (Book garden)-Where is the Largest Mall in the World?
Good news for the bibliophiles: a massive library and 3300 square meter book garden in the mall filled with books and numerous book stores containing around 67000 books.
From European classics to Iranian literature, it welcomes all types of people, including children, as it consists of children and adult books, games, and exhibitions.
It is also referred to as the Jundishapoor Library of Iran. This garden is designed to provide a platform where individuals can read books, watch a movie, or work on academic projects.
Iran Mall Grand Mosque
Covering an area of 1200 square meters, the mosque is named The Jame Mosque of the Mohammed Rasool Allah Mosque, and it has 110 Chapel halls.
Traditional Iranian Bazaar-Where is the Largest Mall in the World?
If you are looking to grab Iranian souvenirs, products, and Persian crafts, this traditional market is where you will find them. Various shops sell handicrafts, carpets, dried fruits, antiques, and many more in four traditional markets.
The market has well-defined sections for different purposes, such as; The Turquoise exhibition purposely for Iranian Art, The Emerald exhibition for carpet sale, The Onyx exhibition for Iranian antiques, and The diamond exhibition where souvenirs of all cities of the country can be espied.
Garden of Nations Restaurant
Here you can find all the tastes of different food collections on display. It is a large patio with a garden with two spacious dining rooms. Here you get to enjoy an all-you-can-eat buffet because of the variety of foods available.
Mirror Hall-Where is the Largest Mall in the World?
The Mirror Hall is an exciting icon of Iranian culture as it offers a true reflection of Persian art. Did you know the designers used more than 38 million pieces of Mirror? Space covered with is 200 square meters Pub House
A vast car showroom is also present in this mall.
In addition to the above, the Iran Mall complex includes:
A Shopping Center
Shopping stores offer a collection of independent retail stores for products and services.
The Iran Mall has 700 stores and is set to expand to 1,000. The stores sell everything from international designer brands to local Iranian-made products.
It has a hypermarket which is 20000 square meters, where you can access anything you can think of, furniture, kitchen appliances, leather products, plants, and much other stuff. Shopaholics can get the pleasure of comparing goods from one stall to the other either in terms of price, origin, quality, or much more.
Iran mall offers a fashion avenue inspired by Iranian architecture, art, and style for the style-conscious. There is also a has a crystal and a diamond atrium.
A Recreational Facility-Where is the Largest Mall in the World?
Culture and lifestyle always take part in notable roles in modeling commercial development. Iran Mall is a shopping center and home to enormous cultural and recreational uses. Enthused by traditional constructions and innovative Iranian architecture, it motivates the old feeling and mood in a contemporary abode to any visitor.
The mall integrates sports into the shopping experience to promote an active and healthy lifestyle. Therefore, the mall has incorporated value-added elements as follows;
Its roof serves as a sports complex for numerous sports activities. The long routes on the top include 15 sports arenas, hiking, and cycling routes, several swimming pools, and tennis courts. It also has a 12,000 square meter ice skating rink per international standards.
The mall is also a vast entertainment complex in northwest Tehran. It hosts a cinema complex with 12 IMAX cinemas that give watching movies a great experience with its quality of screen images and sounds in the city. It is also accompanied by a state-of-the-art 2000 seat theatre and several art galleries.
The mall hosts a beautiful artificial waterfall and delightful gardens mentioned earlier in this post that offer a tasteful ambiance that will leave you with a memorable experience.
Food Courts and Restaurants
As a hub of the local community, keen emphasis has been put on fine dining to allow individuals, family, and friends to have a great time together.
Five percent of this mall is dedicated to hotels and accommodations. It houses three food courts with several restaurants and coffee shops. The Mellal garden restaurant serves food from all corners of the world.
The mall hosts two five-star hotels. These big hyper-star hotels can hold about 3000 guests. Still under construction is the Fairmont Iran Mall five-star Hotel, estimated to cover an area of 123,000 square meters on 18 floors with 359 rooms with modern decoration and designs.
Parking-Where is the Largest Mall in the World?
Are you worried about parking? Car-parking provisions are a crucial consideration in any shopping mall design. Well, worry no more; the complex has 20,000 parking spaces for motor vehicles, motorcycles, and 52 accesses which is 19 percent of the mall. It is also armed with underpasses, bridges, ramps, and tunnels are also available.
Nearby Sites
Neighboring this complex are three airports: Mehrabad, Payam, and Imam Khomeini International Airport.
It is also not far from Tehran West Airport.
If you are looking for other adventures nearby, a couple of attractions might be of interest to you, such as:
Charger Forest Park; This is a forest park situated in western Tehran.
Charger Lake, also known as the Lake of the Martyrs of the Persian Gulf, is an artificial and recreational lake located north of Chitgar Park.
National Botanical Garden of Iran, northwest of Tehran
Azadi Tower
the western entrance of the capital
Milad Tower,
Carpet Museum of Iran,
Laleh Park,
Tehran Museum of Contemporary Art,
Glassware & Ceramic Museum of Iran
Moghadam Museum,
Why is This Mall Interesting?-Where is the Largest Mall in the World?
First, you get easily get lost in this gleaming mall. Secondly, this bazaar promises this part of greater Tehran since it is now a hub for the country's social, cultural, and economic development.
Above all, it is still growing; imagine if its first phase is as earlier mentioned, what will its second phase look like? It truly will shake up the retail life of Iran.
All you can find In Iran Mall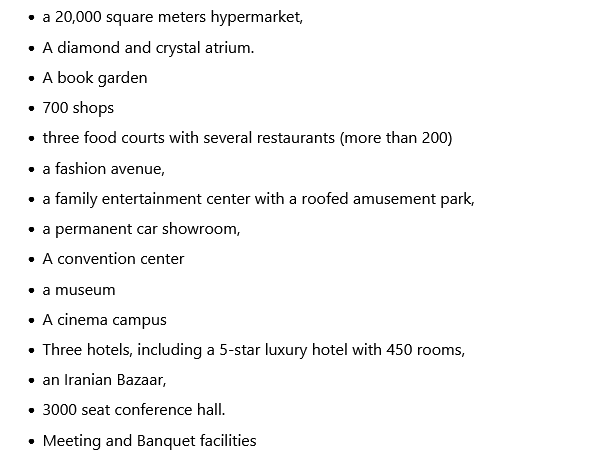 Recommended Reads
Cruise Critic
CruiseDirect