Denmark is an absolutely wonderful place to vacation as it has some of the best tourist attractions. A seaside country that is bordered by the north and baltic sea, it is a great destination for tourists who love beautiful beaches. All attractions in Denmark are 1 hour or less away by driving, which makes it easy for tourists to see all that Denmark has to offer. Vacationing in Denmark is for beaches, great food and exploring castles like the ones you have seen in storybooks. Before The Travel Virgin gets into listing the 'Places in Denmark to Visit-Top 10 Tourist Attractions', let us first give you the vacation deal specials on thousands of great holiday homes in Denmark.
Special 1
 DanCenter-DE: Get 50% off up to 75 EUROS MAX, use code: DANCHRISTMAS75
DanCenter-DE: Get 50% off up to 75 EUROS MAX, use code: DANCHRISTMAS75
Special 2
DanCenter-DK: Get 50% off up to 500 DKK MAX, use code: DANSANTAS50
DanCenter-DK: Get 50% off up to 500 DKK MAX, use code: DANSANTAS50
1. Bornholm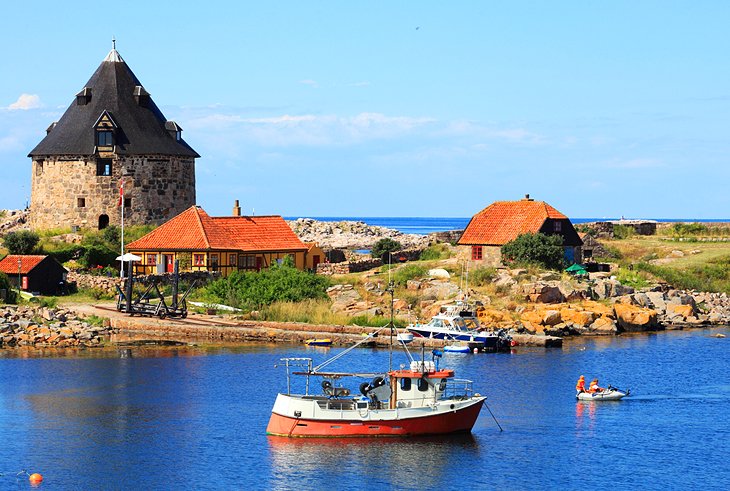 This is a Danish island that is known for its picturesque landscape. This island is the ideal spot for the vacationer who wants to get away from the hustle and bustle of city life. Known for its Almindingen forest, which is actually the third largest in Denmark it provides a tranquil and peaceful stay for nature lovers. It has a thriving craft and fishing industry. One cannot visit Bornholm without going to the beautiful village of Svaneke. Svaneke is perfect for those who love history and desires to visit the ancient buildings and also see the many art galleries it has to offer. There is also the popular Joboland amusement park which is great for families.
Get 50% Off Vacation Homes in Bornholm Use Code: DANCHRISTMAS75
2. Tivoli Gardens-Places in Denmark to Visit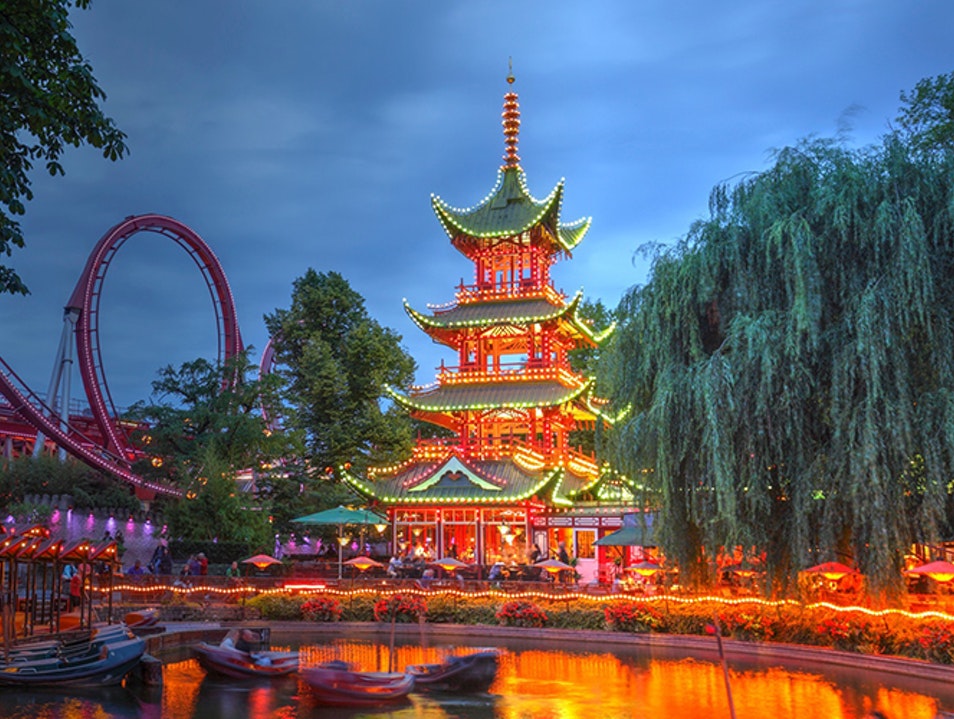 This is one of Denmark's well-recognized tourist attraction. A relaxing places where one can view beautiful flowers, it is indeed a must-visit destination. The garden is not only limited to nature lovers but is deemed a creative space where you may view performances such as dancing and singing during seasonal festivals. There are also great shops to pick up a few danish gifts. There are a number of restaurants to try out the delectable dishes of Denmark. Don't forget the amazing amusement parks as seen in the picture above.
3. Den Gamle By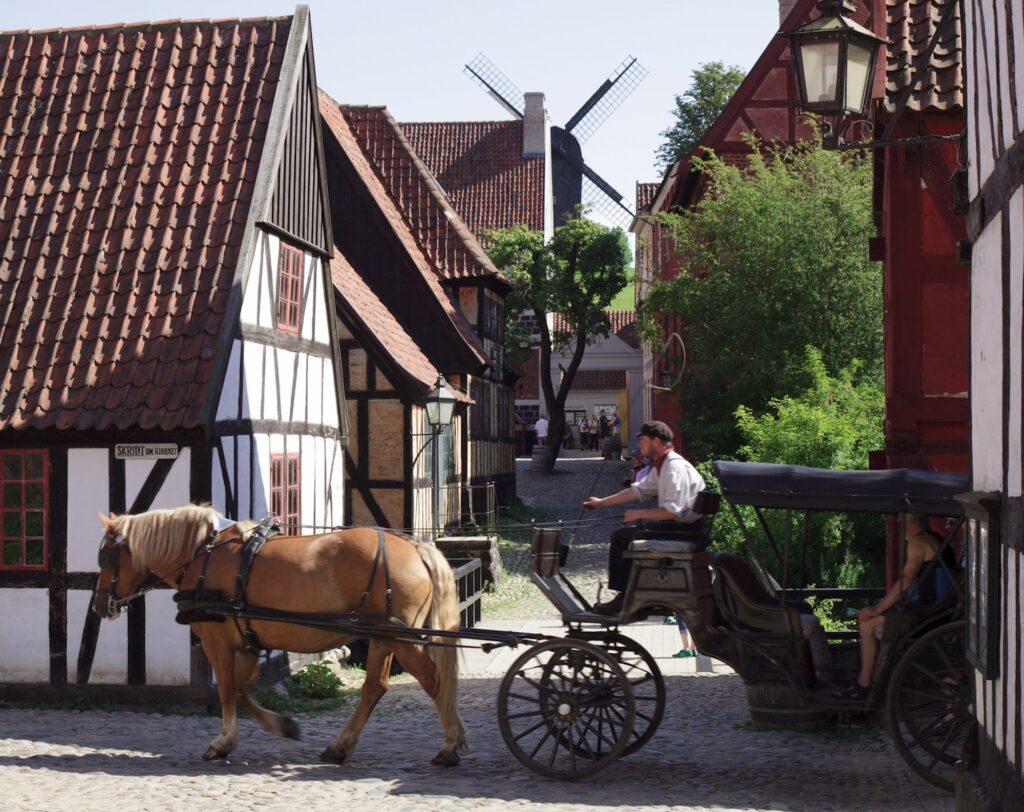 The Den Gamle By Museum is located in the city of Aarhus. Built-in 1909, it was established to look like a village before the 1900s. Going to Den Gamle By is like walking into history, from the cobblestone streets to the horse-drawn carriages. If you really desire to get an authentic experience of life in Denmark before the 1900s this attraction should be at the top of your list. Visiting Den Gamble By is like walking through one of Hans Christian Andersen fairy tales. This attraction is great for families as children can visit the toy museum. There is also reenactments of life from the era gone by. So authentic, down to the details of the costumes.
Get 50% Off Vacation Homes in Aarhus Use Code: DANCHRISTMAS75
4. Kronborg Castle-Places in Denmark to Visit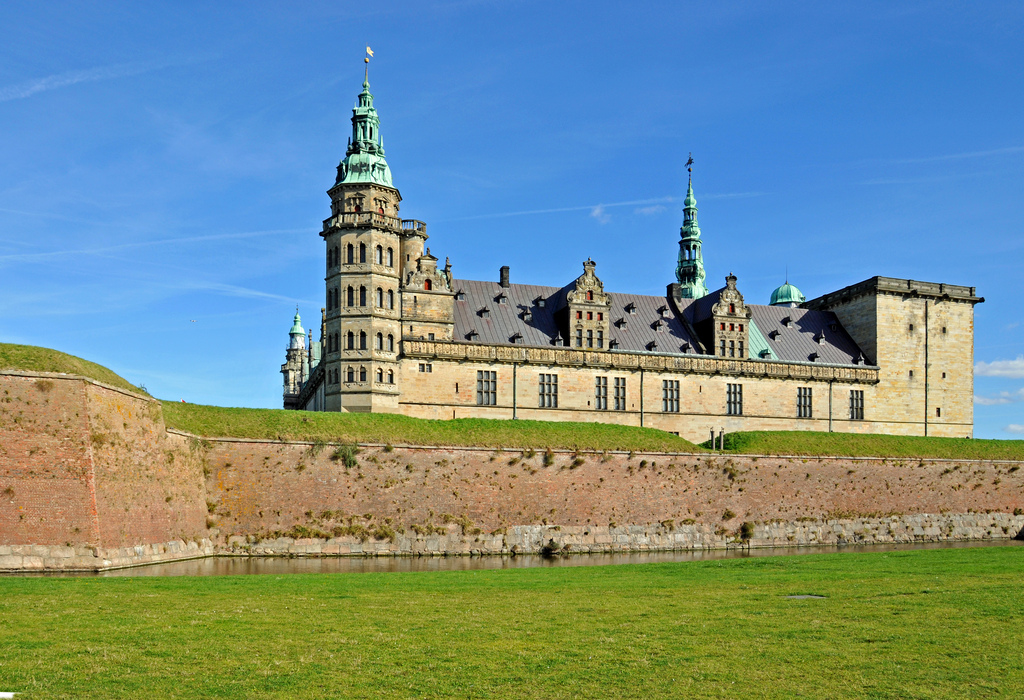 Are you a lover of Shakespearan literature? Do you remember Elsinore in Hamlet? If you say yes to these questions, visiting this attraction would be an absolutely Shakespearian heavenly delight. The Elsinore Castle referred to in Hamlet is actually the Kronborg Castle. This castle is the full embodiment of a Renaissance castle. Built-in 1574-1585 by Danish King Frederik II, it is a renowned attraction that is a UNESCO heritage site. Make sure to ask for the Hamlet guided tour where you will follow in his footsteps.
5. Legoland Billund-Places in Denmark to Visit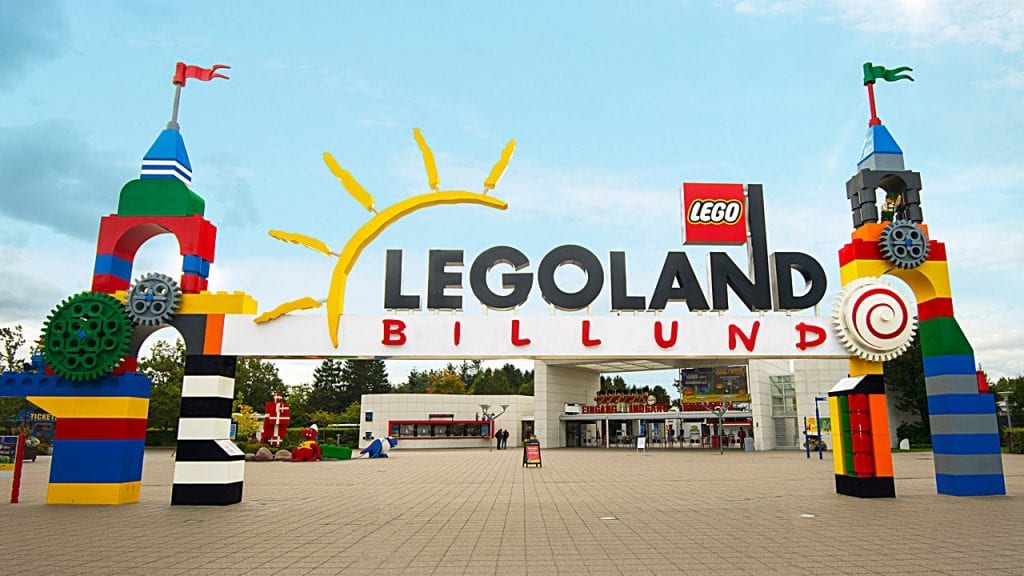 Denmark has so many attractions for kids and this is one of them. This amusement park has miniature world-famous places and buildings, built up of course by millions of lego bricks. Ask for the flying eagle ride as kids and adults alike love it. Going to Legoland Billund Is really like an all in one vacation as there is also a hotel on site. Don't forget to visit Legordo Town which is a section of the Legoland Billund that is western themed with cowboys etc.
6. Vikingeskibsmuseet-Places in Denmark to Visit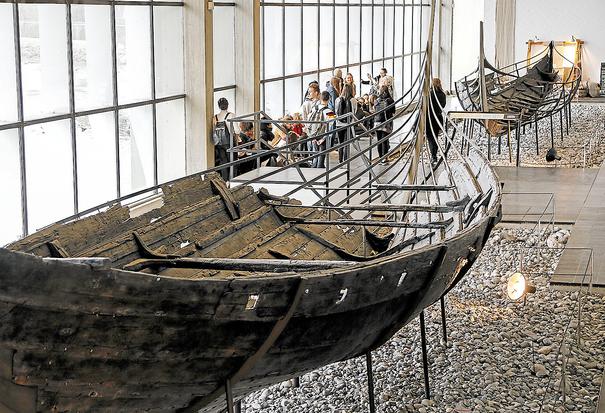 Have you ever seen a Viking Ship? Well, the Vikingeskibsmuseet is a Viking Ship Museum. There has been such a fascination with the Vikings, so this is a great opportunity to immerse yourself in Viking history. There are original Viking ships that are on display. In the boatyard, you can see first hand the utilization of techniques that the Vikings used for shipbuilding.
7. Little Mermaid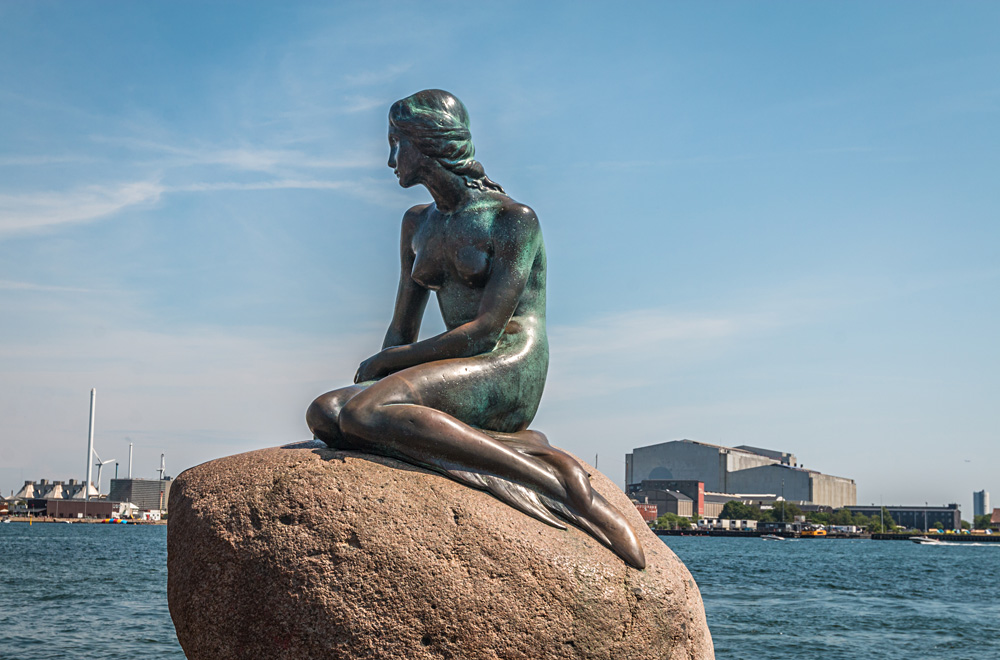 Did you know that the fairy tale, The Little Mermaid was written by famed Danish author Hans Christian Andersen?. Denmark indeed is the foundation for the stories that we loved as children. The ode to this wonderful tale and its author is a small statute located in the Copenhagen harbour. This Little Mermaid statue is actually very small, just as the name suggests, as its weight is approximately 175 kg.
8. Skagen Beaches-Places in Denmark to Visit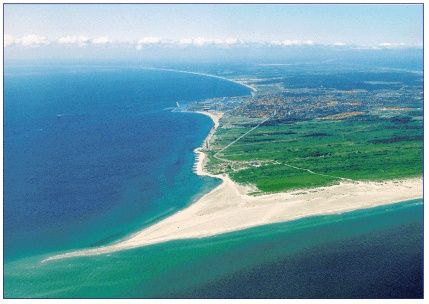 This location is a white sand beach heaven. If laying in the sun and going to the beach every day is your ideal vacation. Skagen beaches are the perfect attraction for you. If you are a surfer there are spots for big waves. Many beaches are certified "blue flag" which means they are clean and clear of rubbish and debris. Blue Flag beaches also have sanitary conveniences, first aid kit and life-saving equipment. Miles and miles of picturesque beaches.
9. Frederiksborg Palace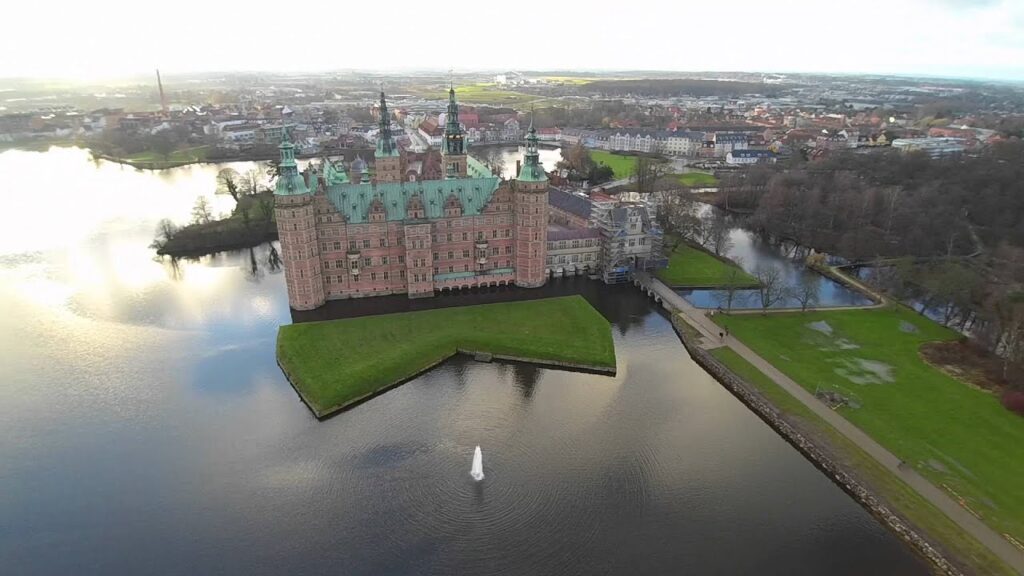 Built-in the 17th Century, Frederiksborg Palace is the home of the Museum of National History. The museum was established in 1878. King Christian IV once roamed the halls of this place as it was his home. Boasting a large collection of artwork this attraction appeals to those who love art and culture. The magnificence of this palace is not only on its inside but one will not miss the beautiful exteriors of an impressive garden and lake.
10. Oresund Bridge-Places in Denmark to Visit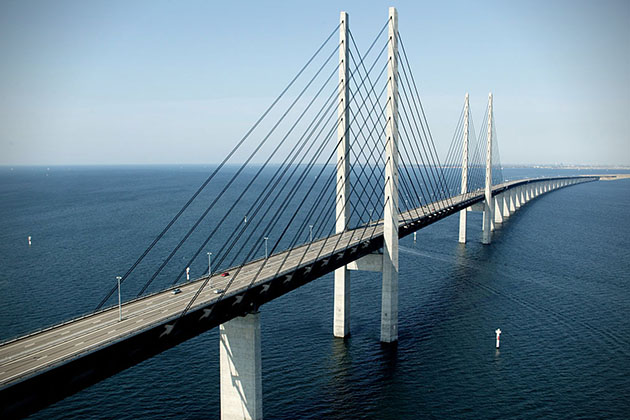 When going on vacation, magnificent bridges are always a must-see attraction because of the technical engineering prowess it takes to build such monumental structures. The Oresund Bridge is one must-see 16 km long bridge in your trip to Denmark. This bridge is not only something to look at but had enormous functionality as 17,000 vehicles transport on it daily and it also serves as a connecting route to Sweden. The bridge has three components: a tunnel, an artificial island and a bridge. If by chance, part of your trip includes an aeroplane ride, make sure to see the Oresund Bridge in all of its glory.
Denmark FAQ-Places in Denmark to Visit
Where is Denmark on the map?
Demark is a peninsula which is located in the northern part of Europe. Specifically, it is located north of Germany. It has the Baltic and the North Sea as its border.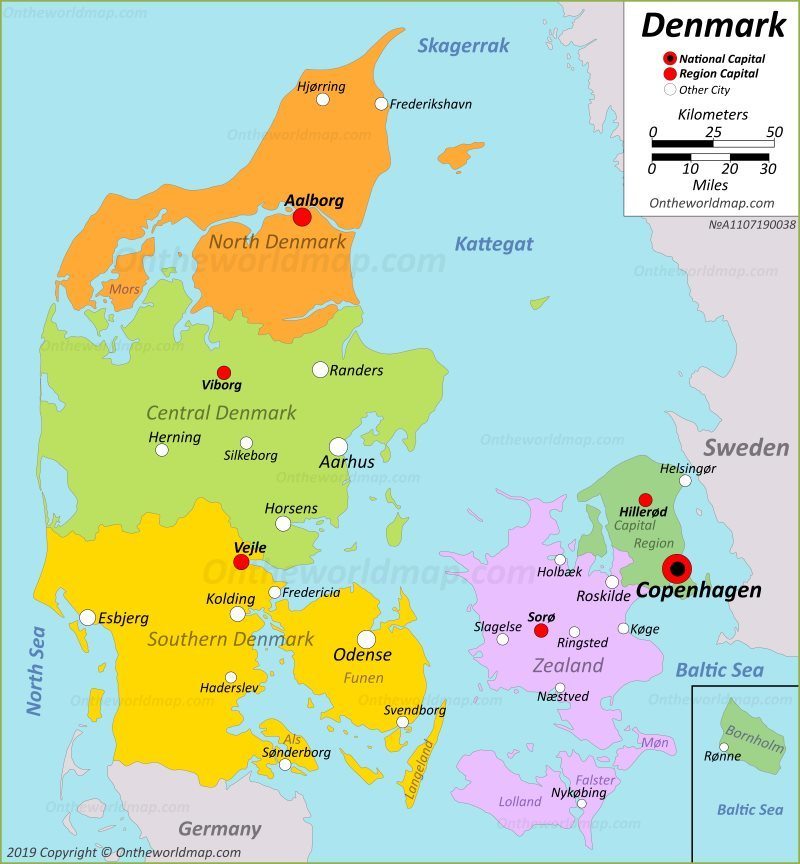 Why Denmark is the Happiest Country
Denmark has always ranked highly in surveys on happiness. In some instances, it has ranked first place. In 2020, the World Happiness Report placed Denmark and its city of Aarhus as 2nd out of 186 cities in the world in the Global Ranking of Cities-Current Life Evaluation. This ranking is reflective of how inhabitants of a city evaluate their life in a positive way. The city of Copenhagen in Denmark also ranked highly and placed fifth.
Are Denmark and the Netherlands the same?
Denmark and the Netherlands are not the same. They are two separate countries that are located on the continent of Europe.
Is Denmark a Country?
Denmark is a country in Europe
Is Demark in the EU?
Denmark is in the EU and has been a member since 1973.
Is Denmark in Europe?
Denmark is a country in Europe.
Is Denmark in The Netherlands
Denmark is not in the Netherlands. Denmark is a country in the continent of Europe. The Netherlands is also a country located on the continent of Europe.
Is Denmark Scandinavian?
Denmark is a Scandinavian country. This classification is based on Scandinavia being a group of kingdoms with a similar culture, linguistics and history. Sweden and Norway are apart of this group.
Is Demark a good place to live?
According to a study of the OECD in 2019, Denmark has an excellent work-life balance. It is a place that is family-friendly for living. Additionally, Denmark and ranked highly on the World Happiness Report placed Denmark with its city of Aarhus placing 2nd out of 186 cities in the world in the Global Ranking of Cities-Current Life Evaluation.
Is Denmark a Monarchy?
Denmark is a constitutional monarchy. This simply means that although the monarch is responsible to sign all Acts of Parliament, these Acts can only become effective if they are endorsed by a Cabinet Minister. This means that the Monarch cannot undertake political acts independently.
Population in Denmark
According to data from the United Nations, in 2020, the Denmark population was estimated at 5,792,202 people.
Languages in Denmark
The official language in Denmark is Danish which is spoken by approximately 98% of the population. There are several other minor languages spoken in territories such as Greenland and Faeroe Islands.
Where is Copenhagen Denmark?
Copenhagen is the capital of Denmark and is located on the eastern coastal end of the island of New Zealand.
What is the Capital of Denmark?
Copenhagen is the capital of Denmark.
Cities in Denmark
10 Major Cities in Denmark
1.Copenhagen (capital)
2.Aarhus
3.Odense
4.Aalborg
5.Frederiksberg
6.Esbjerg
7.Randers
8.Kolding
9.Vejle
10.Horsens
Is Greenland in Denmark?
Greenland is apart of Denmark, although it has an extensive local government.
Most Recent Blog Posts