I write these lines to you from my little cottage in Negril Jamaica. Well, not exactly a cottage but a condo. 'Little Cottage in Negril', is my favourite Jamaican song. When I am in Jamaica, I hear it playing at every little corner and it never gets old and gets me all in my feelings.
Related Article: Top 20 Hotels in Jamaica 2022- Up to 70% Off
This website participates in affiliate advertising programs such as Amazon and may receive a commission if you purchase from our links.
1.Cottage in Negril- Released in1983 by Tyrone Taylor
I decided to travel to Jamaica in the era of social distance as their borders were open plus I absolutely love the place. Imagine having a destination love affair, that is me and Negril for fifteen (15) years. I have been to many places in the world but Negril, Jamaica is my number 1 spot. Going to Jamaica as a backpacker for the first time is pretty much like the song "Two White Girls on a Mini Bus" in Jamaica. It is indeed a little bit too adventurous if it is your first time and you decide to do it backpacking style. In these times, of course, you definitely won't be packed in a bus.
Related Article: Top 20 Hotels in Jamaica 2021- Up to 70% Off
2. Two White Girls Pon a Mini Bus- Released in 1988
In describing Negril, the only word that comes to mind is "authentic", the air and feel of Negril is everything. A small seaside community that has two distinct areas. There is the west end area that has a sort of bohemian jungalow villa vibe that consists of small guest houses and villas. Then you have the other side that is a very long stretch of mega-hotels such as Sandals, Royalton, Couples, and Azul. The most enjoyable activity is waking up in the mornings and walking along the seven-mile beach and looking at the various mega-hotels.
My stay was authentically Negril, no mega hotel for me. I stayed at a mall. Yes, a mall!! A place called Sunshine Village, where I paid less than $1000 to stay at a condo for one entire month, yes 31 days. Sunshine Village is such an interesting place, it is where the west end starts. The condo I stayed at is located upstairs on top of the shopping mall. There are over 30 condos on the upstairs of the mall. Sunshine Village has been my spot for the last 10 years. Once you go to Sunshine Village, you definitely will come back. It has a lot of repeat visitors.
My Airbnb in Negril Jamaica
Sunshine Village in Negril Jamaica is like that song from the show Cheers.
"Sometimes you wanna go, where everybody knows your name, And they are always glad you came…..Be glad there's one place in the world, you wanna go, where everybody knows your name". Once you go Negril, whether, at a hotel or an Airbnb, the people know you by name after a while and welcome you with such warmth each time you return.
3. Cheers Intro Song- Released 1983
A CONDO IN A SHOPPING MALL-Negril Jamaica
The advantage of staying at a condo located close to everything and on top of a shopping mall in Negril is that everything is at your fingertips and the beach is a few minutes away by walking. The downstairs area of Sunshine Village has a number of business places such as a supermarket, travel agency, radio station, restaurant, hairdressing parlour, and a number of touristy Jamaican Negril craft and gift shops. Don't let the outside fool you, it is a bit rustic but the condos are extremely clean and well kept.
ROAD IN FRONT OF SHOPPING MALL- FEW MINUTES WALK TO THE BEACH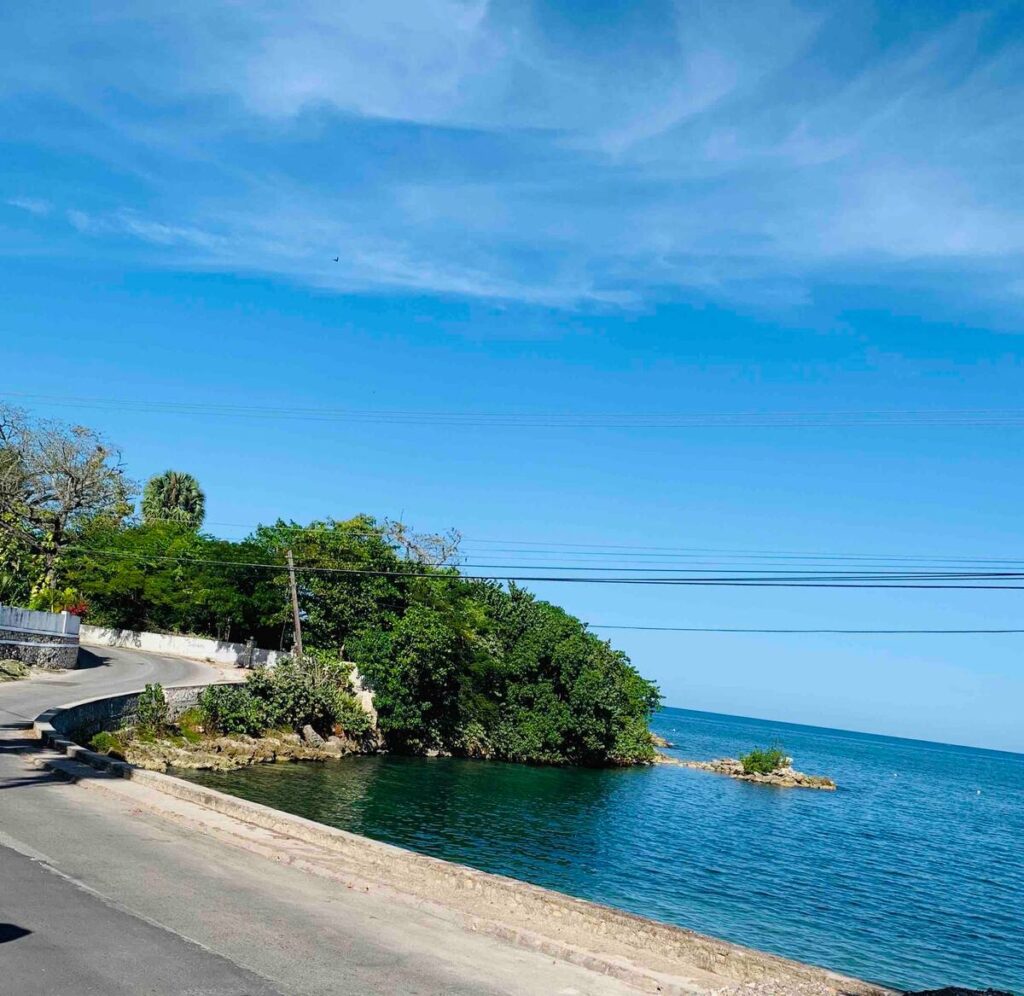 ENTRANCE TO SUNSHINE VILLAGE SHOPPING MALL NEGRIL JAMAICA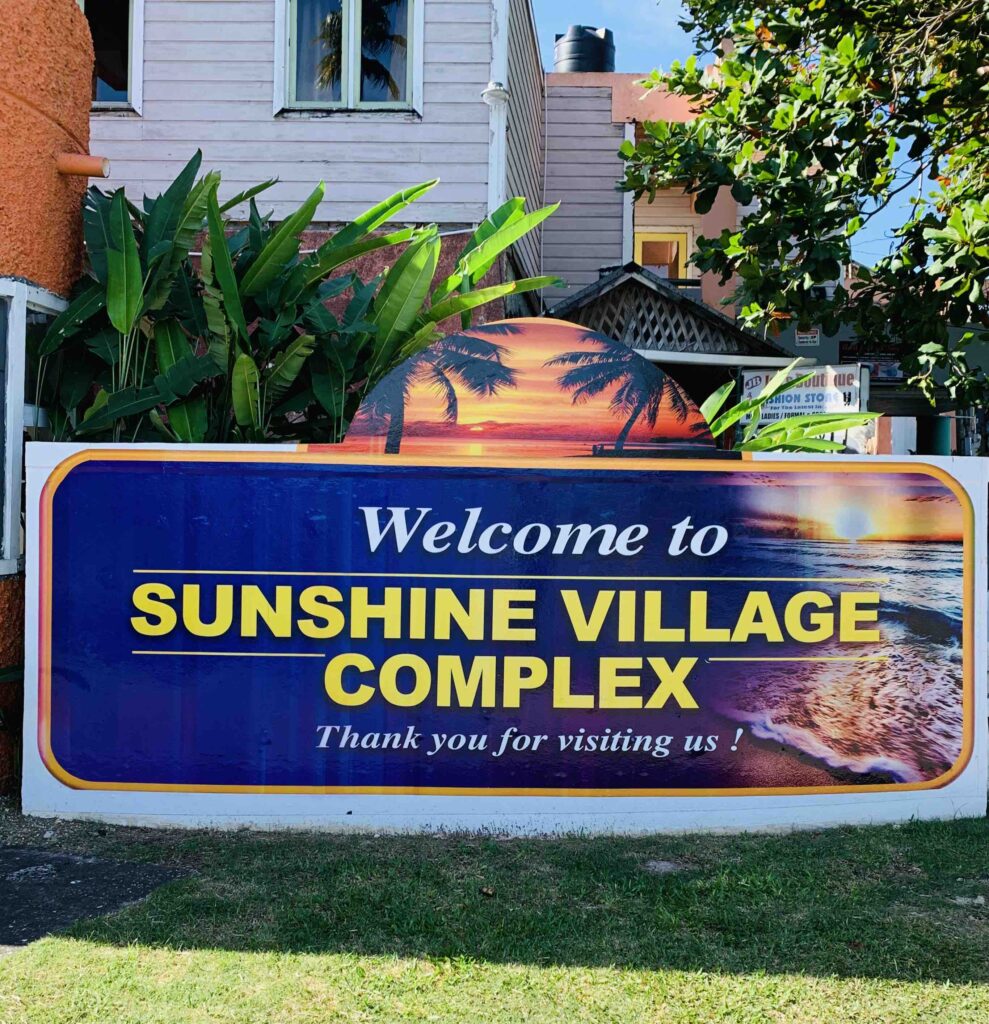 Negril is not as bubbling as it was during non-covid times, but is there anywhere that it? There are just so many places that I absolutely love in Negril. My top 5 spots are below.
1. SEVEN MILE BEACH NEGRIL JAMAICA
Seven Mile Beach is where I do my early morning exercise routine. Sometimes after my walks, I just chill a bit on the beach then take a swim in the sea.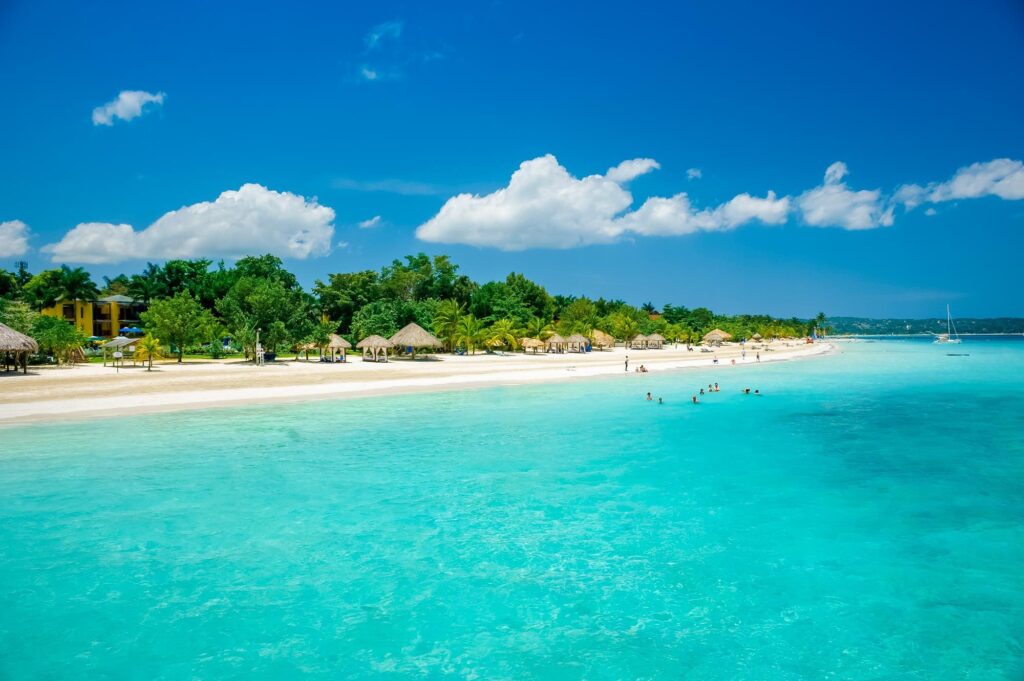 2. PATSY ICE-CREAM SHOP-NEGRIL JAMAICA
This is a small shop on the seaside which is my favorite night spot. Yes I love to eat ice-cream in the nights and look at the sea and listen to the waves of the ocean. They even have Jamaican Negril ganja ice-cream.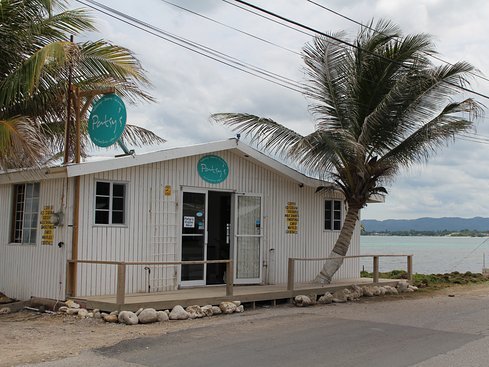 When you are on vacation, there is always that song that you hear at a location and whenever you hear that song, it reminds you of that place. Red Red Wine by UB40 is for Patsy's Corner Shop. Sing with me " Only one thing makes me forget, Red Red Wine"
4. Red Red Wine- UB40 Cover Released in 1983
3. DI CORNER SHOP-NEGRIL JAMAICA
If you are on a budget, then this is the go-to place for affordable meals. A full breakfast or dinner meal is sold for less than $6 US. Best low-budget Jamaican Negril food!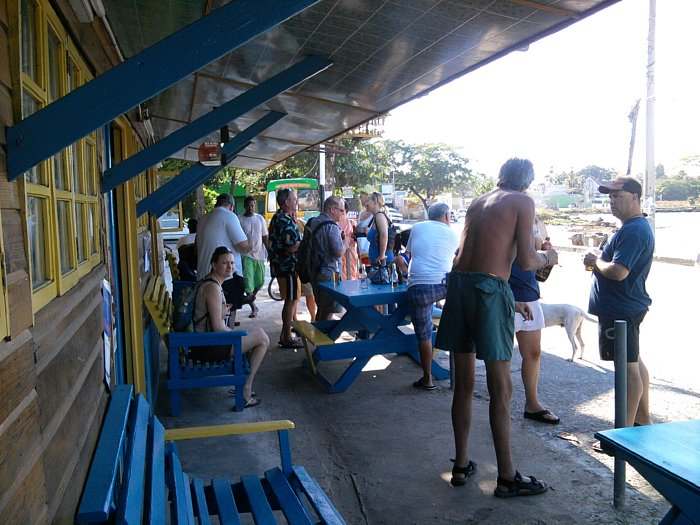 4. RICK'S CAFE-NEGRIL JAMAICA
This is the most tourist location, however, you cannot go to Negril and not visit Rick's Cafe. Famous for its 11ft to 35 ft cliff jumping. It is a very exhilarating and invigorating feeling every time I jump.
My song for Rick's Cafe is 'Three Little Birds' by Bob Marley. What is a list of songs about Jamaica and Jamaicans without Bob Marley? What a song for the times. When you are in Negril, it's a no worries zone.
"Rise up this morning
Smiled with the rising sun
Three little birds
Pitch by my doorstep
Singing sweet songs
Of melodies pure and true
Saying', (this is my message to you)Singing' don't worry 'bout a thing
'Cause every little thing gonna be alright"
5. SIPS AND BITES-NEGRIL JAMAICA
This is where you get your real Negril Jamaican dinner of oxtail and rice and peas. Interesting story, I went there and the waitress read everything about everyone at my table. A bit spooky, but some people have that ability to see your disposition and know your personality.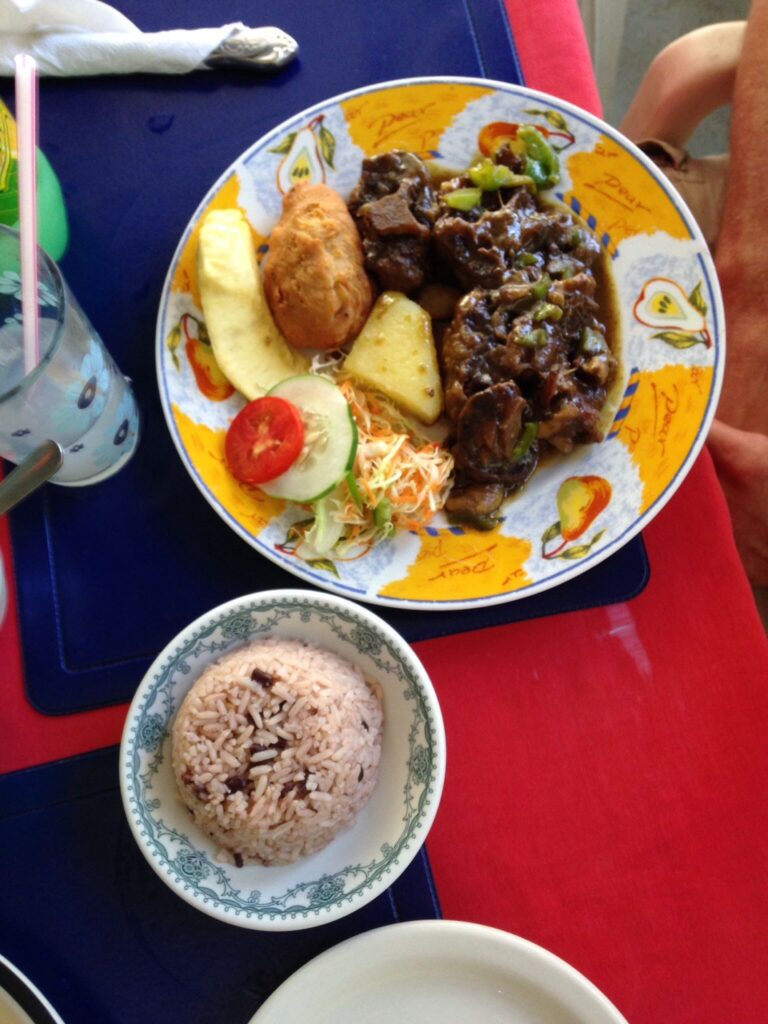 If you vacation in Negril and stay at a convenient spot like Sunshine Village, everything is in walking distance or a taxi or bicycle ride away. Negril is the bike and bicycle capital of Jamaica. One can rent a bicycle for easy commute in and around Negril. As you plan your vacation in the era of social distance, make sure to add Negril to your list.
Written by: Jessica Peterson, Guest Writer

RELATED ARTICLES
How to Plan a Trip: The Ultimate Step by Step Guide 2020
The Travel Virgin's Ultimate Packing List 2020
How to Select the Best Travel Insurance 2020
JAMAICA FAQ
Is Jamaica in North America?
Jamaica is not in North America. It is an island in the Caribbean. It is 145 kilometers south of Cuba 145 kilometers and 191 kilometers west of where Haiti and the Dominican Republic are located.
What is the legal drinking age in Jamaica?
The legal drinking age in Jamaica is 18 years old. Sellers of alcohol are not permitted to sell liquor to anyone under the age of 18.