Rent-Free Italy Airbnb-Italy, oh beautiful Italy! Imagine packing your bags, in June 2022, to move to Italy to live rent-free for a year. Well, this dream can become reality. Airbnb is seeking an adventurer who is willing to relocate to Italy for one year to live in a renovated Sicilian home in a rural community. A perfect opportunity for a digital nomad who can live and work from anywhere.
So what is the catch to this opportunity?
There is no catch but with every opportunity, there are the finer details. The person selected will have to become an Airbnb host of the Sicilian home in Sambuca Italy.
Exclusive Offer- Travel Discounts and Promo Codes 2022-Deals for Over 150 Countries with Bonus of 300 Self Development ebooks for only $5
What about my family?-Rent-Free Italy airbnb
The selected individual can bring their family and partner( maximum of 4 people, 2 children, and 2 adults).
What do my hosting duties include?-Rent-Free Italy airbnb
Whilst enjoying the flexibility of rent-free living, and personal remote working if desired, the host will welcome guests for 9 months out of the year as an Airbnb host. The host will also contribute to the development and life in the local village. Whilst hosting, you can participate in self-development activities such as 'Italian cooking classes.'
Tell me about Sambuca-Rent-Free Italy Airbnb
Awarded "The Most Beautiful Italian Village" in 2016, the rural village of Sambuca has less than 7000 residents. Infused with a blend of northern African and Italian architecture and culture, it has beautiful wine and olive estates.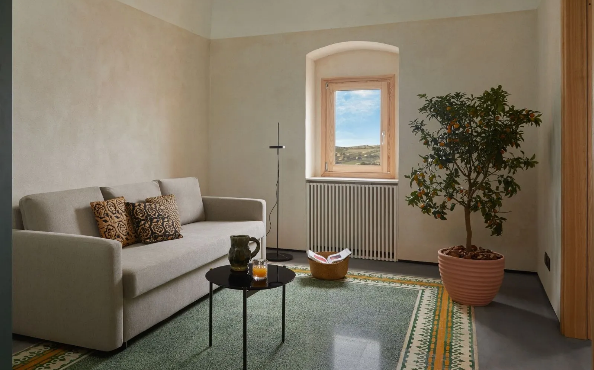 Accommodations for Rent-Free Airbnb Living
The successful applicant will live in a 3 story home (restored '1 Euro' Sicilian home) with at least 3 bedrooms and plenty of living space, a 6 room residence. The Host will have the first preference in selecting where they would like to reside.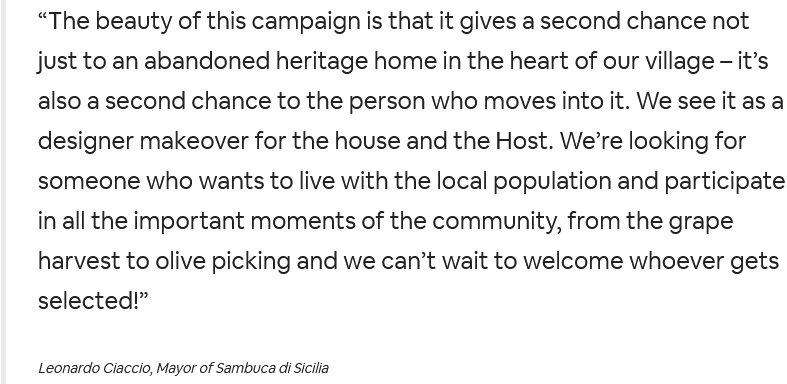 How will I earn money?-Rent-Free Italy Airbnb
As the host, you can select any private room to host guests and all funds received from hosting will be yours.
How can I enter and what are the requirements?
Applicants must be 18 years and older and must speak conversational English. For more details click the link: https://www.airbnb.com/d/1eurohouse-initiative.
Recommended Reads