Ecuador is an incredibly beautiful country that has beautiful landscapes and some of the best beaches in the world. If you are planning a vacation to Ecuador, look no further than Villa Nautica, a 2 bedroom duplex, located on the Mirador San Jose beach. Offering magnificent views of the Pacific Ocean and of Isla de la Plata, this luxurious accommodation is the 'Best Beachfront Villa in Ecuador.'
Why Ecuador as a Vacation Destination?
"Where else can you visit a volcano on horseback in the morning, meet tribal elders at an Amazonian jungle resort in the afternoon and finish the day with a seafood dinner in an oceanfront restaurant? One of the most bio-diverse places on the planet."
Sylvain Grenier, Owner, Villa Nautica
Waking up at Villa Nautica-A Perfect Winter Escape
Imagine waking up in a tropical paradise at Villa Nautica, a luxury beachfront villa. Your day starts with morning walks on the pristine beach, listening to the sounds of the ocean waves. An exclusive infinity pool for guests only, awaits you, where you can relax and soak up the sun. In the evening, one may decide to use the wicker dining table to have dinner outside with a glass of Red wine whilst, watching the Ecuadorian sea and sunset. A perfect winter escape for those who live in colder climates.
Villa Nautica Beachfront Luxury-Perfect for a Long Stay
Located in a gated community, Villa Nautica and its surroundings are described by guests as being tranquil, quiet, and safe. It does not have the usual crowded beachside atmosphere. With a sleek, spacious, clean, and contemporary design, Villa Nautica is a luxury "home away from home". The decor is simple; however, the features and fittings are high-end such as leatherette sofas, recess lighting, stainless steel appliances, porcelain tiles, rainfall shower faucet, granite countertops, vessel bathroom sink, etc.
Outdoor Relaxation and Dining-Villa Nautica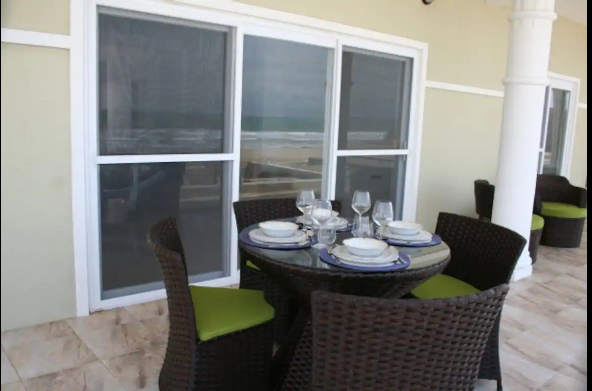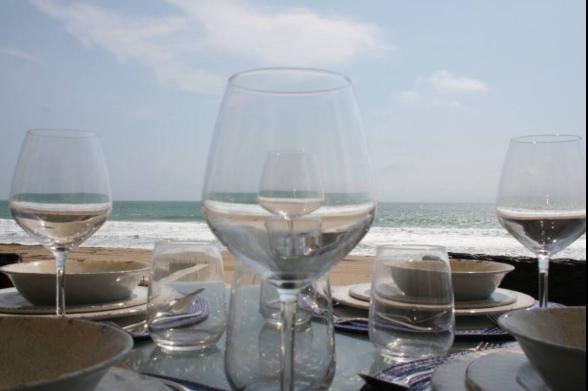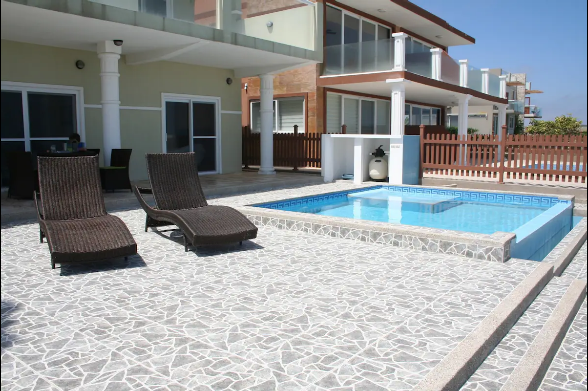 Bedrooms and Living Spaces-Villa Nautica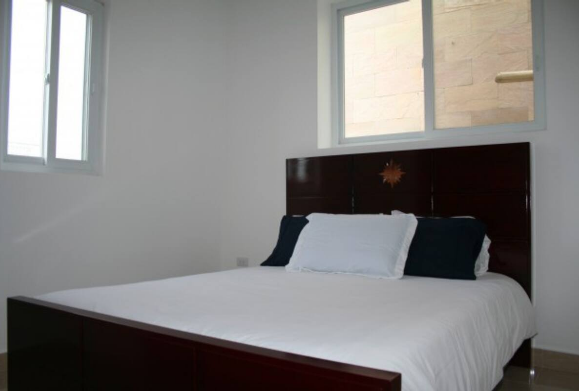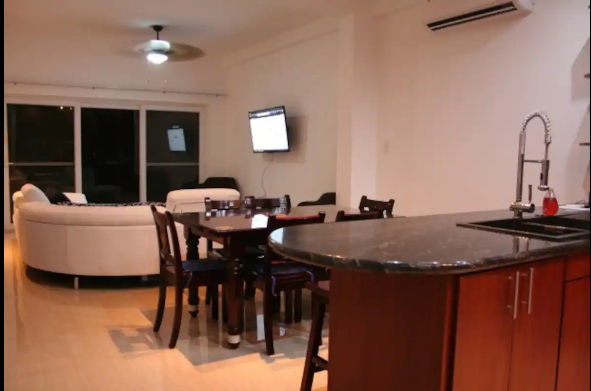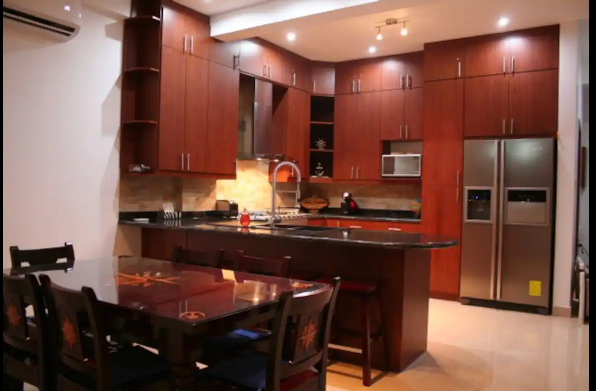 Bathrooms-Villa Nautica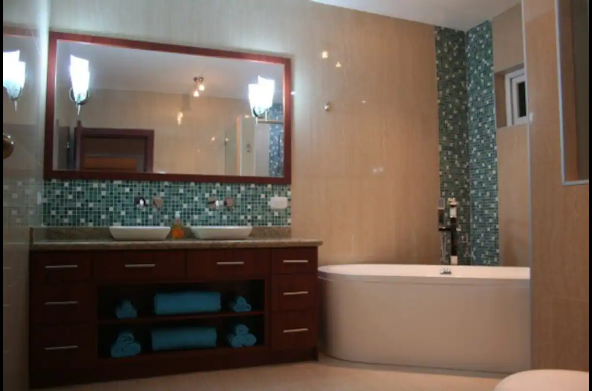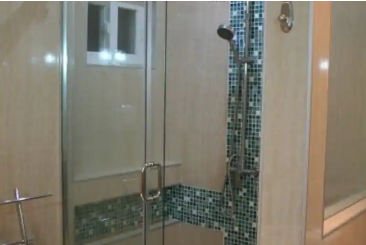 When staying at a vacation rental, sometimes, the lack of basic amenities is only realized when staying for a long period. Villa Nautica, however, has everything needed for a long or short stay. These amenities include:
Beach access – Beachfront
Private pool
Private patio/balcony
Kitchen
Wifi with backup power
Washer
Dryer
Hot water
Hair dryer
Essentials-towels, bed sheets, soap, and toilet paper
Hangers
TV
Air conditioning
Refrigerator
Microwave
Cooking basics-Pots and pans, oil, salt and pepper
Dishes and silverware
Stove
Oven
Coffee maker
Free parking on premises
Carbon monoxide alarm
First aid kit
Highly Rated and Affordable-Villa Nautica-Luxury on a Budget
Villa Nautica provides luxury at an affordable cost, which is one of the reasons why it is selected as the best. Providing nightly rates lower than $120 per night, it is suitable for budget-conscious travelers. Highly rated on booking platforms, guests have praised the Villa Nautica team, especially Gilles, the House Manager, for the superb service and facilitation in providing the best vacation experience in Ecuador.
A few of these reviews are highlighted below:
Mark, Colorado Springs, Colorado, United States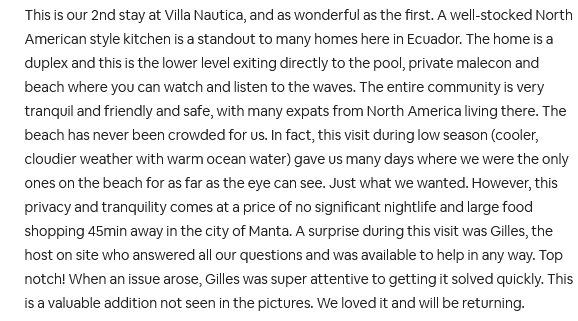 Lisa, Ecuador

M, Amsterdam, New York

Flights and Traveling from Abroad
To travel to Ecuador, one can arrive at one of the two international Ecuadorian airports, Quito and Guayaquil. If you are arriving from Quito, you will have to take a 30-minute flight to Manta. Transportation is easily available for those who are avid explorers.
Attractions and Services Nearby Villa Nautica-Best Beachfront Villa in Ecuador
Visitors to Villa Nautica can drive to conveniences such as supermarkets, restaurants, hospitals, schools, and shopping malls in the city of Manta which is within an hour drive to Mirador San Jose.
The capital city of Quito sits among volcanoes in the Andes mountains and provides architecture, restaurants, and nightlife that are among the best in the world.
A diverse vacation destination with perfect climatic conditions, Ecuador is ideal for a fun-filled day of outdoor activities. To take advantage of all that Ecuador has to offer, renting a car is recommended. Some attractions in the Manabi area where Villa Nautica is located are highlighted below:
Machalilla National Park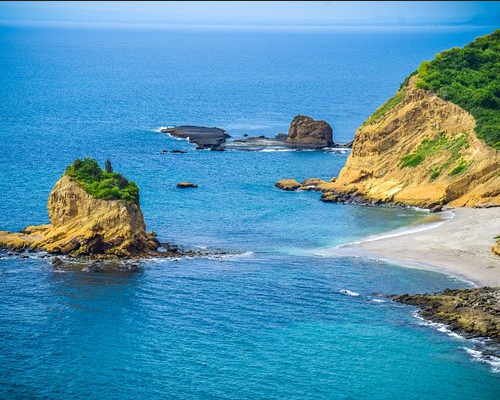 Located less than 20 km from Villa Nautica, on Manabi's central coast, is Machalilla National Park. A marvelous preserved national treasure that has beaches, two islands, abundant coral formations, and archeological sites. A unique attraction that is made up of mostly "dry forest", one is enchanted by its beauty. Having a rich variety of exotic birds, over 200 species, you may encounter parrots, pelicans, or parakeets as you explore the terrain. What is a forest without wildlife? There are a plethora of animals. Watching nature at its best, you may see monkeys, deers, iguanas, and even snakes.
Plata Island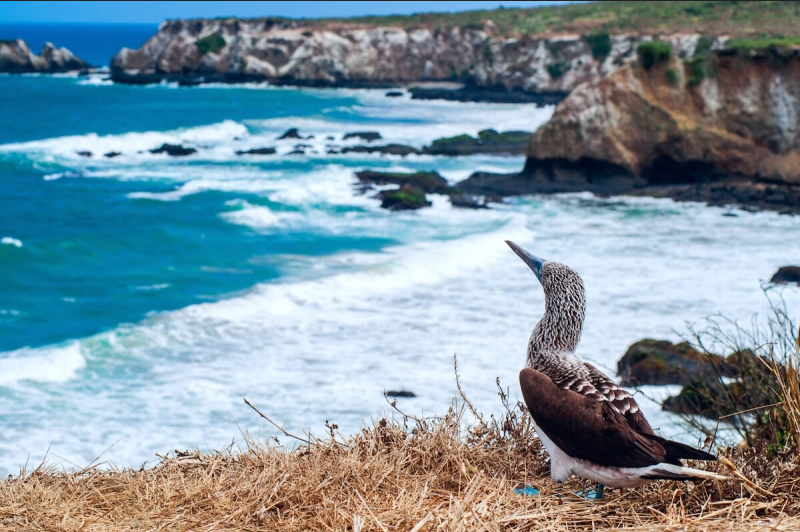 Located in the Machalilla National Park, Plata Island is off the coast of Manabi and is popular among tourists. The island can be reached by boat through a guided tour. One of the main historical attractions on the island is an Inca shrine. Having several hiking trails, visitors can explore and see animals such as the American sea lion.
The Beaches
Two popular beaches in Manabi, Los Frailes is an unspoiled beach that has a scenic cove whilst El Murcielago has boardwalks and many eateries close by. Other beaches that can be enjoyed are: Playa San Clemente, Playa de Crucita and Barbasquillo.
Museums and Historical Sites
Agua Blanca: Located in the Machalilla National Park, it's is a living community with indigenous people. Visitors can see archaeological ruins from the Mantena culture (800 to 1532 A.C) and stone and pottery artifacts. There is a sulfur pool that is said to have therapeutic and healing properties.
Civic Center "Ciudad Alfaro": Built-in honor of General Eloy Alfaro Delgado who laid the foundation for a Democratic Ecuador through his Liberal Revolution. The main attraction is the large mausoleum where General Delgado's ashes are laid. There is also a large statue of him there.
Restaurants and Eateries: The top 5 restaurants for delectable Ecuadorian and world cuisine in the Mirador San Jose area, that provide breakfast, lunch, and dinner and provide dining and delivery service:
Fish Cevicheria
El Rincon de Tere
Pane e Vino
Chopi Grill & Bar
C-nor Marisco Cevicherias
Conclusion
There you have it, just a glimpse of what Villa Nautica and Ecuador have to offer. Now it's time, to book a vacation at the "Best Beachfront Villa in Ecuador."
Recommended Reads