Are you looking for a luxury vacation in Panama? Look no further than one of the sixteen Bocas Bali luxury water villas. The perfect Caribbean holiday getaway for couples or individuals seeking an intimate, relaxing vacation or an escape from a busy life. The accolade of being the 'Best Luxury Resort in Panama,' is justified in this article.
A Dreamy Fantasy Escape-Frangipani Island
Bocas Bali Luxury Water Villas are set on Frangipani, a ninety-seven acres private mangrove island in Bocas Del Toro, Panama. Bocas Del Toro, is an archipelago of eight large islands and hundreds of smaller ones.
CLICK HERE TO BOOK YOUR STAY AT BOCAS BALI
Built on stilts, each villa's magnificence is seen in its over 1000 sq. ft. of luxury living space including the deck. The deck opens to the soothing sea breeze of the Caribbean. A dreamy and fantasy escape, the villas were built with Balinese architecture in mind. This inspiration is seen in its beautiful interiors with wooden and stone carvings, shipped halfway around the world from Bali, Indonesia. The resort's name reflects the merger of Panamanian (Bocas) and Balinese (Bali) influences.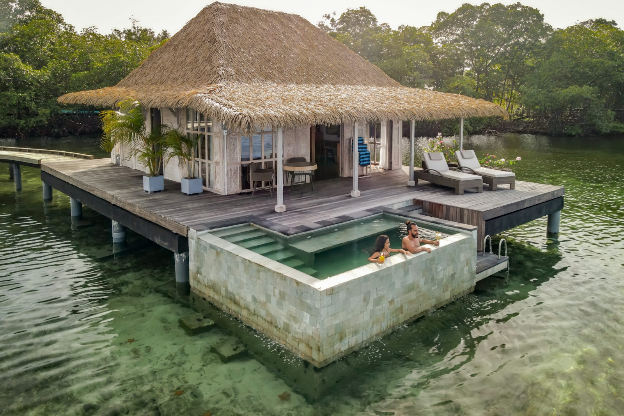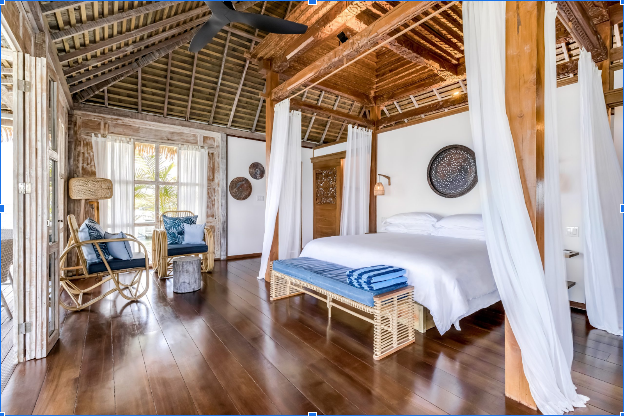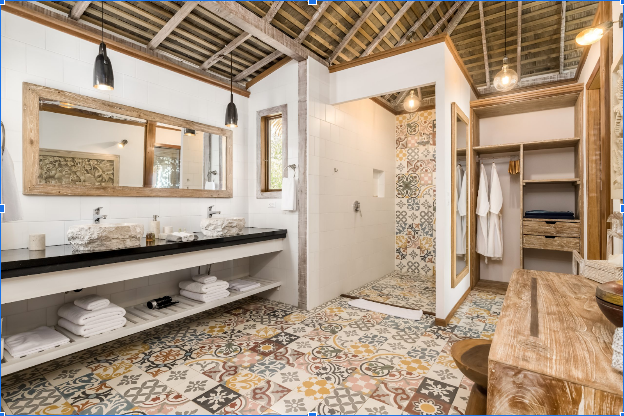 Welcome to Bocas Bali Luxury Water Villas – A First Class Service Experience-Luxury Resort in Panama
On the fifteen-minute boat ride from Bocas Town to Bocas Bali, guests are treated to a glass of champagne. A day at one of the villas might include a dip in your private saltwater infinity plunge pool and walking into the heavenly crystal clear, mesmerizing aquamarine seawater. Sitting on the private terrace, your eyes may delightfully enjoy a dolphin or two passing by, as you listen on your mp3 player to the unplugged version of Errol Blackwood singing 'Anywhere the Wind Blows," the theme song of the series 'Tropical Heat-Sweating Bullets."
"Anyway the wind blows, it blows right back to me, little one, little one, yeah….When the morning comes, brings the shining light, when the night time comes, darkness burns so bright…..When I let you go, said I set you free. If you come back to me…. Anyway the wind blows, it blows right back to me, your the one, your the one, yeah. "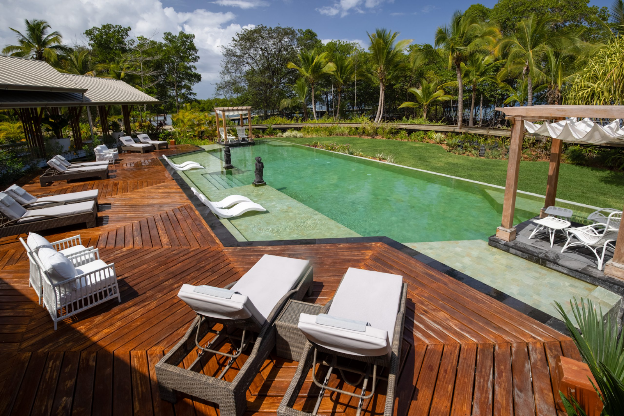 If you desire to stay inside the villa, the king bed with its 300 thread count organic cotton sheets is all you need for extra sleep time comfort. There is no need to walk outside to dine; you can simply pick up your Bocas Bali provided tablet connected high-speed wifi for room service, which is available 24 hours a day. A concierge service is also on call to meet all your personal needs. What is a luxury villa without the finest bath and body amenities? The villas offer reef-safe organic soaps, shampoo, and conditioner for an exhilarating bathing experience.
Other noteworthy benefits of staying at this 5-star resort include:
Dinner at The Elephant House restaurant and breakfast, lunch, and snacks at the Coral Café are included in the all-inclusive meal package
Premium liquors and wines are available in unlimited quantities
Equipment is provided for paddle boarding, kayaking and snorkeling
There is free boat transport from Bocas Town to Bocas Bali upon arrival and departure
The gym and spa
Air conditioning
Coffee machine
A fully stocked mini-fridge
Hairdryer
Cleaning service is provided daily
Safety deposit box
Own boat and captain
A 70-foot freshwater infinity pool
The casual elegance packaging of "The Best Luxury Resort in Panama" is led by a highly qualified team which includes: Scott Dinsmore-General Manager, Gerson Aguero-Hotel Manager, and David Jimenez-Mixologist.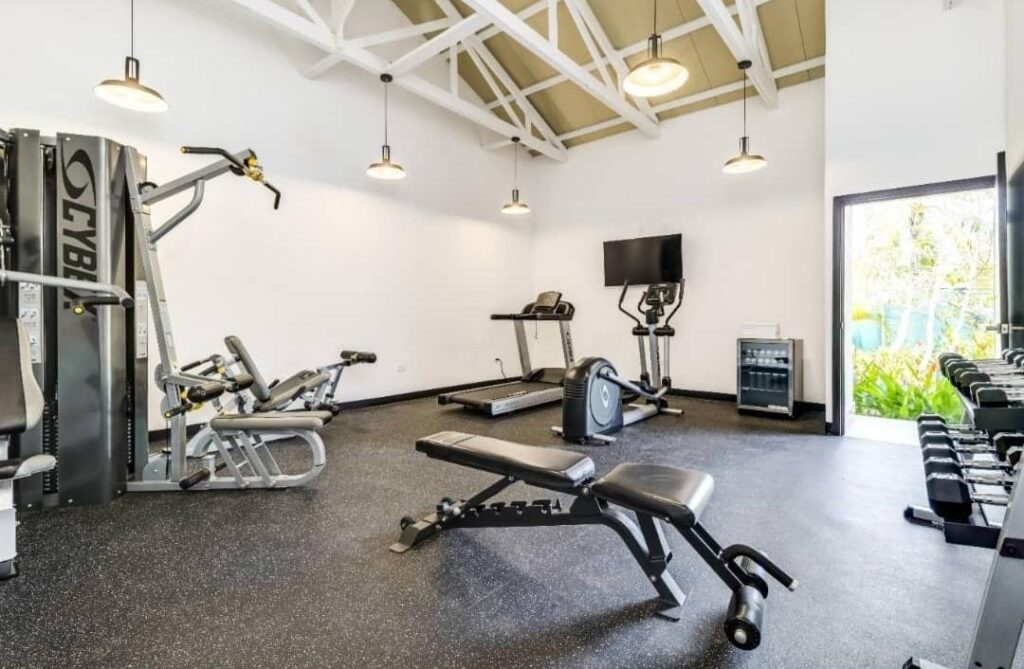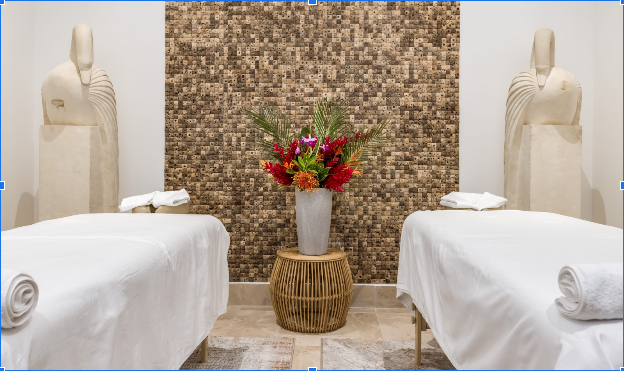 Exploring Nature on Frangipani Island-Luxury Resort in Panama
If exploring is in your plans, you can snorkel right outside the doors of your villa in the Caribbean waters. There you will see starfish and coral in abundance. There is over a half-mile of ten-foot-wide boardwalk to stretch your legs and enjoy the island.
A beautiful garden surrounds the clubhouse including a koi pond with a  small waterfall, Balinese statues, and lights. Enjoy a stroll and hear the sounds of exotic birds and delight in the beauty of the trees and flowers. Botanical gardens are being built over the next three years on a six-acre section of the island.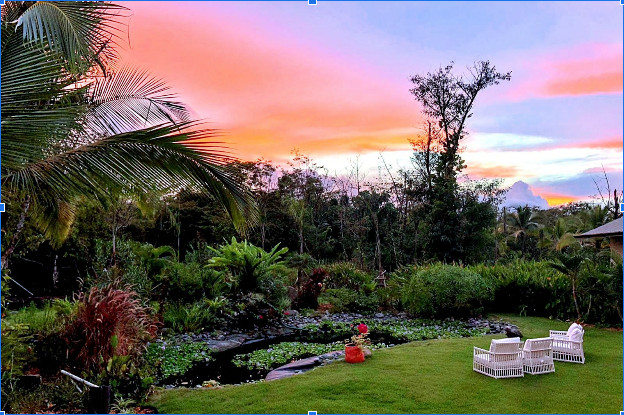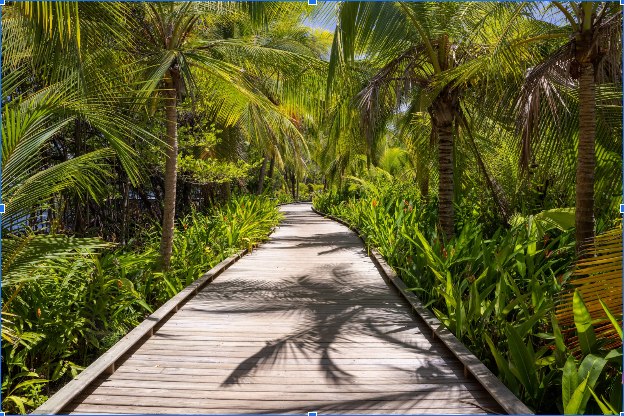 The island has over 80 acres of mangroves, which are protected by the Panamanian government. Guests love to kayak around the three miles of mangrove shoreline of Frangipani Island. Bocas Bali provides kayaks, paddleboards, and snorkel gear free of charge.
Dining in Elegance at The Elephant House-Best Luxury Resort in Panama
The Elephant House Restaurant is open-air and over the water, with the Caribbean Sea on all four sides. With its intricately carved teak and dramatic gebyok entrance, it is a dining experience that can only be described as 'world-class.' It offers delectable Panamanian and world dishes prepared by Executive Chef Joseph Archbold. The restaurant only uses fresh meats and seafood, as well as organically sourced vegetables. You will witness local fishermen delivering fresh fish, crabs, and lobsters daily.
Take a step back in time as you sit and dine in a structure that is over a hundred years old. A restaurant, aged like 'fine wine,' transported piece by piece from Bali Indonesia to the shores of Panama. A mystifying, wondrous curation that brings joy and delight to your eyes and palate.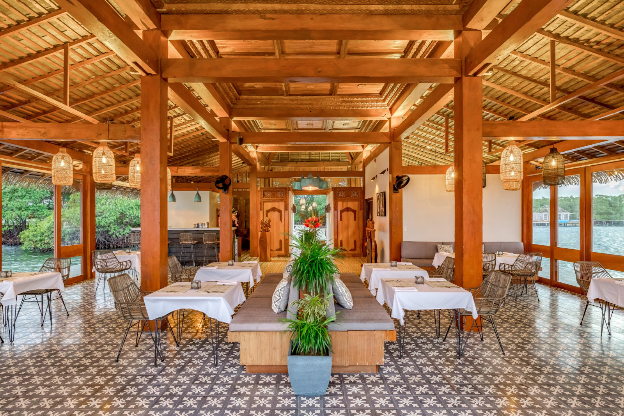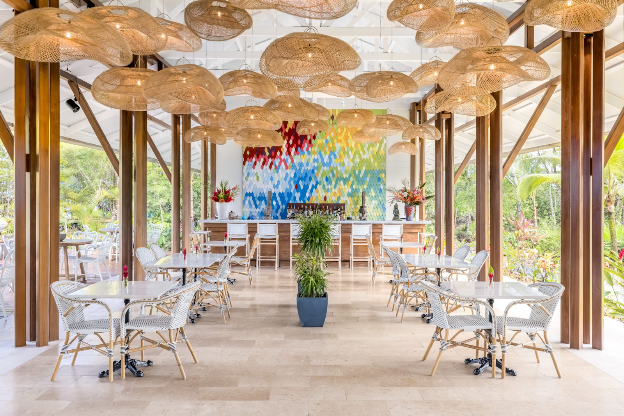 Some of the dinner menu favorites among guests include:
Roasted Cauliflower served with beetroot hummus with a vierge sauce
Chicken Curry with vegetables and fresh coconut milk, served with white rice
Lobster Risotto with miso butter and parmesan cheese
Beef Tenderloin served with a creamy potato puree, blazed vegetables and a shitake mushroom sauce with blue cheese
Additionally, there is the poolside Coral Café where one can relax and have breakfast, lunch, or a snack.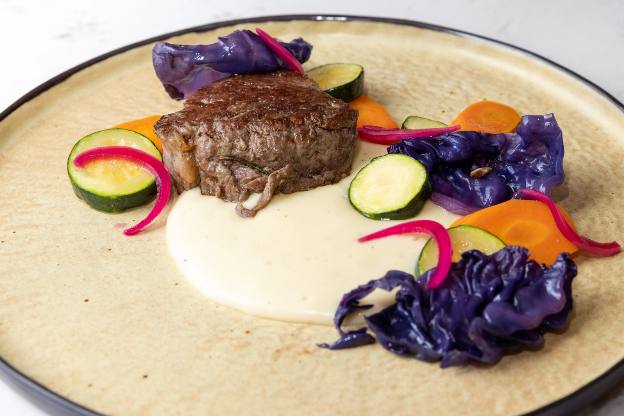 Balinese Design Fused with Javanese, Panama Caribbean, and Western Elements
What makes a resort special? The amenities, but also the design and thought process that went into its creation. Dan Behm, the owner, had a vision of creating open-air villas held above the water on pilings that extended from the floor of the ocean. Structures that are resilient to climatic and natural elements. Knowing that Bali is world-renowned for its expertise in over the water structures, he arranged for the villas to be built in Bali, then shipped to Panama to be assembled on Frangipani Island.
Darlene Pierpoint, Interior Designer, and her team at Design Works Studio worked on the interior and exterior finishing and furnishings. In terms of the design and layout of the Clubhouse, the centerpiece of the property, Andreas Brenes, an award-winning architect, was engaged. His purpose was to create a harmonious balance between nature and luxurious architecture, which he perfectly achieved. Some of his distinguished work includes: La Reserva de Manuel Antonio, El Escondite, Paz Amore, Sol Angelo, Bamboo Villas, and Three Sixty Boutique Hotel.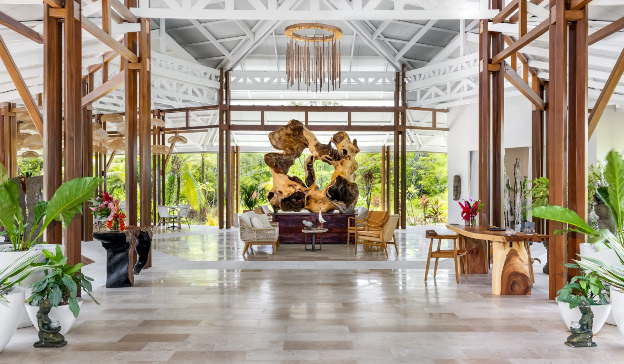 As one enters the villas after walking through the palm-lined boardwalk, the beautiful Balinese craftsmanship is evident, with its mix of wood types such as teak and bangkirai in its frames and beams. The goal is for guests to visually appreciate the distinct Balinese building design and its fusions. A carved wooden structure called a tumpeng sari over each bed makes these villas unique.
A Divine and Blessed Construction-Luxury Resort in Panama
Bali is a deeply religious country. As such, during the construction of the villas, the Bali workers blessed the villas daily. The work that went into constructing the villas in Bali for reassembling on Frangipani required careful planning. The detailed assembling intricacies of the villas were documented in lengthy instruction manuals sent from Bali. The tedious execution and management that were required to create the Bocas Bali villas only added to the desire to be the "Best Luxury Resort in Panama".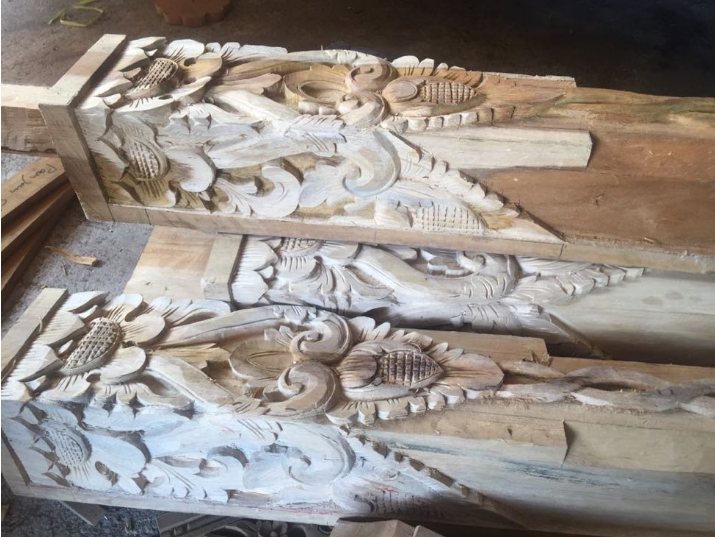 One of a Kind Luxury Villas for the Eco-Tourist-Sustainable and Environmentally Friendly 
The words "eco," "green," "sustainable," "carbon neutral," and "environmentally friendly" often seem overused as marketing tactics to entice visitors to various vacation destinations. The true measure of achieving these standards, or rather qualifying to use these words, is seen when there is a holistic approach, from the conceptualization and design of the vacation destination to its operations. Bocas Bali Luxury Villas has exceeded these qualifications, to be called the "eco of eco-est." Where do we begin to detail the eco resume of Bocas Bali? Here are a few:
Dr. Daniel Caceres, a well-known Ecologist, trained management in nature preservation. Before training, Dr. Daniel Caceres conducted environmental studies on Frangipani Island. To date, over $80,000 USD has been spent on these studies aimed at ensuring that as development takes place, the natural habitat is preserved and maintained.
Every living organism on the land and sea of Frangipani Island was cataloged.
100% water self-sufficiency achieved through an advanced rainwater harvesting and purification system to provide safe drinking, bathing, and cooking water.
Implemented an environmentally friendly wastewater treatment system.
100% off-grid Island with a solar system that generates power from the sun.
100% use of organic and coral-friendly soaps, hair products, and sunscreens in villas.
Instituted established environmental policies which include replacing mangroves and trees that are damaged or removed with 10 times the amount at various locations on the island.
Natural pest control is practiced that has successfully removed mosquitoes and sand flies without the use of harmful chemicals.
Durable building materials were used that are durable and pest and water-resistant.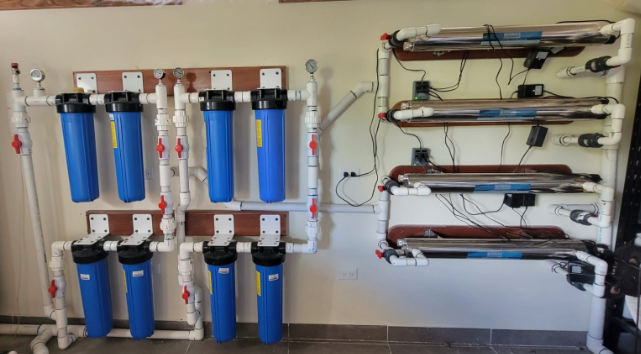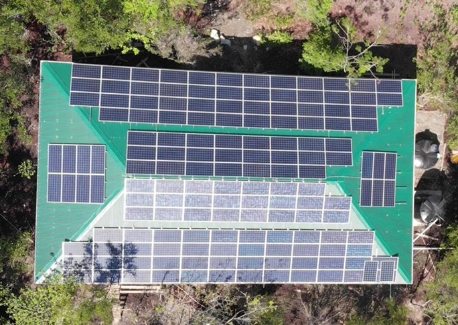 Bocas Bali Transportation-Excursions and More
Private island guests often complain of feeling isolated and restricted in their movement. This is addressed by Bocas Bali, whose competitive advantage is the provision of a boat and a captain for each villa for the entire stay of the guests. A private boat ride to the lively Bocas Town, which is located on the main island, Isla Colón, takes less than 20 minutes. There you will enjoy restaurants, shops, hotels, and bars, many of which are built to extend over the ocean. A historical town with beautifully preserved Caribbean architecture, with some buildings over 100 years old.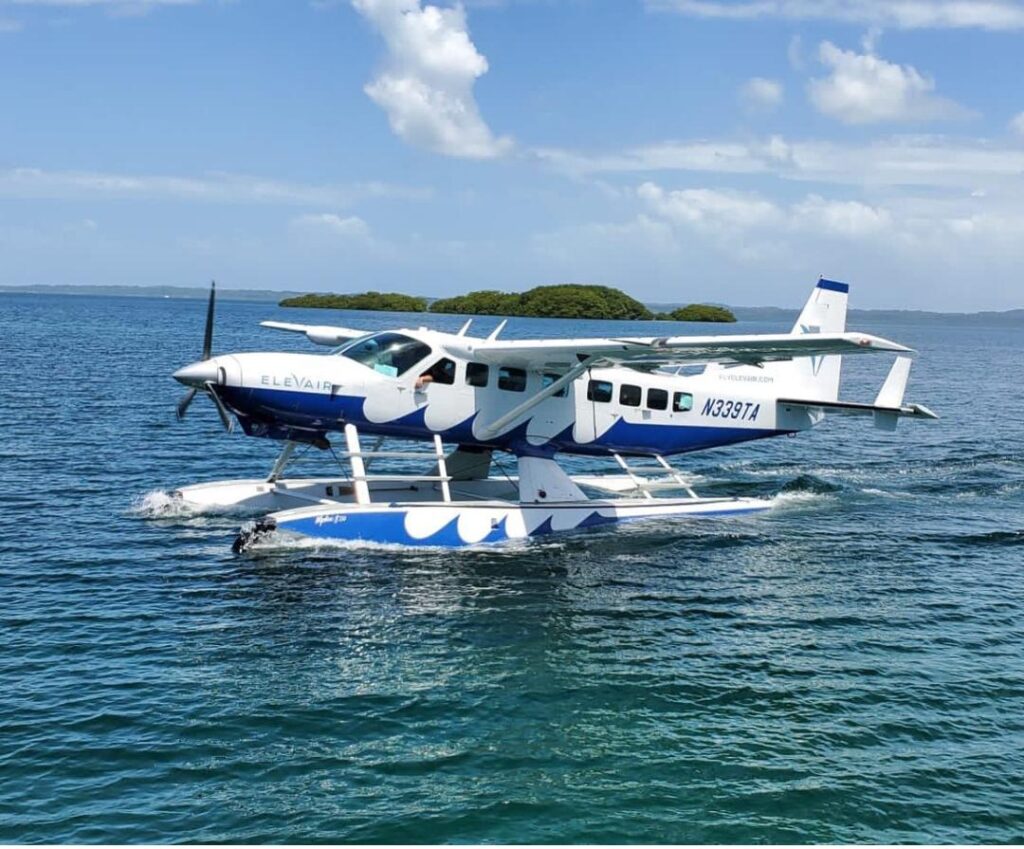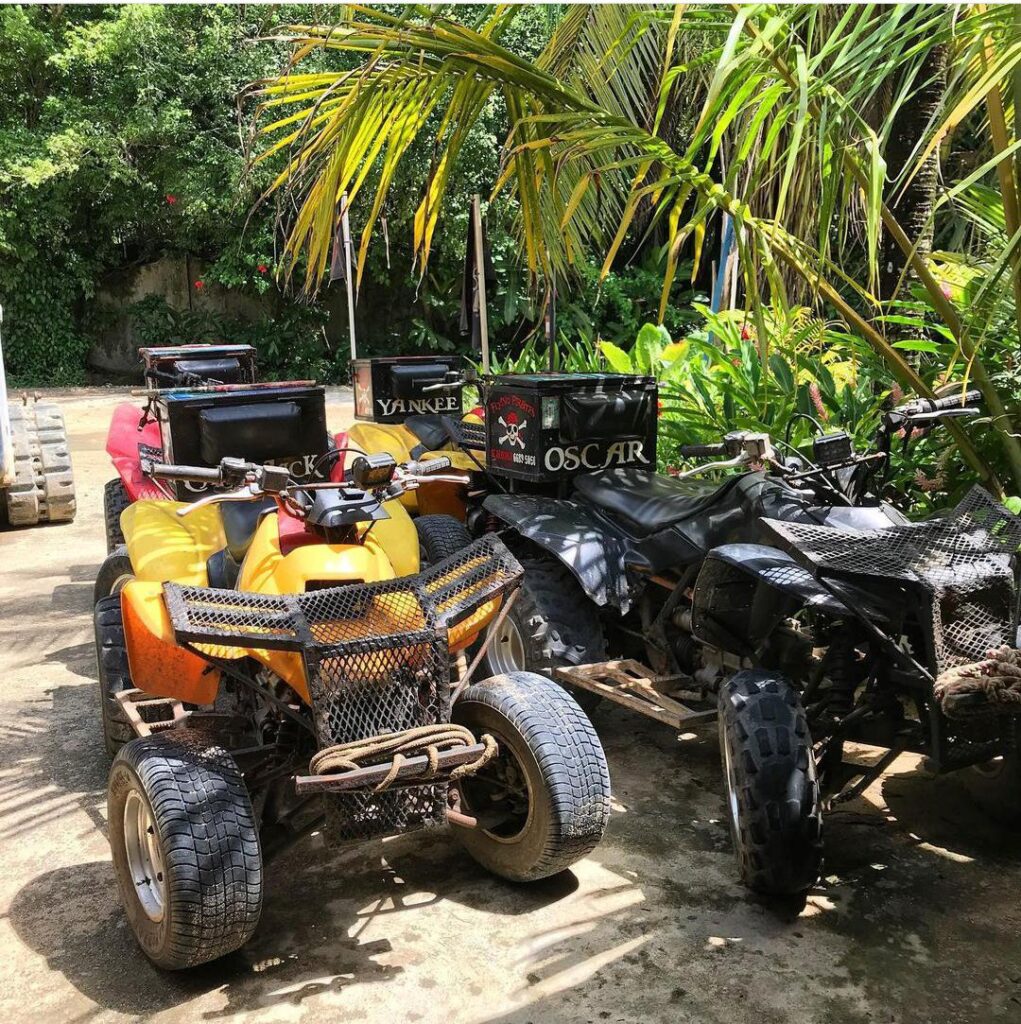 Additionally, Bocas Bali has a partnership with ElevAir, Panama's first seaplane airline, who transports guests by plane from Panama City and also provides day excursions.
If you are looking to ride on an all-terrain vehicle (ATV) to explore 1400 acres of private property deep in the jungle where you will encounter incredible wildlife such as monkeys, then Bocas Bali will arrange a guided tour with Flying Pirates. Explore Blue Lagoon, La Piscina, Rock Beach, Bat Caves, and Christian's Beach. If you need an ATV to freely explore without a guide, that can also be arranged.
Arranged Tours
Additionally, the Bocas Bali staff can arrange guided tours for scuba diving and ocean fishing. Visits to the uninhabited Zapatilla Islands or Isla Escudo de Veraguas, Bastimentos sky zip-line canopy, Dolphin Bay, Monkey Island, a chocolate plantation, Starfish, and Red Frog Beach can also be organized.
Bocas Bali does not market its property as all in one but articulates that the perfect vacation consists of a customized experience of a few nights (minimum 4 days recommended) at the peaceful and serene Bocas Bali water villas, some island hopping in the archipelago, trips to Bocas Town, and enjoying everything else that Panama has to offer.
If you are a surfer, Bluff Beach or Punta Carenero is a must, with its awesome waves. If you are a novice, the staff at Bocas Bali can organize surf lessons at Mono Loco Surf School, which is near to the town area.
Scuba diving in Bocas Del Toro is popular for adventure seekers who desire to explore shipwrecks, coral reef walls, and sea life. Bocas Pirates Dive Center has experts who teach fun diving courses.
Dancing in the Moonlight
If you are a party goer, there are several clubs with great entertainment and live music. Dance the night away on the dance floor at Barco Hundido and take shots at the Tequila Republic or a tropical cocktail at La Iguanas Surf Bar. When you are wobbling from a fun-filled night, your boat captain awaits, to carry you to your private Bocas Bali villa for rest.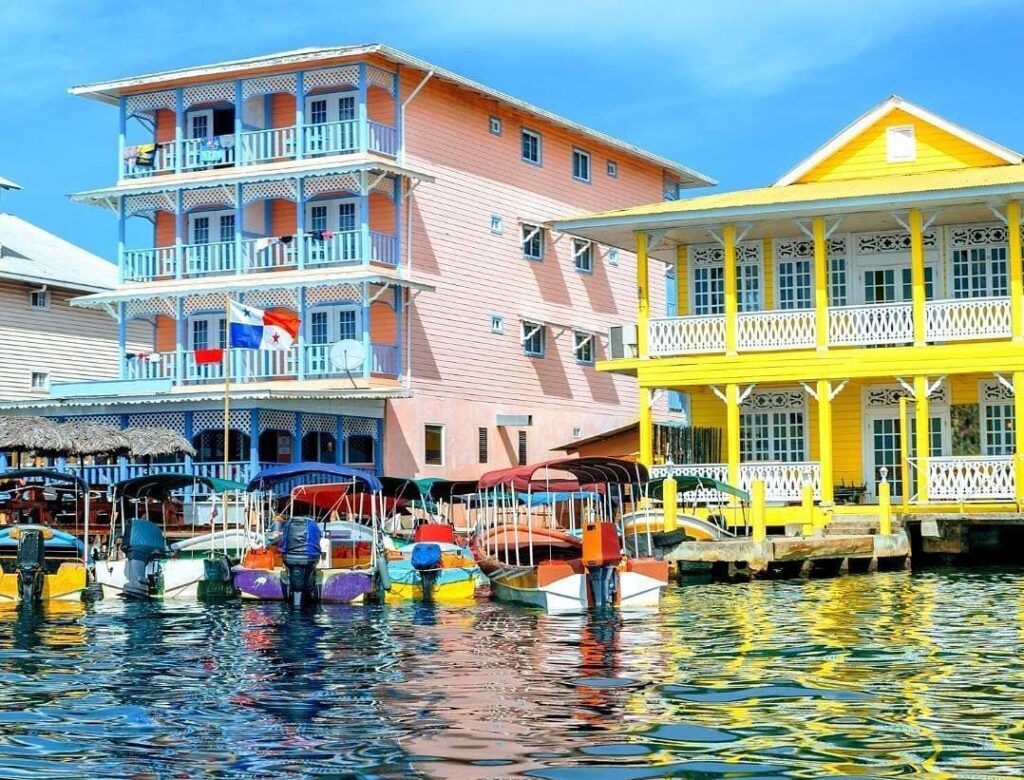 Safety and Health Protocols
Bocas Bali provides a vacation experience that ensures the health and safety of its guests. All guests are required to be fully vaccinated against COVID-19. Additionally, it limits the property to no more than 32 guests at a time. Its entertainment areas, such as its Clubhouse and Elephant restaurant, are open air. Its board walkways are 10 feet wide. A rigorous safety and cleaning program is adhered to by all staff.
Conclusion-Bocas Bali- Best Luxury Resort in Panama
Bocas Bali is the best choice when choosing a resort in Panama. Receiving a 5-star rating on Trip advisor, it offers a unique experience of luxury, intimacy, countless activities and provides stress relief.
Recommended Reads