Best Vacation Rental in Tanuf Oman 2022: Tanuf, a locality of Sultanate of Oman is a great tourist destination. Visiting the ruins of this ancient village is what vacation explorations are made of. No need to search online for the best vacation rental in Tanuf, as this article will guide you. The Travel Virgin has selected The Pool Villa as the best as it has all the amenities that is needed for a comfortable and relaxing stay in Tanuf.
A Typical Day at The Pool Villa Vacation Rental-Tanuf Oman
Imagine waking up to the most luxurious villa and calling the 24-hour front desk for room service to serve complimentary continental breakfast. Then taking your breakfast to the patio area to eat and enjoy the glorious pool views. Whilst dining you may decide to use your phone and the free wifi to check your email. If you decide to shower before starting your day, you are pleasantly surprised that the villa provides slippers and bathrobes. As an international traveler, you may want to watch a bit of TV, to your delight, when you turn on the large flat screen, satellite television is available. You are vacationing but at the same time still enjoying your favorite TV programs from The Pool Villa.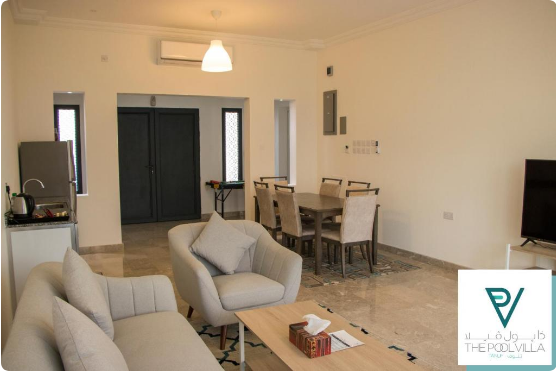 Perfect for Families
If you have children, this villa is the perfect family spot. Enjoy amenities such as the children's playground, tennis court, or billiards. If you decide to have a barbeque, there is a pit available. Additionally, the area is perfect for cycling and hiking. You may decide to spend the day swimming and lounging as the villa comes with its own private pool. A perfect space to enjoy watching the children soak up the sun and splash in the water.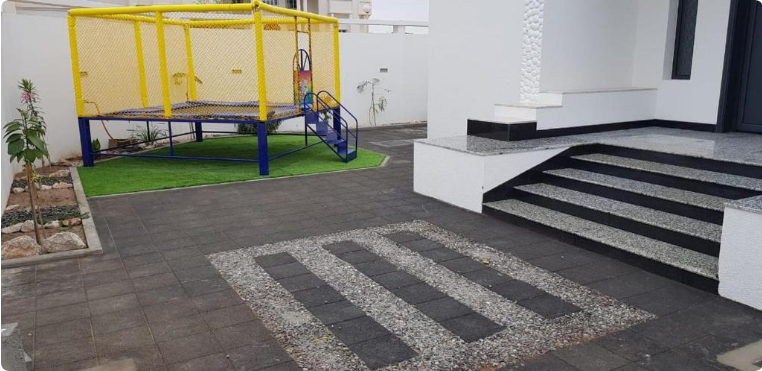 Other amenities include:
Air Conditioning
Free toiletries
Kitchen
Safety deposit box
Fireplace
Bath or shower Towels
Linen
Socket near the bed
Desk
Children's high chair
Seating Area
Pants press
Video
Private entrance
Slippers
Refrigerator
Mosquito net
Telephone
Ironing facilities
Tea/Coffee maker
Iron
Interconnected room(s) available
Heating
Hairdryer
Kitchenware
Kitchenette Towels/sheets (extra fee)
Electric kettle
Outdoor furniture
Outdoor dining area
Tumble dryer
Wardrobe or closet
Stovetop
Toaster
Dining area
Dining table
Clothes rack
Entire unit wheelchair accessible
Air purifiers
Hand sanitiser
A Clean and Sleek Design-The Pool Villa Vacation Rental
When renting a vacation rental, one of the main attractions is the decor, design, and layout. The Pool Villa receives an excellent score in all three areas. Having a sleek and clean design, it is very modern. The Pool Villa is aesthetically pleasing to the eyes. The floors are marble and there are carpet rugs in the bedroom and living room, providing accents to the decor.
Highly Rated and Affordable Vacation Rental-Tanuf Oman
One of the criteria for being the best is providing luxury and great amenities at a reasonable price. The Pool Villa is affordable and provides so much at a reasonable cost. Additionally, the villa is highly rated with over 230 reviews on booking.com. Some of these reviews are highlighted below:
Thomas-The villas are quite large. Huge rooms with tall ceilings and a private patio with a small pool. Even a covered carport for a vehicle. It's really good value for a small group or family. Everything was spotless and the staff were super friendly and accommodating. It's out away from town (look for the big purple/blue lighted sign north of the road) and you would most likely need a rental car, but it makes sense to have a rental car in this area anyway. There's a lot of small local restaurants in the area that were fun to try. It's central to most things in the Al Hajar mountains (Jebel Shams, Bahla Fort, Nizwa, Al Hoota Cave, etc…). Incredible scenery in this area!
Sulaiman-Amazing experience with high privacy. The private pool & horse riding made our holiday extraordinary. Looking forward to repeating it 🙂
Ahmed-It's so calm, comfortable, and nice. It's fantastic in terms of the booking price, and very good compared to other properties.
Those are just a few reviews, there are hundreds more on the internet.
Activities and Attractions Closeby Vacation Rental-Tanuf Oman
If you are looking for some fun activities in the area, check out the activities below.
CLICK HERE TO CHECK OUT ACTIVITIES IN THE AREA
Now that you have read about this great vacation rental, go ahead and book today!
Recommended Reads