Your bags are packed and you are about to leave your Airbnb, then your mind says "it's normal to tip at a hotel but do you tip an Airbnb host?" This article will answer this frequently asked question and will provide a guide on Airbnb guest etiquette.
"This website contains affiliate links. If you use these links to buy something we may earn a commission"
Feature Article: The Top 10 Online Travel Agencies for 2021
Airbnb Tipping Guidelines-Tip for Airbnb?
Let us start off by looking at exactly what Airbnb says about tipping, please see below.

Essentially, it is up to the guest to decide whether to tip or not based on Airbnb's policy. In light of this, we will go through a list of circumstances and provide our recommendation on tipping.
Should Guests Leave a Tip When a Cleaning Fee Is Included on Airbnb?
In cases where a cleaning fee is included in the Airbnb cost, a tip is not recommended. The Airbnb cleaning fee is an extra fee that a host may charge to cover expenses for cleaning up after a guest leaves.
Related Article: What Does Airbnb Mean? The Travel Virgin Explains 2021
Should Guests Leave a Tip When a Cleaning Fee Was Not Including on Airbnb?-Tip for Airbnb?
In cases where a cleaning fee is not included in the Airbnb cost, then leaving a tip is ok, if the overall cost for the Airbnb is reasonable. If it is a luxury Airbnb that is highly-priced, a tip may not be necessary.
If an Airbnb Host Provides Gifts or Goodies, Should Guests Leave a Tip?
Some hosts may leave gifts or tokens of appreciation for guests. In such circumstances, it is best for guests to ask if gifts or tokens are at an additional cost. A thank you expression can be given to a host in the form of a card or a monetary tip. This should only be done if the guest feels that the host has gone above and beyond by providing a gift or token.
Should Guests Leave an Airbnb Tip When Cleaning Is Provided Daily?-Tip for Airbnb?
When a host provides cleaning or partial cleaning services daily, without a cleaning cost outlined on Airbnb, a tip is recommended.
If a host provides cleaning or partial cleaning services daily, with a cleaning cost outlined on Airbnb, a tip should not be provided.
If a host provides cleaning or partial cleaning services daily with or without a cost for this service on Airbnb, a tip should be provided under the following circumstances:
The guest is staying at the Airbnb for over two weeks.
A relationship has been developed with a housekeeper (not the host). This housekeeper would have extended a high level of personal hospitality to guests during their stay.
In the situation above, it is best to seek the approval of the host to leave a tip for the housekeeper as a token of appreciation for their exceptional hospitality.
Travel Discounts and Promo Codes 2021
Airbnb's Don'ts
Do Not Communicate Outside of Airbnb
No matter how hospitable a host may seem, it is best that all communication is done through the Airbnb app. Airbnb allows both messaging and calls to be done through their app. Based on many Airbnb stories by guests, there are many unexpected things that can happen during the stay at an Airbnb that may cause a dispute. Airbnb recommends that you should communicate inside the portal only. If there is communication outside and a dispute arises, outside evidence may not be considered. As seen in the excerpt below, Airbnb advises that communicating through Airbnb helps with ensuring protection under their terms and service.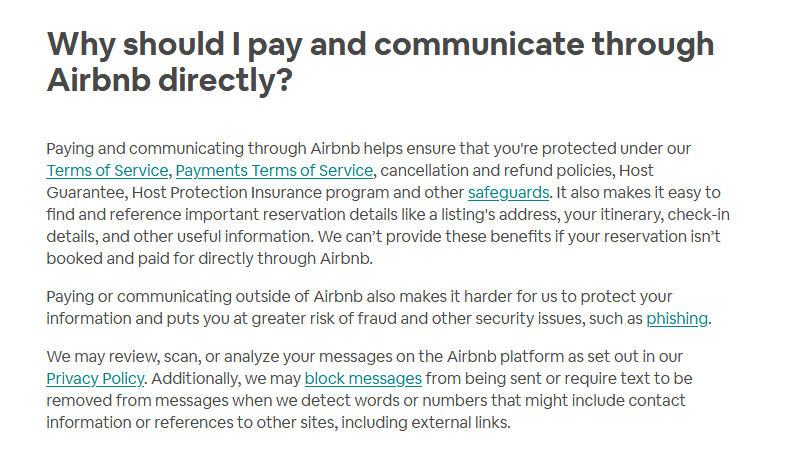 Do Not Expect Hotel Like Services-Tip for Airbnb?
Some Airbnb's do offer premium service, however, it's best to not expect hotel-like services from hosts. Such expectations are unreasonable. The origin and purpose of Airbnb is sharing homes and that should always be remembered. Airbnb is not a hotel!!
Airbnb Host Do Not Provide 24/7 Service. They Have Lives, Do Not Call Them at Extremely Late Hours for Non-Urgent Matters
Hosts do have lives and many do have jobs outside of Airbnb. It is expected that guests would reach out to their host in case of emergencies. However, on simple matters, a guest should write to their host on Airbnb and give adequate time for a response to the query.
Do Not Leave Airbnb Dirty and Messy-Tip for Airbnb?
Whether or not a guest has paid an Airbnb cleaning fee, it is just proper etiquette for a guest to leave the host's home in a good state after a visit. When leaving an Airbnb, guests should clean up their mess. One would not expect guests to perform a deep cleaning upon departure, but guest should ensure that the Airbnb is tidy upon departure.
Airbnb Host Are Not Taxi Drivers or Concierge Services
Guests should not expect hosts to freely have time to drop them off to places. This should only be expected if the host offers with extreme willingness or if they provide such services at a cost. Additionally, guests should not expect hosts to book reservations at local places on their behalf unless they indicate a strong desire to do so. It is ok to ask hosts for recommended places to visit.
Do Not Invade the Personal Space of Your Host-Tip for Airbnb?
In the case, where the host lives on the property, it is important for guests to not invade their space. If a host invites a guest into their space, it is ok for a guest to accept. However, guests should listen carefully to know if an invitation is for one-time access or general access throughout their stay. Guests should not take the hospitality of the host as an invitation to constantly access their space. Additionally, guests should not invite themselves to participate in activities that the host may be doing in and around the property.
Do Not Offer Your Host Food and Expect or Prompt Them to Eat It in Front of You
This etiquette goes both ways. It is ok to offer food or even fruits etc from a garden or in a gift basket. However, gifts of food should be presented in such a way that the receiving party can eat them at their own discretion. No matter how friendly a host may seem, guests should remember that they have only known the host for a very short while. A guest prompting a host to eat food in their presence can be very uncomfortable. If the host generally does not eat from persons, they should have the option to dispose of food if they desire.
In the case of an Airbnb with breakfast, it is good to indicate in writing before your arrival whether you desire a prepared breakfast. This will ensure that your host does not waste time, money and effort to buy foods which you have no desire to eat.
Airbnb Do's
Always Communicate With Your Host and Respond to Their Messages and Indicate Your Concerns-Tip for Airbnb?
Communicate is key. Guests should express all their concerns to the host and give them an opportunity to address them. Guests should not wait until their stay is over to leave a bad review with details on matters that the host could have addressed during their stay.
Read the Listing of Your Airbnb Fully Before Booking
It is very important that guests read the entire listing of an Airbnb before booking. If a guest fails to read a listing properly, they may book an Airbnb that does not have all their desired amenities.
To ensure an enjoyable stay at an Airbnb, guests should ensure that they know exactly what is being offered. There are so many instances of guests giving bad reviews because of the absence of amenities such as cable, air conditioning, etc. This has happened even when the host clearly states in writing that these amenities are not provided. In instances where guests leave bad reviews, the host in turn may respond to say the guest failed to read. This response by the host may lead other Airbnb hosts to reject these guests in the future as they may deem such guests as problematic.
Read Host Reviews-Tip for Airbnb?
It is very important that guests read reviews. This is to determine if others have been satisfied with the host and the Airbnb. Viewing positive and negative comments gives guests an idea if the chosen Airbnb is suited. It also allow you read about the level of hospitality by hosts.
Check Out the Neighborhood to Determine if It's Suitable
In general, Airbnb does not give prospective guests an exact address until they have paid for a booking. Airbnb does however give a general idea of the area in which an Airbnb is listed. This is enough information for a prospective guest to search and find out more about an area.
Blog Posts