Are you planning your vacation for the winter season or 2022?. If yes, you are on the right website. The Travel Virgin unveils its 'Best Caribbean Islands to Vacation-Top 15 for 2022'. The prices highlighted are for 3 or 7 days. If you desire more vacation time, just click the link and adjust the dates. The prices are only for accommodations but you can check out the links below for affordable airfare prices.
The Americas region comprises the Caribbean Sea, its surrounding coastlines, and the islands that make up the Caribbean Islands. The Caribbean is among the world's most popular sailing destinations because of its diversity, mild weather, and beautiful landscape. This region is ideal for exploring by sea, thanks to the abundance of tiny islands and reasonably calm sailing conditions. For the most significant part, it is surrounded by water, and the Caribbean area is comprised of over 700 islands, islets, reefs, and cays in and around the Caribbean Sea. Diversified terrain may get found across the Caribbean area, with:
coral reefs and mountains among the most notable
tropical forests and low-lying plantations among the most diverse
among the most varied volcanoes.
Each Caribbean island is distinct from the others due to the people that live there. Some islands rely on tourism as their primary source of income, but others rely on the export of agricultural products as their primary source of revenue to live.
DEALS WILL BE UPDATED DAILY UNTIL THE END OF 2021, PLEASE USE OUR SUBSCRIBE FEATURE TO THE LEFT FOR INFO ON MORE VACATION DEALS
"This post may contain affiliate links. If you use these links to buy something we may earn a commission. Thanks."
Top 3 Websites for Affordable Airfares
1.Trip.com
2. CheapAir.com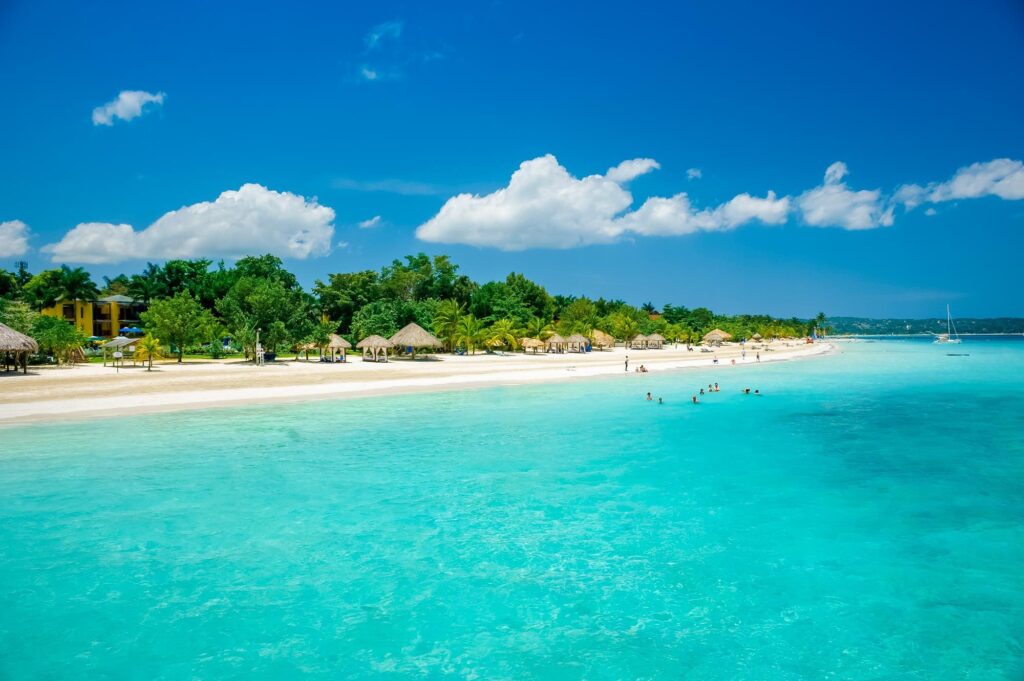 Bahamas
Whenever the word "The Bahamas" is spoken, almost everyone immediately thinks of kilometers of powdery white sand beaches, beautiful turquoise waters, palm trees, and countless hours of fun in the sun. The Bahamas are famed for their turquoise oceans, which are very clear and transparent. The Bahamas is pricey because it primarily caters to tourists who want to splurge on their holiday. However, you can reduce your spending with a bit of ingenuity and still enjoy your trip without going bankrupt.
The best time you should visit the Bahamas is from the middle of December to the middle of April, the country's peak tourist period. Hurricane season, which continues from June 1 to November 30, is when many tourists avoid visiting the Bahamas. Because the winter months are the busiest time of year in the country, many hotels and resorts, particularly the most popular ones, are fully booked months in advance. However, the season's comfortable daytime temperatures and clear skies make these months ideal for diving or snorkeling, lounging on beautiful Bahamian beaches. Prices will skyrocket, and you'll likely have to wait in line for everything from car rentals to meals.
3 Days Stay
7 Days Stay
Caribbean Netherlands–Bonaire-Best Caribbean Islands to Vacation
For those unfamiliar with Bonaire, it is a Dutch ABC island that is part of the Antilles. As one of the Caribbean's safest islands, Bonaire has earned a reputation as one of the region's most secure destinations. Bonaire has a more pure beach with magnificent stones and petrified coral than the other Caribbean islands. It has over 22 beaches and is a popular snorkeling and scuba diving destination due to its numerous shore diving sites and easy access to the island's fringing coral reefs. Bonaire has over 22 beaches and is a popular snorkeling and scuba diving destination due to its numerous shore diving sites and easy access to the island's fringing coral reefs.
The island of Bonaire is now home to four different languages. The official language, Dutch, is utilized in government and legal activities; nevertheless, Papiamentu is widely spoken in everyday exchanges and is widely understood by the inhabitants. English and Spanish are additional widely spoken languages.
3 Days Stay
7 Days Stay
Cayman Islands
The Cayman Islands provide the ideal tropical holiday destination, with award-winning beaches, year-round sunshine, great diving, a diverse cuisine, and world-class resorts to choose from. Cayman is a breathtakingly lovely place. The natural flora and wildlife are unusual and completely fascinating, and they are worth exploring. Marine life is out of this world, and divers and snorkelers from around the globe come to experience it. The woods of Cayman have been home to around 650 distinct types of plants, according to researchers.
3 Days Stay-Best Caribbean Islands 2021
7 Days Stay
Dominican Republic-Best Caribbean Islands to Vacation
In the Dominican Republic, there's no way anyone could ever get bored. Families can enjoy swimming with sea lions and dolphins in bath-warm waters, as well as paddling in the water. May is often viewed as the best time to visit the Dominican Republic, thanks to the pleasant weather and available low season prices. Every day sees approximately 9 hours of sunshine, and sun lovers will appreciate the higher daily highs in the mid-80s that are common. There's something for everyone in the D.R., with its crumbling colonial architecture, cloud scraping mountains, and postcard-perfect beaches.
3 Days Stay-Best Caribbean Islands 2021
7 Days Stay
Guadeloupe
The Guadaloupe Islands, consisting of the main island of Basse-Terre and its surrounding islands like Grande-Terre and Les Saintes, are a group of volcanic islands in the Caribbean. They're known mainly for their white sand beaches and the active volcano. Although they're an overseas department (DOM) of France, this picturesque island is still considered a part of the Americas. The islands were discovered in 1493 by Christopher Columbus, who named them after his wife's hometown Guadalupe in Extremadura, Spain.
3 Days Stay-Best Caribbean Islands 2021
7 Days Stay
Haiti-Best Caribbean Islands to Vacation
The ideal time to visit Haiti is between November and March, when the weather is colder and drier, making it an excellent winter getaway destination. Even though Haiti is bordered by the Caribbean Sea and is well-known for its gorgeous beaches and excellent surfing, it also has steep and spectacular mountain ranges. Haiti is home to some of the highest peaks in the Caribbean, which creates both breathtaking panoramas and challenging farming conditions. It is home to several spectacular and intriguing attractions and a thriving and active cultural environment. Haiti also boasts a plethora of breathtaking landscapes, including serene and lovely beaches, tumbling waterfalls, and towering mountains abounding, among other things.
3 Days Stay-Best Caribbean Islands 2021
7 Days Stay
Jamaica
Jamaica is one of the most appealing tourist destinations in the Caribbean. It's not difficult to understand why. The island country of Jamaica is most known for its stunning beaches and thriving reggae and dancehall music scenes. Still, it also features a plethora of breathtaking waterfalls, ancient colonial mansions, and intriguing museums. Travel to Jamaica during November to mid-December, when resort and airfare prices are at their lowest and peak season hasn't yet come. The most fantastic time to visit Jamaica is from mid-December to April, when the weather is ideal for a beach holiday. If you don't mind crowds, the best time to visit is from mid-December to April.
3 Days Stay-Best Caribbean Islands 2021
7 Days Stay
3 Days Stay
7 Days Stay-Best Caribbean Islands 2021
3 Days Stay
7 Days Stay
Puerto Rico
Visiting Puerto Rico during the ideal year is from mid-April to June, immediately following the busy winter season. The weather in the spring is also charming. The months of September through November are the most difficult. The month of March is the most popular for tourists to visit. However, it is also the most crowded day at popular tourist destinations such as Old San Juan. Puerto Rico possesses one of the most diverse and extensive artistic, cultural, and historical legacies globally.
3 Days Stay
7 Days Stay
Saint Kitts and Nevis-Best Caribbean Islands to Vacation
3 Days Stay
7 Days Stay
Saint Martin
Explore the reefs and wrecks on the island, plunge yourself in the turquoise seas of St. Maarten, and be awed by the gorgeous and healthy reef systems as well as the spectacular wrecks, which are home to an incredible diversity of aquatic life. May and June and November and December are the best times to visit St. Martin. These particular weeks are the times when hotels promote their most competitive prices. Although August is a popular month for Europeans on vacation, it is also the period of significant summer sales. St. Martin will steal your heart and become one of your favorite places to visit on your next vacation. A unique tropical paradise, this location attracts hundreds of travelers who end up returning, again and again, to take in the sights and sounds of this magnificent location.
Trinidad and Tobago-Best Caribbean Islands to Vacation
It is well-known for its tranquil nature, magnificent beaches, and upbeat Caribbean moods, among other things. Tobago's primary sector is tourism, and as a result, you will receive some of the most outstanding services available on the island. The Tobago Jazz Festival has also helped to establish the island as a destination for music enthusiasts. Even though no Caribbean island can be termed a low-cost vacation destination, Trinidad and Tobago is unquestionably one of the most affordable Caribbean vacation destinations due to its prosperous oil and manufacturing-based economy.
3 Days Stay
7 Days Stay
3 Days Stay
7 Days Stay
Saint Vincent and the Grenadines
The Grenadines are a paradise for island hoppers, as they are comprised of 32 perfectly formed patches of paradise scattered throughout the Caribbean Sea. The island chain is adored by nature lovers, yachters, and the occasional millionaire, and it is world-renowned for its stunning white-sand beaches and crystal-clear water. The islands of Saint Vincent and the Grenadines are home to some of the most beautiful scenery in the Caribbean. This chain of 36 emerald volcanic islands stretches southwards towards Grenada in the Caribbean Sea. The fertile volcanic soil of Saint Vincent produces a bounty of vegetables and fruits that get sold throughout the Grenadines and the Caribbean region.
3 Days Stay
United States Virgin Islands-Best Caribbean Islands to Vacation
April through June is the perfect season to visit the United States Virgin Islands since there will be little rain and moderate weather. During the peak season in the U.S. Virgin Islands, which runs from December through March, temperatures vary from the mid-70s to the upper 80s, with windy evenings. In addition to being a favorite holiday destination for Americans, the U.S. Virgin Islands is also considered a relatively safe beach haven for vacationers. However, regardless of how well-known a location is, there is always the possibility of encountering some form of danger.
3 Days Stay
7 Days Stay
Saint Croix
Many people are unaware that St. Croix is home to four national parks part of the United States National Park System and numerous more protected by the United States Fish and Wildlife Service and the Nature Conservancy. Stunning views, hikes, mangrove estuaries accessible only by kayak. If you want to take a short journey to the lovely Caribbean, the island of Saint Croix is the ideal destination. Beaches, jungles, and a diverse range of cuisines are all waiting for you to explore there. St. Croix is not a sprawling collection of sprawling all-inclusive resorts that stretch for miles and miles in every direction.
3 Days Stay
7 Days Stay
Saint Thomas
The period April-June is the most pleasant for visiting St. Thomas. St. Thomas may get seen throughout the year, but the best time to come is between April and June because of the excellent weather conditions, lower travel costs, and the absence of busy holiday seasons. At its warmest, temperatures in St. Thomas may reach approximately 29 degrees Celsius (85 degrees Fahrenheit) in the summer. The island of St. Thomas is a very safe place to visit. It is a protectorate territory of the United States. As a result, the same laws and rules apply there as they would in any other city in the United States on the North American continent.
3 Days Stay
7 Days Stay
Interesting Reads:
Negril, Jamaica is the Best Destination in the Era of Social Distance.