Tiger's Nest in Bhutan-Bhutan is a tiny country in the Himalayas. It is an independent kingdom located between India and China. Bhutan means "Land of the Thunder Dragon" in Sanskrit because there are many thunderclaps during the monsoon season.
Like the Eiffel Tower or the Statue of Liberty, the Tiger's Nest is one of, if not the most recognizable symbols of Bhutan. In my opinion, this is amongst the most magical sites I've ever seen. Upon arrival in Bhutan, it was amongst the things I most eagerly anticipated seeing.
For centuries, the Paro Taktsang monastery has been perched 3,000 feet above the Paro valley, erected in the late 17th century on the site of an old cave. Taktsang, the Tibetan name for the Tiger's Nest, means "tigress' lair" in English. This name is derived from a local mythology about the place's origin.
The Monastery
A tiger-turned-disciple has carried Guru Rinpoche, an 8th-century Indian Buddhist leader, up a mountain to deliver him to his final resting place. Guru Rinpoche then meditated in the cave for 3 years, 3 months, 3 days, and 3 hours after they arrived. As a result of his efforts, it was elevated to a sacred site and given Paro Taktsang.
Tiger's Nest monastery is a Buddhist monastery located on the northern face of the cliff of Paro valley in Bhutan. It was built into a rocky nook on the side of this cliff in 1692 by Ngawang Namgyal, who had fled there from Tibet.
The Taktshang Goemba (Tiger's Nest Monastery) is amongst the most important religious sites in Bhutan and drew me to visit it during my trip to this beautiful country. It is a UNESCO World Heritage Site that has inspired many travelers for years, including Heinrich Harrer (who later became famous because he wrote "Seven Years in Tibet"). There are three separate temples here; however, you can only visit one as it is too dangerous to climb to the other 2.
Preparation-Tiger's Nest in Bhutan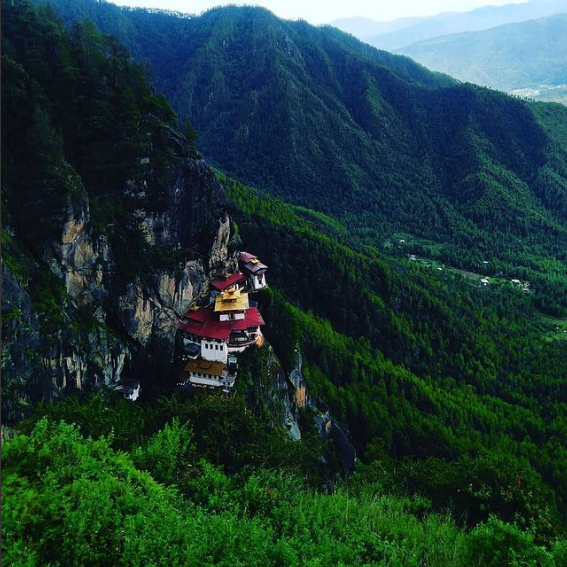 We got up early and left Thimphu at 6 am to reach the foot of the mountain at 8 am, which is when the Tiger's Nest hike opens to the public. Visitors may purchase souvenirs and crafts from vendors at the entryway. For 50 Nu ($0.70), you may get a carved wooden walking/hiking stick. If I'd purchased one like Dagney's, I could see how a stick might have come in handy.
The journey is far from over
Once beyond the booths, the pace of the walk slows down. We passed a few fields and came to the base of the cliff after passing through the gate. You may hire mules and horses from the villagers to help you ascend the route. Several factors influenced our decision not to take advantage of this chance.
First and first, we were worried about the wellbeing of the animals, particularly the mules. First of all, you can only get as high as halfway up the animal's backs. After a certain point in the climb, they cannot securely carry a person (which leads back into concern for their welfare). As the last point, if you haven't had the experience of riding on a mule or some other horse-like animal, it can be just as unpleasant as trudging up the mountain on your own.
So we could enjoy the sense of accomplishment that comes with getting there on our own!
I'm about to embark on the Tiger's Nest Trail-Tiger's Nest in Bhutan
The terrain began to rise sharply and vertically. As a group, we had officially started our climb!
Even though we were still a long way from the Tiger's Nest, I was looking forward to the rest of the journey. We made our way towards the forested region that encircles the cliff's edge. The majority of the Tiger's Nest walk turns out to be somewhat manageable. In general, it entails hiking up a gentle slope on the rock face.
Zig-zags between trees begin to form in areas where the slope gets steeper; nevertheless, humans have built their paths by cutting through to the next curve. These trails are straightforward to follow, but because they are steeper, they may take as long as the more direct route depending on your fitness level (and ability to get lost).
Several prayer flags are lining the Tiger Nest Trek route.
For me, the walk was more of an endurance test than a challenge to my physical abilities. I was apprehensive about the high altitude because I'd spent most of my life in the UK. I began to gasp for air considerably more frequently than usual. Instead, Dagney, who was raised in the mountains of Colorado, was relishing the opportunity to outrun me.
He makes it appear as though I didn't have any difficulty, but I can assure you that I did. My problem wasn't with the altitude at all but rather with my physical fitness.
Half Way There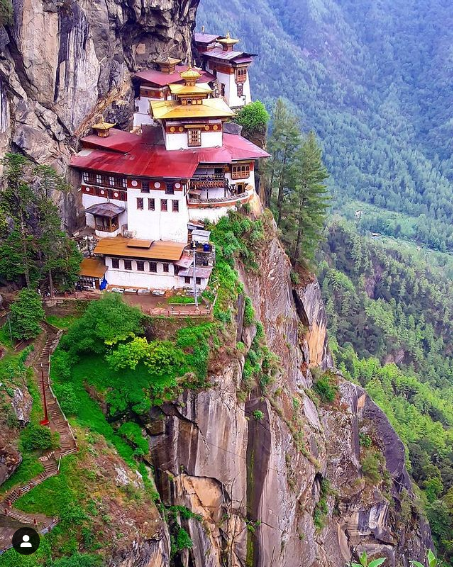 We finally made it to the halfway point of the Tiger's Nest walk after a couple of hours of climbing (during which I took several breaks to collect my breath). There are bathrooms here, as well as a cafeteria where you may buy food and drink. Take a break and drop your hired mule off here if you need to.
Before the halfway point, there were prayer wheels.
Before continuing our ascent of the cliff, we took a short break and had some tea. It was growing warm by the minute, so we didn't want to stop for too long. We still had a few hundred meters of climbing and descending to go before we reached the Tiger's Nest (and then up again, as we found out later).
We climbed the cliff for a few more hours. At this point, the Tiger's Nest had been steadily moving closer and closer over this period. But suddenly, it was gone from view. Although our walk was unusually flat, we came across a viewing platform, and there it was, sitting magnificently across the street!
Surprisingly, we had a better view than the Tiger's Nest. From the observation deck, we could see it from the other side of a tiny valley. A rope bridge traverses a chasm near a waterfall, flanked with prayer flags, farther down the road.
The Difficult Portion-Tiger's Nest in Bhutan
It was the portion of the journey that I had dreaded the most." You'll need to trek a bit farther up the mountain to reach the Tiger's Nest Monastery via this path. After that, you'll have to retrace your ways back up the hill and then cross a rope bridge, which will require you to retrace even more steps. Getting to the summit was going to be a challenge because of the thinner air and rising temperatures.
We were both exhausted when we made it to the bottom of the walk beside the waterfall, and I needed to take a breather. It is a good thing because the area around the bridge is a haven of tranquility and relaxation. Spray from the waterfall and prayer flags float in the breeze. Finally, we were ready to begin the final leg of our adventure.
One Last Stream-Tiger's Nest in Bhutan
This climb to Tiger's Nest was even longer than I expected, even with my second wind. Although they don't, it appeared like the steps got steeper as they progressed. But once we'd made it to the top, it had all been worth it.
We handed up our cameras and phones and left our shoes at the entrance of Tiger's Nest once we were inside. Once inside the Tiger's Nest Monastery, we felt a sense of relief that we had finally arrived. Even simply entering the monastery is believed to bring blessings in Bhutan, therefore many Bhutanese pray before entering.
We were happy to take a tour guided by a monk who lives and works at the Tiger's Nest Monastery to see inside. During the tour, amongst the most unbelievable occurrences occurred. A ginger cat was lounging on the roof of one of the buildings, staring at me with mild scorn.
A cat's preference for high areas is well-known, but this seemed a touch extreme. The Bhutan we'd seen thus far had been littered with stray dogs, and there hadn't been a single cat to be found. They may be all living in the monasteries up there.
The Tiger's Nest Monastery Trek: A Field Guide to Practical Information
3 to 4 kilometers round trip (depending on whether you cut through the mountain or go "around" it).
Gain in Elevation: 1,700 Ft (518 metres)
Height to the highest point: 3,776 metres (10,232 ft) (3119 metres)
How long it will take 
Honestly, it varies according to one's degree of fitness. The majority of people do it in only three hours! In the end, it took us a little over eight hours to complete the task. That being said, it's a pretty easy trek that's just a tad steep. However, if you have mobility or respiratory challenges, you may want to rethink your decision. Cost: Your tour guide can help you schedule a Tiger's Nest walk if you have to pay a visitor charge to enter Bhutan. Visitors from outside Bhutan, including India, are charged 500 Ngultrum ($7) to enter the Paro Taktsang.
To enter the Tiger's Nest Monastery, you must arrive between the hours of 8 am and 13:00; between 14:00 and 18:00 (you may begin your hike earlier than 8 am if you choose, but this restriction only applies to the Tiger's Nest Monastery) what to bring: Hiking boots, suitable hiking clothes (cover your arms and legs), a lot of water, a trekking pole. Many people, like me, suffer from nausea due to the high altitude. Therefore it's a good idea to bring some medication with you. I didn't need this, but it's always a good idea to be prepared. We recommend visiting in the spring or fall, but it's up to you. At this altitude, the summers may be sweltering, even when you're dressed in layers, and the winters can be freezing even if you're ready to put on more clothes.
Have you been to Bhutan's Tiger's Nest? At high altitudes, have you ever been stranded due to a shortage of air? Are there any unexpected places you've stumbled across a feline? We want to hear from you!
How long does it take to complete the hike?-Tiger's Nest in Bhutan
It can take anything from four to seven hours to complete the climb, depending on how much time you want to spend savoring the scenery or rushing up and down.
Is the Tiger's Nest trek arduous?
Tiger's nests may be walked by people of various ages, sizes, and forms. You'll see both young and old monks on the trek.
Is it really "difficult" if you don't like it?
It's a lengthy, steep trek, and the roads aren't always in good condition.
You may hire a horse to transport you up the first half of Tiger's Nest to the dining area if you don't want to trek the entire distance. It saves around an hour and a half of the journey.
Is it safe for children to play with?
For youngsters who are accustomed to walking or trekking, yes. Those who have never hiked before may find it a bit taxing and exhausting, although there are several opportunities to take a rest.
Taken from the Tiger's Nest Monastery perspective, this is the famous Tiger's Nest shot.
Advice on Getting Ready for a Hike Up Tiger's Nest
For Tiger's Nest Monastery trekking, you don't need to bring a lot of gear. However, even if you don't have all of these items, you may still go on the trek (do carry some water, though).
If you plan on hiking up Tiger's Nest, you need to pack the following:
Water, a Backpack
Stick for walking/hiking
A pair of sturdy hiking boots
A camera is required (you will want this)
To keep you going throughout your breaks, here are some nibbles
After trekking up to Tiger's Nest Monastery, a hot stone bath is advised to alleviate aches and pains.
Recommended Reads
Tiquets
Trip.com