The Republic of Cyprus is a Mediterranean island paradise that is quickly becoming a top destination for vacationers world-wide. Its rich history, culture, and its beauty set it apart from other locations in the Mediterranean, even compared to its "neighbors" Greece and Turkey. If you're looking to take a trip to an exotic sea-side, then Cyprus is the place for you. With hundreds of beaches to choose from, however, you may be overwhelmed by the decision. Don't worry! We've got you covered. We're here to tell you about the best beaches in Cyprus.
Alykes Beach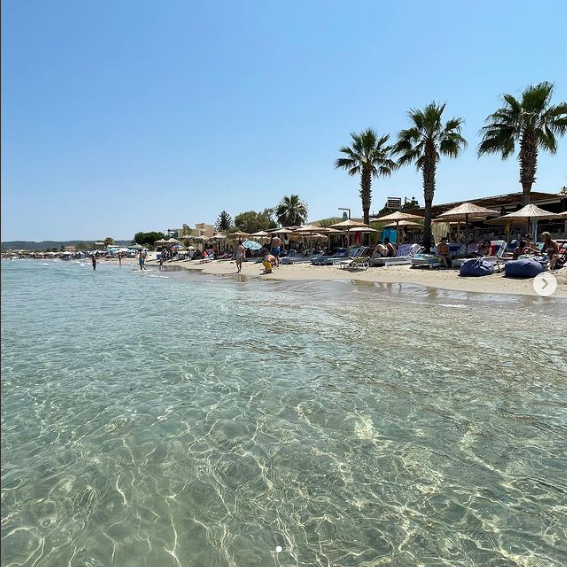 If you're looking for the quintessential beach vacation, you can't go wrong with Alykes. Known for its gold sandy beaches, you'll truly feel like you've been dropped into a postcard. It's not exactly secluded, you won't feel like you're all alone or like you've found a little alcove to call your own, but that's not everyone's cup of tea. This is a great beach if you want all your bases covered as far as amenities.
You also won't have to worry about needing to be in shape to get to the beach or down to the water. It's really a perfect choice as far as its location and its landscape is concerned so beach-goers of all ages can just relax on the shore or have fun in the water. The down side? Due to how perfect it is, it's a hugely popular tourist destination so the beach can get crowded during the high season.
Vrissiana Beach-The Best Beaches in Cyprus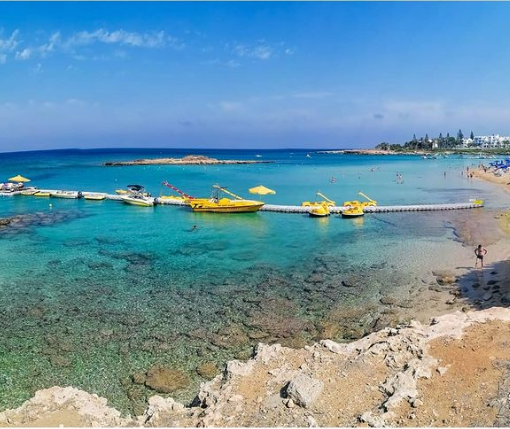 If you're going on vacation looking for excitement, Vrissinana is the place to go. You'll be among crowds no matter the time of year and you won't have to wander far to get anything you might need. Stay at one of the hotels lining the beach, eat at the dozens of cafes and restaurants, browse the shops between stretches laid out on the sand. You won't have to leave the beach your entire trip if that's what you want. You can even have excitement in the water. Rent some gear to go snorkeling and enjoy exploring the clear and gorgeous waters.
While this beach may not be for those who are looking for a quiet little beach trip, you don't have to worry if you or anyone in your party has accessibility issues. Wheelchair access is available for reaching the water and for using the beach facilities.
Petra Tou Romiou (Aphrodite's Rock)
If sandy beaches aren't for you, or if you're just looking to spend your beach days somewhere a little different, then go to Petra Tou Romiou. Considered the birthplace of the Aphrodite, the ancient Greek goddess of love, you'll feel like you're in a modern day myth as soon as you step onto the rocky beach. This beach is perfect if you're looking to go for a swim somewhere that feels out of this world. It can get crowded, but due to its importance in the country's history and culture, the surrounding area isn't too developed which lets the beach maintain its romantic feel. Grab your special someone and head on over for your vacation. Maybe Aphrodite herself will bless you while you're there.
Coral Bay-The Best Beaches in Cyprus
If Paphos is on your list of go-to places to visit, then you might want to make sure you plan a day or two to spend relaxing at Coral Bay, you'll be just a short bus ride away. This isn't the spot to hit up if you're looking for a quiet beach, it's a pretty big tourist spot, but that's not to say you can't enjoy yourself. You also won't have to worry about having to scramble to find anything you might need. There are tons of facilities, both to make your beach stay as worry-free and convenient as possible and to make the rest of your stay in the area easy and breezy.
Not totally sold? Well, Coral Bay has been voted by some to be one of the best beaches in the country. In a country with hundreds of beaches to choose from? That's not an honor to sneeze at!
Cape Greco
Finally, an entry for the nature fans out there. If you're looking for a beach that's a little more off the beaten path, then Cape Greco (or Cape Greko) is for you. This beach is a national park, which means the development and influences from the modern, outside world are kept to a minimum. At least, as much as possible. Whether you decide to spend your entire day in the clear blue waters or you want to take some time to stroll along one of the park's trails, you will feel like you have the place all to yourself, even during some of the busier times of year. With sea caves, rock formations, and beauty that will take your breath away, you won't want to miss Cape Greco while you're on your Cyprus vacation.
Salamis Beach-The Best Beaches in Cyprus
Are you into ancient history and relaxing on the shore? Then Salamis Beach is here to make your vacation dreams come true. Along the beach's coast you'll find the ruins of the ancient city of Salamis that are there for you to (respectfully) explore between bouts of swimming in the water. You'll practically be able to imagine what the civilization looked like way back when, during its prime while you're in the water. While it's not a terribly commercialized area as far as other businesses are concerned, you still won't have trouble finding a bite to eat or getting there if you don't have your own car and don't want to pack yourself a lunch.
One thing that's important to note, you don't want to leave your passport at the hotel if you plan to get to this beach from the Republic of Cyprus. This beach is located in north Cyprus which does require your passport to be checked both when going and returning.
Konnos Beach
If you liked Cape Greco, then you might want to make sure you fit in some time for Konno beach as well. This tiny little stretch of beach is small, but it's well worth a visit and a place on this list. It has the feel of being a bit secluded without being deserted. You can still have fun trying out water sports and rent a chair or bed for the day if laying directly on the sand isn't for you. It;s also easy to access no matter what mode of transportation you use to get there. Konnos will ensure that you have plenty of picture perfect beach moments to remember your vacation by for many years to come.
Fig Tree Bay-The Best Beaches in Cyprus
For a beach trip that's so perfect, it almost seems like it should be in a movie, go to Fig Tree Bay. Proud wonder of a blue flag award, this beach has waters that just beg you to go diving into them. While the main beach is busy, especially during the high season, if you're a swimmer, you'll be able to find some seclusion by making the swim over to the beach's little island just off the beach.
This beach is also perfect if you're looking to bring the whole family to Cyprus. The water is shallow for a large distance off the coast, so you won't have to worry too much about your young ones getting too deep in over their heads, literally.
Voted as one of the best beaches in all of Europe, it's hard to find reasons why Fig Tree Bay shouldn't be at the very top of your must-visit beaches list.
Alagadi Beach
Another entry for the beach-goer who prefers to spend their day in a more natural coastal landscape. In fact, Alagadi beach is so natural, you can even witness some of the local wildlife in its natural habitat by joining a turtle-watching tour. If you're looking to take a break from swimming, check out if the Society for the Protection of Turtles research center is open so you can learn more about the little guys who call this beach area home. Their tours are at night, so you can spend the whole day lounging on the beach and end it with a tour. Doesn't that sound like a pretty perfect day if you're a nature lover?
This beach is also in north Cyprus, so make sure you don't forget your passport if you're coming from the Republic of Cyprus.
Finikoudes Beach-The Best Beaches in Cyprus
Finikoudes is one of the most famous beaches in Cyprus, so it definitely deserves a place on our list of the best beaches in the country. If you're used to golden beaches, then you might be surprised at first, this beach boasts gray sand. While maybe not what you're used to, you won't miss the gold grains once you walk along these soft shores. This beach is right off the city center, however, so it's not for travelers looking for peace and quiet. You won't have trouble relaxing, however, there are plenty of services available that make this a great beach for all sorts of travelers to have a worry-free day full of fun and activities, even off the shore if you're looking for a little break from the beach. Just with a little added hustle and bustle.
Lady's Mile Beach
This beach is perfect if you don't want to be too far away from civilization but you don't want to feel like you're fighting the crowds to enjoy a little bit of the water. It's a large beach, stretching 7km, so there's plenty of room to roam if any one section feels like it's a little too crowded. A popular spot not just for tourists, you'll see plenty of locals enjoying this beach. Sign up to try some water sports and let your kids play safely in the water, you don't have to worry if your swimming skills are a little rusty, the water is shallow here and perfect for having a leisurely time in the water. This beach is also just a hop, skip, and a jump away from some killer bird watching nearby if you're looking to get away from the beach for a while.
Governor's Beach-The Best Beaches in Cyprus
Another well-known and popular tourist destination, Governor's beach has a reputation for its beautiful white rock beaches. While maybe not the best if you're looking to bring little kids or have travelers with sensory issues in your party, you'll definitely want to snap a few pictures of this part of the beach. Don't worry, though, you can find the soft, golden sand you might be more used to just to the west of Governor's beach, so you've got all your bases covered. It's also got shallow waters in the same area, so you don't have to worry too much about having to dust off your swimming skills. No wonder it's such a popular spot for visitors, right? You can also breathe easy about letting go and having fun in the water, there are lifeguards on duty there to make sure that everyone has a fun, and safe beach day.
Pissouri Bay
Pissouri Bay has a few things going for it that earn it its spot on our list. The first, and arguably the most important, if you don't want to deal with huge crowds on your relaxing beach vacation, then this is the spot for you. You don't have to worry about planning your trip in the off-season and finding the right time when there are fewer tourists but the water is still warm. Even in the middle of the high season, this beach isn't that crowded.
The second is a pro or a con, depending on the type of traveler you are. If you've been a little disappointed by all the shallow water beaches we've talked about on this list thus far and you're looking to go for a real, bona-fide swim, then this iis the beach for you. The water drop off is quite deep, so you'll soon figure out you have to swim to stay above water at this beach.
Lara Bay-The Best Beaches in Cyprus
Lara Bay is the beach spot to hit up if you're the adventuring type. Not for the faint at heart, you'll need to be prepared to hike or get ready to take an off-roading vehicle to get to this beach, but it's well worth it if you're looking for a place where you can feel all alone. Get in some nature watching and enjoy some seclusion in the water. It's a bit of a drive and definitely an adventure of a trek to get there, but the reward is worth it, and if you're up for it, it definitely belongs on your travel bucket list.
Golden Beach
Golden beach, also known as Nangomi Bay, is perfect if you want to visit a beach that hasn't been overrun with commercialization. Known as one of the country's prettiest beaches, you'll love the natural landscape made up of dunes and hills. If you're lucky, you'll even spot a wild donkey or a loggerhead turtle or two. In fact, the turtles who call this beach home are so important to the area that they get a part of the beach all to themselves. You'll have to watch from afar as some of the area is fenced off to keep them safe.
As the name would have you believe, this beach is also made up of gorgeously golden sand that will seem like it's more than just golden in color on a beautiful day.
While not completely secluded, there are a few nearby restaurants, for example, don't expect this to be terribly close to any hotels, so it'll take a little time to get here. It's worth it, though.
Mackenzie Beach-The Best Beaches in Cyprus
While Mackenzie Beach is often used in marketing for nearby resorts, don't let that scare you away, this beach is publicly available, even if you're not staying at the hotel. Mackenzie Beach is the perfect place to go if you don't just want to sit on the beach, though you can definitely do that too. You'll have access to plenty of services to try out different water sports, including speedboat and jet-ski rentals, so if you're looking for a little dose of adrenaline, this is the beach for you. If you're looking for a little more quiet time, we suggest going out in the morning, you'll have the best chance of finding fewer people so you can enjoy the beach in peace for a bit before getting to all the excitement it has to offer.
Nissi Beach
This beach is one of Cyprus's biggest tourist attractions. Unlike many of the beaches, this one has beautiful white sand beaches that set it apart from the rest, and like the rest of the beaches on this list, the water is beautiful and clear blue. Sitting a few miles away from the nearest city, this beach may be popular, but you won't feel it's too overcrowded during most times of the year, though we do recommend avoiding the summer months to really cut down on the number of people you'll be sharing the sands with. The beach has you covered with anything you might need, from lifeguards on duty and showers available for public use after your swim all the way to restaurants and cafes to relax at for a nice meal, you won't have to think about anything but how much you're enjoying yourself at Nissi beach.
Makronissos-The Best Beaches in Cyprus
Makronissos is the beach to go to if you're looking for a nice balance between a calm environment and shallow waters. Really, if when you go on vacation you want to be able to turn your brain off and not have to worry about a thing, you'll be hard-pressed to find a better beach to head to. Relaxation is inevitable here. Yet, if you're also looking to test the waters with a little adventure, you can easily do that here too. Get in a little casual diving to explore a little better under the surface of the blue waters. At just a short drive away from Nissi beach and the nearest large city, you can get right to enjoying your beach time.
Paramali Turtle-The Best Beaches in Cyprus
Yet another beach if you're looking to do some nature watching. This isn't the place to go if you're looking to stay near the biggest tourist places. Like most of the shores that are home to the wild turtles, this is a protected area, so you have to be careful and make sure you respect the land and, most importantly, the wildlife. You may have to plan ahead if you want to make your visit to Paramali Turtle Beach an all-day thing, there aren't many places to grab a bite to eat, and because it's not meant to be a busy tourist spot, you'll have a lack of facilities compared to other beaches on this list.
Also, if during your planning you notice that this beach technically isn't within the political borders of the Republic of Cyprus, don't worry, this is one beach that, while technically outside of the country, you don't need your passport to visit.
Porto Pomos Beach
While Porto Pomos beach is beautiful in and of itself, you'll want to make sure you rent a car to hit this destination. The scenic drive really is a highlight of your trip here. It's about an hour away from the nearest bigger city, so you'll have plenty of time to take in the views on your way. Take it slow and make a whole day out of your trip so you don't have to rush the drive. Porto Pomos beach is also incredibly charming and gives you a small-town beach feel. Grab some food along the way and have a picnic on the sand that you won't soon forget.
We hope you liked our list! Did you find a few places you just have to visit now for a beach day or two?
Recommended Reads
Trusted Tours and Attractions