The Peninsula Hotel in New York City: This hotel has a traditional New York vibe, and it's not just because it's right off Central Park on Fifth Avenue (which, it should be noted, is as desirable a New York location as it gets). As you enter the lobby and make your way up the double stairwell, the bustle of the city dissipates, replaced by soft neutral tones, quiet conversations, and more space than you could have imagined was possible in New York City. It's unquestionably one of the most sought-after properties in the city, yet it's far from expensive. When you arrive at the airport, you'll instead discover a group of well-traveled business people, many of whom are using their platinum corporate credit cards to pay for their stay.
The Peninsula Hotel in New York City is a venerable new york city landmark. It has been around for over 100 years and has survived both world wars, the great depression, multiple recessions, terrorist attacks, and more. It is one of the top luxury hotels in the country, with over-the-top amenities that are unparalleled anywhere else in the world.
Services Offered
The hotel's price starts at $595 per night, and it offers excellent value for money. You get breakfast included in this rate and access to their luxury spa club, which has a sauna, steam room, whirlpool tub, full-service salon, and excellent fitness center with all kinds of equipment, including massage chairs. You also get free wi-fi in your room and around the public areas. They also offer butler service when you arrive in your room- they distribute towels and other amenities like pillows based on your preferences when you enter the room (luxury level guests only).
As with other Peninsula hotels in Asia and Europe, the Peninsula New York has a central location, 24-hour service, and a concierge who can help you plan all of your New York City adventures.
What can we anticipate when we get here?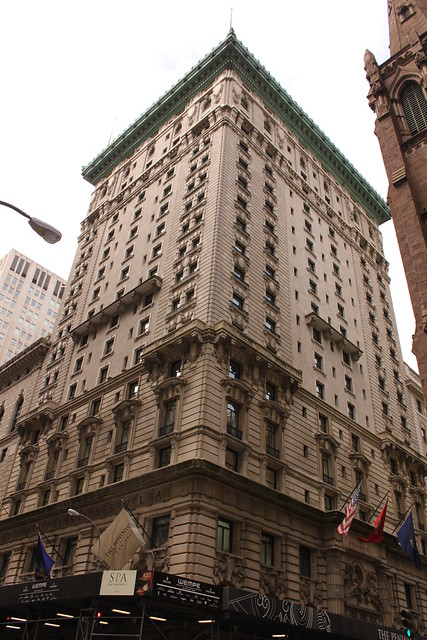 Luxurious New York apartments are the inspiration for the Deluxe Suite. It is possible to achieve a sense of elegance and comfort in this 1,050 square foot area by using neutrals, soft materials, and delicate splashes of gold. After a very tiring day, the living room is the perfect place to take off your shoes and relax on the velvet sofa with a friend over a drink.
The blackout curtains on the windows and the fresh Italian linens on the bed ensure a good night's sleep. There are thoughtful additions like a floral-scented candle, a clay face mask, and a TV screen floating just over the foot of the tub, but the main pleasure is the tawny marble bathtub with city views. It's no surprise that the private bathrooms at The Peninsula spa live up to the resort's stellar reputation.
What can you tell us about the fare and beverage?-The Peninsula Hotel in New York City
Clement, the hotel's on-site restaurant, is an essential New York dining experience even if you're passing by on your way to work. Truffle, lobster, oysters, and a fusion of European, American, and Asian flavors are all on the menu. Choosing between the Chinese dim-sum and the smoked-salmon eggs Benedict for breakfast will be your most complex challenge.) Dinner at The Peninsula was the highlight of our stay, and the Maine lobster thermidor, flambéed directly at the table in a cognac sauce, is a must-try. Cocktails at the rooftop Salon de Ning are less time-consuming and less demanding, but the combination of après-ski style and Asian flavors doesn't quite work. Darkly lit, with buttery leather chairs and moody corners, the Gotham Lounge, on the other hand, is the kind of place where you want to nurse a stiff drink and catch up with a buddy.
Is there anything you'd want to add?
There were just a few problems, but they were swiftly addressed by surrounding employees, who made it their goal to resolve them quickly and discreetly.
Who is it that comes here?-The Peninsula Hotel in New York City
There isn't a lot of variety. Because of the high cost, most guests are either well-heeled vacationers (such as couples) or well-dressed businessmen. That said, everyone stays to themselves, so you can keep a low profile and enjoy some peace without feeling the need to engage in small talk at breakfast or in the elevator.
What's going on around here?
The Peninsula's midtown location is ideal, yet it's far enough away from Times Square and other tourist hotspots to be quiet and peaceful. Central Park is just a block away (ideal for a morning jog in the summer months), MOMA is just across the street, and Fifth Avenue itself is lined with a wide variety of boutiques, cafés, restaurants, and designer labels.
Is there anything more I should know?-The Peninsula Hotel in New York City
Even if you have time for a brief plunge and a peek at the stunning vistas, the top-level pool is worth a visit. Even more so, the 21st-floor spa is a treat. After just one treatment, you'll understand why New Yorkers have been flocking here for years without reserving a hotel room, thanks to a team of experts who know how to relax even the tensest of nerves.
A stay at The Peninsula New York is a treat for yourself in the heart of New York City. There are times when a little old-fashioned luxury is just what the doctor ordered. Make a reservation for a room.
Design and Style-The Peninsula Hotel in New York City
The architecture of the late 19th century in France got distinguished by symmetry, classical forms, lavish decoration, and a vast scale known as beaux-arts. The Peninsula New York's interiors are based mainly on this description. The Gotham Hotel, which initially opened as The Gotham Hotel in 1905 and has had several modifications and ownership changes since then, is an example of this early twentieth-century American architectural style. Here's a reminiscence of the hotel's rich past: Built for $2.25 million and designed by Hiss and Weekes, The Gotham was amongst New York's first steel-framed hotels. Originally built as a private apartment hotel in 1939, it received a second renovation in 1978.
Once again, in 1987, Maxim's de Paris re-opened as a boutique hotel under Pierre Cardin's leadership before being bought by the parent company of The Peninsula Hotels in 1988 and renamed The Peninsula New York. The hotel's design, on the other hand, doesn't do justice to its setting. At the turn of the century, the continent's most prestigious thoroughfare—the Fifth Avenue—went from a suburban street to a commercial one.
The Surroundings
It was when it initially came into being. In other words, you can leave the hotel, go shopping, and then return to your studio. With Bergdorf Goodman, Saks Fifth Avenue, shops in London, Paris, and Milan, or the largest H&M and Uniqlo store in Japan, you can get anything you want in one place. It's a short walk from the hotel to the Museum Mile, which includes: the Metropolitan Museum of Art, Museum of Modern Art, Jewish Museum (JFK), Guggenheim (Museum of Art of New York City), Cooper-Hewitt National Museum of Design (CHC), and more. A stroll across Central Park could be on the agenda after checking into the Trinity Church and Rockefeller Center on day three.
You can't get any closer to the heart of Manhattan than this location. I could look at the sky for hours—my room's view of 5th Avenue. Even if you haven't gotten a sense of how well-located this hotel is, I'll spare you the details. The view from my 20th-floor Deluxe Room, which cost $795 a night, was even more impressive since it looked out over Fifth Avenue in its entire splendor.
Luxury Accommodations-The Peninsula Hotel in New York City
You are wrapped in a cocoon of quiet and luxury as you walk away from the windowpane, which overlooks one of the world's busiest streets. The vastness of the space, relative to New York City norms, also contributed to the tranquility. This is the perfect blend of old-school grace, elegance, and spaciousness," says the author.
One of the most oversized suites in the hotel is 3,000 square feet and includes 54 bedrooms. Suites and guestrooms had a brand-new makeover in 2009, with brand-new furniture, bedding, carpeting, and drapes in a mellow grey, taupe, and gold color scheme.
Upon checking in, I was greeted by an assortment of chocolates and a chocolate decoration. I have to confess that I was smitten. The Peninsula brand prides itself on its exceptional technology, and a little study on the hotel confirmed this and noted how accurate it was. The place had a flat-screen TV, temperature and lighting controls, a television, music, and an exterior privacy sign. There was also a scanner/printer/fax machine in the room for anyone who needed such things.
If you're looking for a peaceful soak or a quick shave, there are three "mood" options in the bathroom. With a hands-free phone installed in the tub, the television and radio are instantly silenced, eliminating any environmental noise during the conversation. As a farewell present, I received the lovely Peninsula teddy bear. Rooms in New York City don't have their coffee machines, although they may get requested. When you book a stay at The Standard New York, you'll get the opportunity to test out Beats by Dr. Dre's speakers and headphones. Tea sets on lovely blue bone china are a feature I miss from previous Peninsula hotels that I've stayed at.
Divine Bathroom and Exquisite Cuisine
Beautiful and spacious, the bathroom was even more extensive than the average hotel flat in the city. You can't get more luxurious than this with marble floors, a soaking tub, and Oscar de la Renta goods in the bathroom. Clement is the ideal location for a romantic meal for two. Both the service and the cuisine at The Peninsula New York are excellent. The most recommended option appears to be Clement, a French restaurant with a stellar reputation. A chef de cuisine is known for his:
– unique combos such as Hudson Valley foie gras with pistachios, Japanese peppercorns, and pickled blueberries;
– black sea bass in a Peking duck broth;
– pork with warm cabbage, chestnut, and crisp honey apples, and is in charge of the 2013-opened eatery.
Inspired by a "fantastically-appointed New York house" with a "separate eating room" and a ceramic exhibit by Pascale Girardin, Yabu Pushelberg created the restaurant. 5th Avenue may be seen from several tables. Two separate rooms, one for dining and one for coloring, are decorated with jungle murals on the walls. The Hidden Dragon – Wow, what a potent concoction this is. Cocktails and small plates with Asian influences can be found at The Bar at Clement, a stylish hangout on Fifth Avenue. The Hidden Dragon, a concoction of Lemon juice, Absinthe, and Hong Kong Baiju (Jade), is an excellent drink to try. Clement serves breakfast as well.
Rooftop Bar and Spa
A Chinese-themed rooftop bar, Salon De Sling, is a must-visit even if you're not sojourning at the Peninsula NYC. Cocktails and unrestricted views of Fifth Avenue can get found on the rooftop patio of the hotel. Early evening is the best time to visit, as the venue fills up quickly after work.
The spa is located on the 22nd floor. One of the few Manhattan hotels with a swimming pool is this one. In addition to having a sun patio, the Peninsula is temperature-controlled and glass-enclosed and offers views of the Manhattan skyline. The Peninsula New York's location is the greatest for a hotel in New York City. It has the old-world charm, but with all the contemporary conveniences and high-quality service, you'd expect from the Peninsula brand. The staff is always cheerful and kind, even greeting you by your last name although you're thousands of miles away from home. Reserving a room with a view of Fifth Avenue is a must; it's the icing on the cake.
Final Verdict
The Peninsula New York met all of my expectations, previously having stayed and been pampered at The Peninsula Shanghai and The Peninsula Beijing. If you've ever been to a Peninsula hotel before, you'll know what I mean: the bar is raised sky-high.
Recommended Reads
Sightseeing Pass
Shuttle Finder