The sad reality is that most websites have low website traffic and will never rank on Google even though there is a simple fix to the ranking dilemma. All aspiring bloggers, content writers, and website owners need to read this very important website saving article on "How to Rank at the Top of Google Searches 2021-A Detailed Guide".
Introduction
There is usually a desire to place well-written articles on a website, however, if the article does not have some level of potential to rank on Google, then it is an absolute waste of time to post it. This view probably sounds harsh, but you may hold this opinion too after learning more about SEO. If you are struggling to rank on Google, look no further than this detailed guide.
The Silent Website-If a Tree Falls in the Forest and No One Is Around, Does It Make a Sound?
Millions of websites have content that no one will read. Yes, all that time and effort, and money spent on magnificently designed websites but no one is reading your content. If no one is reading your content, rather than create a website, it is better to buy a notepad or a diary and document your thoughts. This is a serious suggestion. A diary is a book that is private and is usually only read by the writer.
Some Blogs Are Like Diaries, There Is No One Reading It Other Than the Author
That is the reality of many websites. Many websites have a catchy name with many years of existence and an active weekly blog release schedule, however, when their statistics are checked, no one is visiting their websites. This is an extremely depressing situation, where someone sits and creates well-written articles, but when you look at their website traffic it has less than 7 visitors per month. Case in point, the website examined below.

It may be obvious, that many bloggers are writing out of passion rather than strategically creating content that will rank in Google. Even more surprising is that these bloggers have thousands of followers on social media platforms such as Instagram. If not much effort has been placed on SEO after many years of existence, the fruitfulness of a partnership with these websites is questionable.
Writing Strategically and Not Passionately to Rank on Google
Many people who start a blog, desire to write from their heart and share it with the world. This intention is good, however, if your intent is just to post content that no one reads, what is the sense of having a blog? Why not buy a $2 diary on Amazon? To share your thoughts and idea with as many people as possible, you need to write strategically. Bloggers need to write content that people want to read and then by chance, visitors may see the passionate blogs on your website and read it also. The key is balance, bloggers need to write content that can attract visitors to their website organically rather than only content that is based on their desire to express. Writing is about creative freedom and writing on what you desire, however, if that's your approach, a private diary is best.
Directions to a Website
"A website or blog is like a store that is in a busy area, however, it is located on a narrow street that can easily be missed, so directions are necessary."

Lori Lewis
In essence, the above quote is saying that a website is on the internet that has millions of people, however, there are steps or directions to be taken to engage these visitors. A store may sell many things, including ugly hats that no one wants to buy, which are made by the owner. Putting up a sale sign with a picture of the ugly hats and the directions, will not let people come to your store. Instead, you may have to advertise some other items for sale that people desire to buy. When visitors come into your store, they may buy one of your ugly hats. This article will guide you on getting visitors to buy your hats but first, you have to strategically place highly demanded items (content) in your store(website) to get persons to buy your hats.
1. Focus on the Demand and Supply of Keywords to Increase Website Traffic and Rank on Google
"If there is no demand for a particular type of content, there is no need to write on such content. The first step in identifying content to write on is keyword research."

Lori Lewis
The economic principle of demand and supply is useful in guiding your efforts to rank on Google and thus increasing traffic on your website. The simple fact is that there are many topics that you may want to write about, however, no one may be interested in reading about it. So, before you write an article, you need to determine if your focus topic is marketable by doing keyword research.
Best Keyword Research Tools 2021
E.g " A blogger decides that they want to write on "how to stop hurting after a breakup". The blogger writes a well written and engaging article on this topic. The blogger expects millions of visitors to read their engaging article but only 10 persons have read their article in total over 5 months".
Reality Check– 5 million people will never read this article because only 170 searches are done for this topic/long tailed keyword monthly. See our research below. The keyword research tools outlined above can provide the statistics below.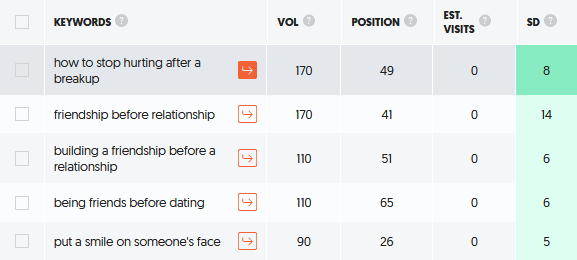 So the first step in improving your rank on Google is determining your keyword target. Additionally, you should be satisfied with the demand of the keyword(s) chosen and realistically assess if you can attract traffic to your website. This will be discussed further below.
2. Determine Your Competition
As in the case being discussed, 170 may seem like a small amount of traffic, however, it adds up. Other keywords that you may desire to rank on may be too competitive. It is said that 90% of readers don't go beyond the first page of a Google search. Targeting keywords that are highly competitive, means that your article may fall on page 7 of a search on Google, which no one reads.
Steps to Keyword Ranking:
Finding keywords that have a reasonable search traffic
Finding keywords that are not highly competitive
Target long tailed keywords
Let me give a practical example. There are many topics that a website could write on with specific target keywords. In the world of SEO, some topics and focus keywords are simply too competitive. It is hard to compete with articles that have been written in the last 5 years that are still ranking. A travel blogger may love Amsterdam which is in the Netherlands, they may have enough knowledge to write endless articles on this city. However,if you look at Amsterdam as a keyword to target, it may be too competitive.
The SEO Expert
Hence, one should do what most SEO experts would do, which is to target long tailed keywords. In our example, instead of Amsterdam, you could look at less competitive long tailed keywords that have Amsterdam in them. Once you have targeted long-tailed keywords related to your focus competitive keyword, then you can write an article that is specific to the target keyword.

246,000 people are searching for Amsterdam monthly, but the word as a target keyword has an SEO difficulty of 61 out of 100. What does this mean? This simply means it is highly competitive. It is best to choose keywords that have competitiveness of less than 20. Just to show you how competitive it is, let us look at the search results in Google.

598 million Amsterdam related articles as results. Sadly, most bloggers just write and expect a miraculous reading of their blog with no consideration to competition. If Amsterdam has a SEO difficulty of 61, this simply means that you will have to compete with 61% of 598 million to rank, which is 364 million. That is 364 million articles that existed before your content was written with an established internet presence for ranking. It may be a bit more technical, but this is a simplified explanation.
This scenario may look dismal as it relates to getting readers to read your content, however, there is a strategy we have termed the "Long Tailed Keyword Circle Strategy".
3. Create a Long Tailed Keyword Circle Strategy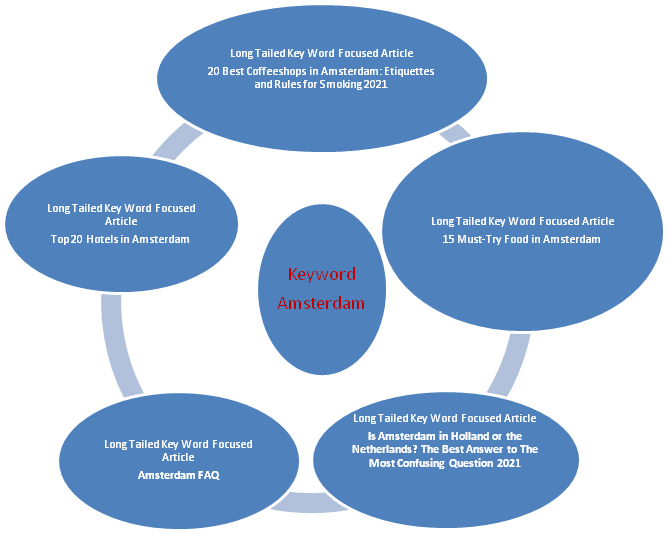 This essentially is the long tailed keyword strategy circle for Amsterdam. Each supporting article targets long tailed keyword(s). Below are some long tailed keywords that may be targeted in articles. The SEO difficulty is not high compared to 61 for the single word "Amsterdam". It is simply the concept of catching the low hanging fruits on a tree to fill the SEO basket, that is being used. There is a better chance to rank for long tailed keywords and for the traffic to add up. The diagram below shows the monthly traffic volume for some long tailed keywords related to Amsterdam. The traffic may seem small, however, to get a slice of the SEO pie, the saying goes "one, one, apple fills a basket".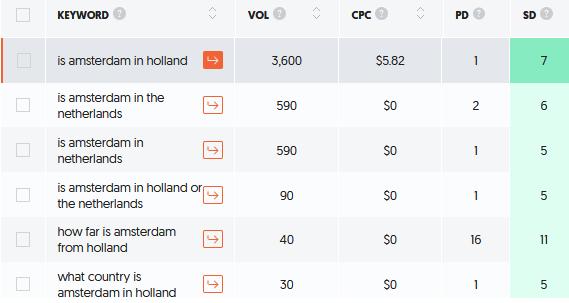 Low Hanging Fruit SEO Keyword Strategy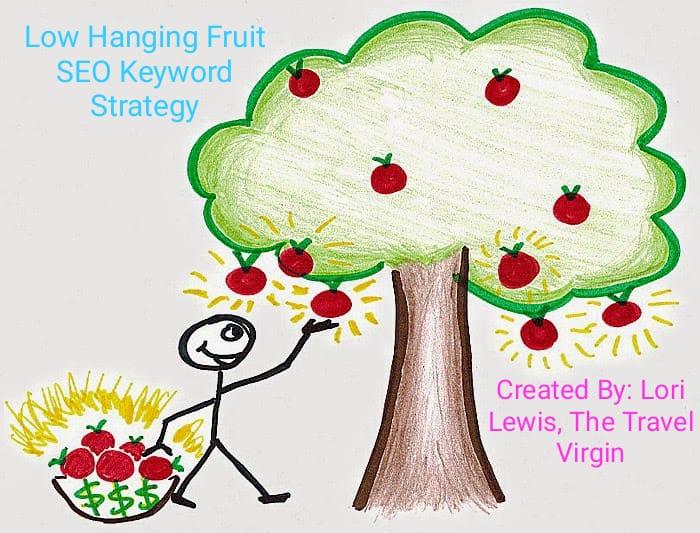 "The concept of low hanging fruits is best used in SEO optimization and keyword targeting. Ripe fruits that hang low on the tree, are long tailed keywords, they are easier to reach than the higher ones. If you want to fill your SEO basket quickly and get traffic to your website, rather than aim high, pick the low hanging fruits and fill your basket. The fruits high up in the tree are short keywords, these fruits are so high they may never be reachable in the short term. Fill your SEO basket with low hanging fruits, then overtime whilst you are filling the basket, one or two of the high-ranking keywords may fall in your baskets. The fruits at the top of the tree are of course larger and takes up more space to fill the SEO basket."

Lori Lewis
4. Fix Technical Issues on Your Website
In researching SEO, several websites were audited. People have launched beautiful websites, however, their audit report shows numerous technical issues.
"The greatest misconception is that a functional and aesthetically appealing website is absent of technical errors. Many people pay thousands of dollars to a web developer whose only concern is to please your eyes whilst the back-end of your website, is built with many technical faults that cannot be seen. Many web developers are more concerned with collecting a dollar, rather than leaving their clients with SEO advice to increase website traffic."

Lori Lewis
The above statement is another sad reality, most websites will never meet the traffic expectations of the owner. To resolve this issue, an independent audit is recommended. Once you get an audit, you can either fix the errors yourself, if you are competently inclined, or give the job to your website developer for correction. After the issues are corrected, then you perform an audit again to verify the fixes. A simple example of something that may be missing in the back-end of your website that may affect your traffic, is the absence of a security certificate.
Absence of Security Certificate Affects Website Traffic
If a security certificate is absent on a website, when visitors come to your website, the anti-virus on their computer may give a message that states that your website is not secure. Also, the message will recommend that the visitor does not proceed to visit your page. There are many websites that I have encountered this message on. Many visitors will see this message and may fear that the website has a virus or may cause harm to their computer through hacking.
Here it is that thousands of visitors will turn away from your website because of a missing security certificate. Imagine creating a website to sell products, and such messages appear. Visitors definitely will be hesitant to buy and place their credit card information on your website.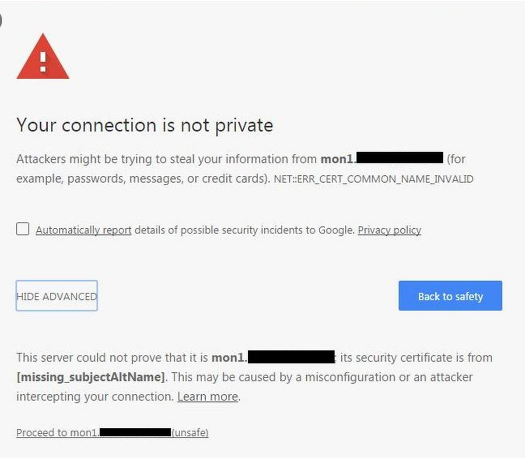 Fiverr is highly recommended for providing affordable SEO audit services. Simply go on Fiverr and type 'SEO audit' in the search bar and choose from highly rated providers. Please note that performing an audit does not require password access to your website. You can just provide the link to your website and an audit report is prepared. This report can be shared with your website developer for improvement.
"Technical issues on a website is like a new car that is unable to drive. On the outside, it looks new and like a car that should be working and performing well. However, when you check the hood of the car, plugs are missing and the engine needs fixing."

Lori Lewis
5. Create an Internal Linking Structure
One of the keys to improving search engine ranking is having a proper internal linking structure. Simply, your articles should link to each other. This is not just placing any of your links in a particular article but linking related articles on your website. Please look back at Step 3 of Creating a Long Tailed Keyword Strategy Circle. Using the circle of related articles, we create a linking structure between all articles. Please see the diagram below, showing the internal linking structure for Amsterdam.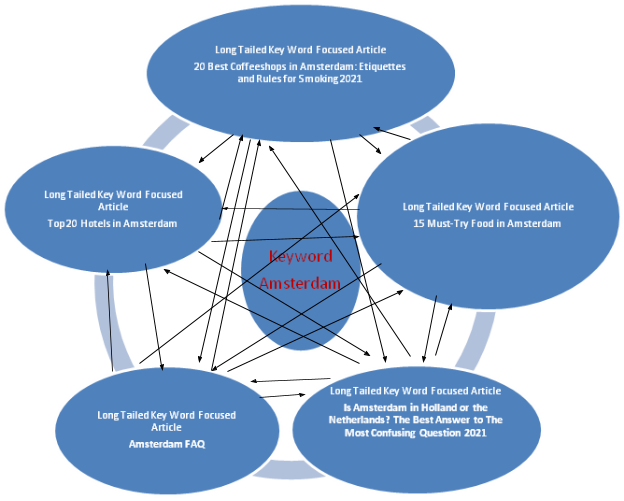 Here you see that articles on a website are not just randomly linked. Here you see that a blog or website has to create a plan and decide on areas of focus and create a long tailed keyword circle strategy. This is then supported by a proper internal linking structure. This in essence strengthens the ability of each page to receive website traffic by a system of referral and also adds to the Google ranking capability of the pages.
6. Create an External Linking Structure
"A man cannot stand alone, he needs support from his family or friends or community. The same holds for a website, steps 1 to 5 can be taken but that is not enough to increase website traffic, support is needed through the creation of an external linking structure."

Lori Lewis
An external linking structure is simple having other websites linked to your website. These websites don't necessarily have to fall within the niche of your website. However, other websites may be more receptive to creating a link to your website, if your suggested backlink adds value to their content.
Sample Request for Backlink Email
A simple email to other websites can be done to request a backlink. It is good to create a target, such as sending out 10 requests for backlinks weekly. Please see the example below that can be used as a guide for drafting an email requesting a backlink.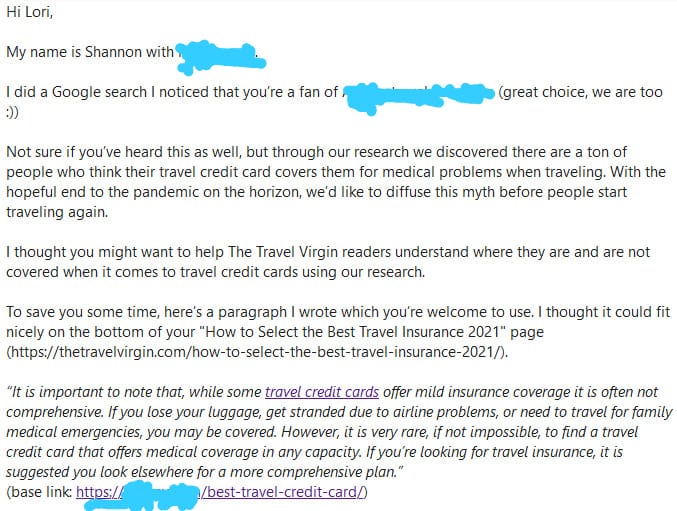 This letter is not just a simple generic letter for a backlink. It has intent and direction. It offers support to an article written on Travel Insurance. This link would give additional information to visitors. Below is an outline on how to identify websites that you can request backlinks from. Creating backlinks is an important step to improving your ranking on Google.
Steps to Identify Niche Related Backlink Articles
Think of a topic of support to your article and search for articles online.
Find the contact email for the website where the supporting article is placed.
Choose websites that are high ranking, listed on pages 1 to 3 of Google.
Write an email that has the following:

A comment related to the content of the article written.
The exact sentences about your website that you would like to be placed in their article.
The exact page you would like the article to be linked to.
7. Use an SEO Program to Check Your Article and Website for Content Optimization to Rank in Google
The best program out there for content optimization to increase website traffic is Yoast. If you use WordPress for your website, it is an easy installation. Yoast SEO Plugin provides great guidance as it has a green light system, that shows a green light for the overall article if your content meets enough requirements for content optimization. If you are not using WordPress and you have a blog website that is basic and cannot facilitate programs for optimization.
The Features and Benefit of Yoast SEO Plugin to Help Rank on Google
If it is that your website is limited, there are great experts on Fiverr, who are highly rated and can do blog transfers to the WordPress platform. This is recommended so that you can use the Yoast plugin. The Yoast SEO report below shows what you will see whilst writing your blog. The aim is to have most lights green.
When there is an overall green light for SEO you can go ahead and publish the article. An approving green light for SEO and readability is given for an article even when a few orange lights are present.
The text for SEO improvement is highlighted in colour when the eyes in the picture above are clicked . Below is the readability checker report.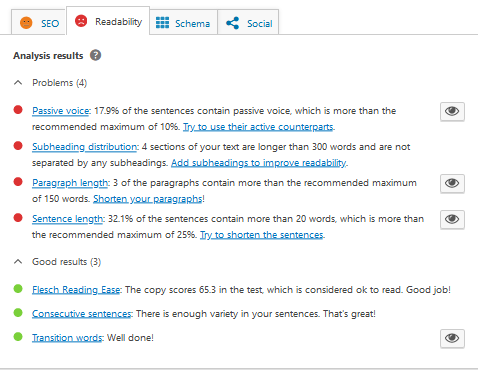 Having covered steps 1 to 7 you are on your way to improving your ranking on Google.
Best Marketing Platforms to Drive Traffic to Your Website
"There is two prongs to getting traffic to your website. Firstly and most important is focusing on Search Engine Optimization (SEO) to rank on the first page of Google. The Second is to use marketing programs or offerings that are specific to your niche. If you focus on the latter only, most of the traffic on your website, will need capital to generate which can leave your pockets exhausted. SEO allows traffic on automation with your pockets closed"

Lori Lewis
Focusing only on paid programs to market your website without taken steps to improve your ranking presence on Google, can leave you feeling broke and disappointed. The stress of spending so much money, yet there are no visitors to your website, can be overwhelming. The balance of having organic visitors through SEO and having a paid marketing program is a winning formula to being competitive on the world wide web.
The best marketing programs to drive traffic to your website are outlined below.
Quuu Promote offers packages to promote your blog articles for up to a year using LinkedIn, Twitter, and Facebook. It connects your blog to users on these social media platforms that have a reasonable to high amounts of followers. These users are niche-related e.g SEO, travel blogging, engineering, life hacks, etc. Quuu promote has over 90 categories, so most likely your website focus is present, whether it is cats or even artificial intelligence, they have promoters for these areas.
Not only do they market your content throughout the year, but they also have highly qualified editors who review your content and recommend correction. Please see the sample email below. They ensure that your content is of good quality before it is promoted. Some feedback reviews have a few corrections noted, whilst some are more detailed.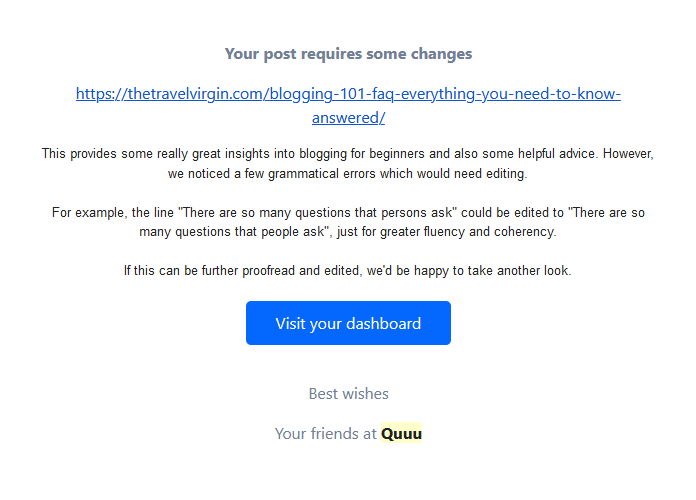 This platform has so many freelancers that have various offerings to increase traffic to your website. Whether you are searching for Instagram influencers or Facebook accounts that have a large amount of followers, Fiverr offers shout out marketing services. Fiverr is for one off promotions.
Related Article: Fiverr is The Best Freelance Service Provider For Start-Up Websites 2021
Simple Traffic sends real traffic to your website that can convert into sales. Using Simple Traffic, one can get up to 600,000 visitors on your website monthly. This offering is recommended as most programs that offer website traffic services, states that they will send traffic to your website but that it will not be traffic that converts to sales. The challenge with this statement by other traffic platforms means that a bot could be registering as traffic to your website rather than a real person. This platform provides the opportunity of traffic from visitors who can become subscribers and establish a long term relationship with your website.
Related Article: How To Get 600,000 Real Visitors To Your Website In A Month-Improve Your Chances For Sales, Sign-Ups, and Leads in 2021
The Shareaholic platform has a reach of over 450 million monthly. Websites use Shareaholic to share content as it is a free plugin in WordPress. Shareaholic, exposes your content to thousands of followers through its paid advertisement platform.
As stated before, if the blogging platform that you are using does not allow plugins such as Yoast and Shareaholic, It is recommended that you identify a qualified freelancer on Fiverr to transfer your content to WordPress. Websites that don't support plugins limits a website's effort at SEO.
Related Article: How To Advertise Your Start-Up Website On 100 Niche Websites for $5 in 2021
This marketing platform is similar to Quuu promote in terms of promotion. It offers promotions on Twitter, Pinterest, Linkedln, Tumblr, Mix and Flipboard. Viral Content Bee is limited in contrast to Quuu promote which markets each article on more than one platform for the duration of either the short term (1 month or 3 months) or long term (a year subject to renewal). So Quuu Promote offer a continuous marketing plan.
Conclusion
The above outlines exactly how to rank on top of Google. We desire your feedback on how your SEO efforts are going, please leave a comment below and subscribe for more SEO tips and ideas. If you need one on one help with ranking on Google, you can email us at [email protected].
Recommended Reads
Write Long Articles and Use H1 Tag To Rank On Page 1 in 2021
How to Start a Travel Blog without Traveling and Earn $10,000 a Month (Updated 2021)