Advertising on Google can be such a costly endeavour especially if you are a start-up website and you have to compete with million dollar companies with high cost per click rates for target keywords. The Travel Virgin knows the challenges that start-up websites face in trying to acquire visitors that are interested in your niche. In light of this, we want to share 'How To Advertise Your Start-Up Website On 100 Niche Websites for $5 in 2021"
"This post may contain affiliate links. If you use these links to buy something we may earn a commission. Thanks."
Google Advertisement is Good For Brand Awareness But May Be Too Costly For Start-Up Websites Who Expect Cost Per Click Returns
The Travel Virgin decided to advertise our article 'Weekender Bags for a Quick Getaway-25 Best Picks 2020-2021' on Google. This article highlighted a list of recommended weekender bags. When a purchase is made from the links in this article, we will gain a commission for purchases as an affiliate. The cost per click for the main keywords related weekender bag is shown below:
| | | | | |
| --- | --- | --- | --- | --- |
| Keywords | Monthly Search Volume | Cost Per Click | Paid Difficulty | Search Difficulty |
| weekender bag | 27,100 | $1.63 | 100/100 | 57/100 |
| weekender bag for women | 18,100 | $1.49 | 100/100 | 41/100 |
| weekender bag women | 18,100 | $1.49 | 100/100 | 49/100 |
| women's weekender bag | 18,000 | $1.49 | 100/100 | 49/100 |
Source: AirbnbSurvive Seo Audit Report
To a small online store, the cost to pay per click may be quite expensive, given that the competition is at its maximum with paid difficulty at 100, which means a lot of persons are bidding on these keywords. Back to my weekender bag story. After a couple of weeks, I had a few clicks but only a few purchases which made the cost of advertisement greater than the returns. So I decided to turn off this particular Google advertisement as I did not get the financial returns that I expected. Essentially it worked out that for every $1500 spent my returns would be $220 in affiliate commission. This definitely was a losing advertising campaign.
How To Advertise Your Blog or Online Store On Over 100 Niche Websites
So as a WordPress user, I use a program called Shareaholic to share my content on social media. In the pic below, Shareaholic provides the share buttons for Facebook, Instagram, Pinterest etc. If you look on thousands of WordPress websites you will see these share buttons which are most likely provided by Shareaholic. Shareaholic is used on thousands of websites worldwide and reaches over 450 million persons monthly.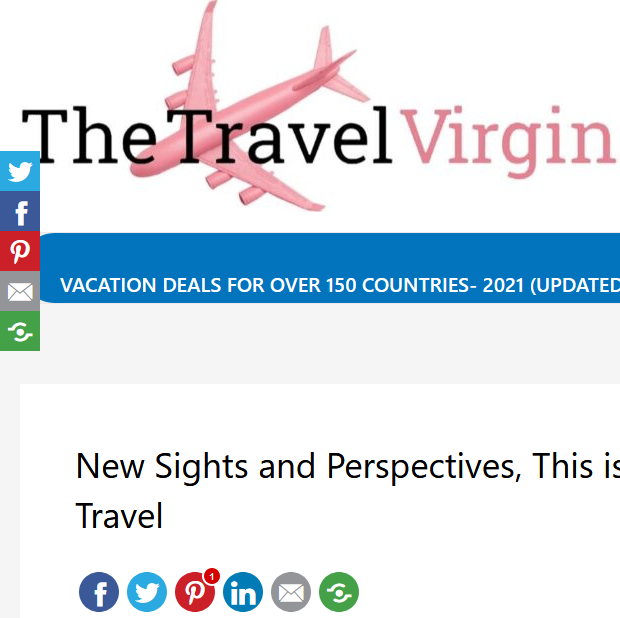 Shareaholic was used solely by me for its content sharing feature on my website, however in reviewing the Shareaholic dashboard, I decided to try out their advertisement feature. So I set the following parameters.
USA target
$0.05 cost per click
$5 maximum
This was advertising parameters set for my weekender bag advertisement. In the third day of my advertisement, I had spent $4.25 on my Shareaholic weekender bag advertisement and got 85 clicks. Remember I had stopped my Google advertisement, so when I went on my affiliate account and saw weekender bags listed as sold, I was surprised. So I had made $15 after spending $4.25. Since then, I have just been running ads on Shareaholic like crazy so I am seeing great returns but because I am running so many advertisements I am not able to distinguish exactly which advertisement the sales are comes from. I only know that I am now making money using Shareaholic as an advertiser.

The Reach of A Shareaholic Advertisement
Shareaholic was sharing my advertisement on all of their webpages. Shareaholic does not use the Google formula of cost per click, they seem to just pretty much place your advertisement on all the websites which fall in the category that you select on their dashboard. Please see categories below on Shareaholic. Shareaholic does not use keywords instead it uses categories. So for my weekender advertisement I choose 3 categories from the Shareaholic dashboard:
1. Style, Beauty and Fashion
2. Shopping
3. Travel.

How Do To Know Where Shareaholic Places Your Advertisement
Shareholic only reports on the amount of clicks. However, I again stumbled upon a way to find out the websites that Shareaholic was sharing my advertisement on. I did a search on Google for one of my blog topics and realized that I had blog article results from page 1 to 14. Each page having at least 8 results showing my advertisement, so that is over 100 websites. I checked each results and saw that all these websites were Shareaholic website, with my advertisement featured on it, waiting to be clicked.
My recent article titled "Fiverr is The Best Freelance Service Provider For Start-Up Websites 2021" is currently being advertised on Shareaholic. Now, I released this advertisement today, December 10 and it is already showing 14 pages of results on Google, that is over 100 websites advertising my article. This article is being advertised on aged blog posts. Some of these aged blog posts have good SEO traffic monthly. Imagine my blog was released only a few hours ago and already it is showing on over 100 websites, and if someone clicks I will only pay 0.05 as that is my cost per click rate that I have set in Shareaholic.
Google Results Up To Page 14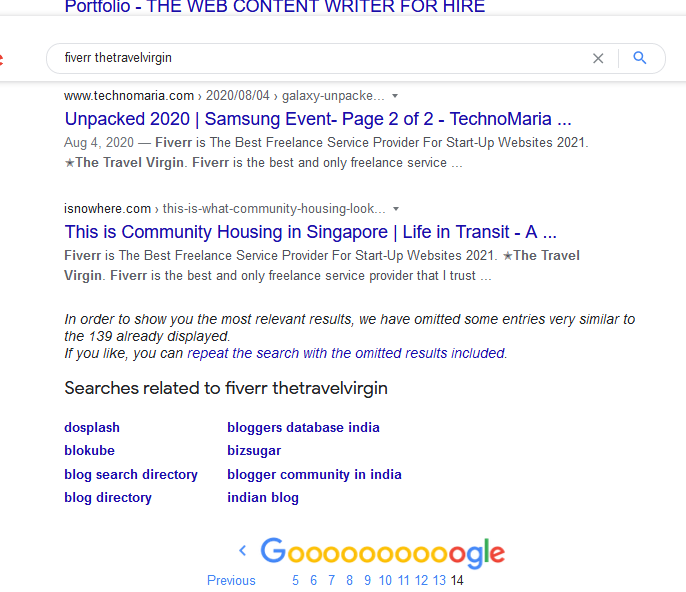 Conclusion
Here it is that I was simply using Shareaholic as my social media sharing program. Only to find out that it has an advertisement feature which is quite useful not only to establish The Travel Virgin brand but to generate sales for products that I am selling directly or through an affiliate program. I recommend Shareaholic as an excellent app to use to increase the visibility of your website. Try it out and see if it works for you.
Please leave your questions and comments below. Don't forget to subscribe to get the latest SEO tips.
Written By: Lori Lewis, Creator, The Travel Virgin