Hotel Plaza Athenee in Paris-Honest Review: This hotel is a Parisian delight dating back to 1913. With its characteristic red awnings facing the majestic Avenue Montaigne, it has long been linked to the world of fashion. It has even been fashionable since Christian Dior gave his name to the hotel's collections. It even had the luxury of appearing in favorite fashion films such as Sex and the City and The Devil Wears Prada.
Classic public areas, replete with chandeliers, give way to flashes of modernity, such as futuristic chrome-covered banquettes in an Alain Ducasse restaurant and the blue fabric-covered ceiling of Le Bar.
This is a historic and extremely elegant property that has been enjoyed over the years by superstars such as Marlene Dietrich, Elizabeth Taylor, Richard Burton, and Grace Kelly. On the elegant Avenue Montaigne, the hotel now comprises three neighboring luxury homes. One of these houses is leased by Harry Winston jewels.
The elegant and ultra-exclusive ambiance begins at the façade, where crimson awnings cling to the century-old structure. This ambiance is maintained in the lobby, which features crystal chandeliers, bronze and brushed oak furniture, red silk sofas and drapes, and fresh flowers beautifully set in marble columns.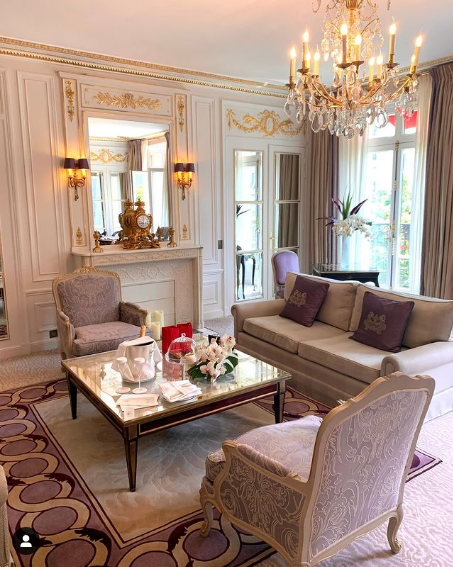 The Plaza Athenee's location is an added luxury-Hotel Plaza Athenee in Paris.
The Plaza Athenee hotel is located on Avenue Montaigne, known for its elegant stores. The best brands are within walking distance, from Chanel to Celine to Louis Vuitton, and the chestnut tree-lined promenades make for a picturesque stroll.
Restaurants and cafes abound, and major attractions are easily accessible in the heart of Paris. The Champs Elysees Theater is less than a two minute walk. Approximately nine minutes way is the Grand Palais. 22 mintues away is Arc de Triomphe. The Eiffel Tower is about a 15-minute walk across the Seine.
The Eiffel Tower closer to you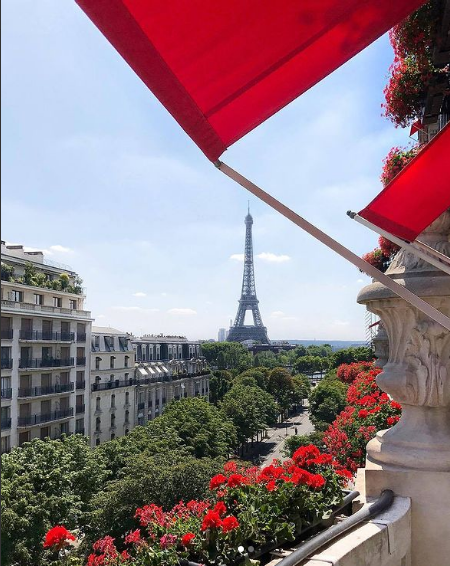 Whether your room is in classic French or Art Deco style, you will find comfortable and elegant furnishings. It includes silk-lined armchairs and comfortable beds with high-quality linens. They also have an excellent selection of pillows.
Some rooms overlook a quiet courtyard, others a tree-lined avenue or, in some suites, city landmarks. The six exclusive suites are spectacular, with splashes of vivid color and perks such as terraces, pianos, wine cellars, or, in the Haute Couture suit, a door-sized silver frame with a perfect view of the Eiffel Tower.
A palace in the heart of Paris-Hotel Plaza Athenee in Paris
This palace features four restaurants, a full-service spa, and a fitness center. Wi-Fi is available in the common areas free of charge. The hotel also has a bar or lounge, a snack bar or deli, and a 24-hour business center.
Free Wi-Fi and iPads are available in the 188 soundproofed rooms. Flat-screen TVs with satellite channels are offered for entertainment. Guests also have access to Select Comfort beds with a choice of pillows.
Facilities overview
The hotel's eight floors offer a variety of rooms and suites. The first six floors are designed in a traditional Louis XVI style, and the last two with an Art Deco touch. This provides a visual spectacle for guests and tourists who admire its beauty.
Marie-Jose Pommereau, the acclaimed interior designer, created the interiors, combining materials from the couture house with flea market discoveries to generate a luxurious home environment. All the rooms on the lower floors are finished with pale pinks and yellows, traces of damask and embroidery, oil paintings, fine period furniture, and gilded mirrors.
Upstairs rooms are modern, with well-crafted oak in warm chestnut tones used in everything from closet doors to coffee tables to workstations and bureaus.
Technology makes its presence felt without losing its prestige-Hotel Plaza Athenee in Paris.
It offers 188 rooms with iPad and iPod docking stations. Each accommodation has its furnishings and design. Select Comfort mattresses are used for the beds. Notably, this establishment allows guests to select the type of pillow they like.
They offer flat-screen TVs with satellite channels and movies for an excellent price. Bathrooms feature bathtubs with showers, slippers, and complimentary toiletries.
Guests can connect to the Internet via free Wi-Fi. A desk, complimentary newspapers, and a phone are among the amenities geared specifically for business travelers.
Minibars and in-room safes are also available. Hypoallergenic bedding and a hairdryer are provided upon request. Complimentary nightly turndown service and daily housekeeping are available.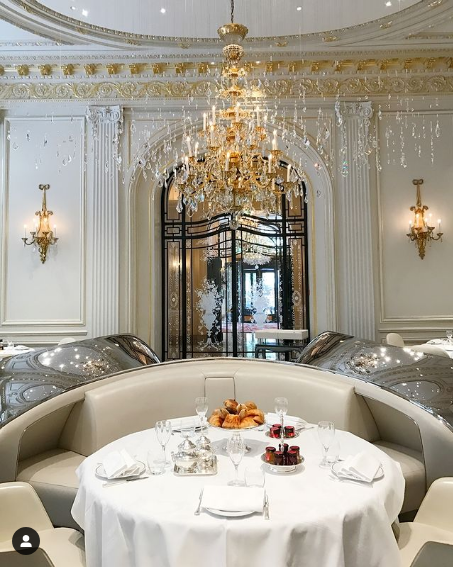 Transportation and parking-Hotel Plaza Athenee in Paris
They have valet parking on the premises (€45 per day). Wheelchair-accessible parking is also available. Transfers to and from the airport are available. Every day, 24 hours a day (for a fee).
Transfers to/from the airport are available upon request. Transfers to/from the train station are also available (for a fee). Limousine or chauffeur-driven car service is available.
Accessibility features-Hotel Plaza Athenee in Paris
Don't hesitate to contact the hotel using the information on your booking confirmation if you have specific accessibility needs. It has:
Handicapped-accessible restroom (select rooms)
Bathroom with an emergency alarm
A grab bar is located near the toilet.
Accessibility features for people with disabilities
Low sink height
Raised toilet seat
Parking for people with disabilities
Pathway for wheelchair users
FAQ
Does the Hotel Plaza Athénée – Dorchester Collection allow pets?
Yes, you can carry dogs up to 6 kilos (maximum 1 per room). A fee of 100 EUR per accommodation applies for each stay. They also charge a cleaning fee of 100 EUR.
How much does a stay at the Hotel Plaza Athénée?
In November 2021, rates for a one-night stay for two persons at the Hôtel Plaza Athénée will begin at $1,630, excluding taxes and fees. Prices sometimes change at any time without notice. To get the most exact pricing, you must pick dates.
What is the fee to park at Hotel Plaza Athénée?
The rate is EUR 45 per day. Valet parking is available.
What time is the check-in time at Hotel Plaza Athénée?
Check-in starts at 15:00. Check-in closes at 0:00.
What time is the check-out time at Hotel Plaza Athenee?
Check-out time is at noon.
Does the Hotel Plaza Athenee provide an airport shuttle?
Yes, there is an airport shuttle service (on request). The cost is 147 EUR per person.
Where is the Hôtel Plaza Athenee – Dorchester Collection located?
This luxury palace is located in central Paris, within a 10-minute walk of Avenue Montaigne and Champs Elysees. Rue Cler Market and Grand Palais are less than 20 minutes away. Alma-Marceau station is a 4-minute walk away, and Franklin D. Roosevelt metro station is 6 minutes away.
Can I cancel my reservation for free and receive a full refund for my hotel stay?
Yes, the Hotel Plaza Athenee offers the ability to cancel certain room rates free of charge because flexibility is important. Please refer to the Plaza Athenee cancellation policy on our website for more information on any exceptions or requirements.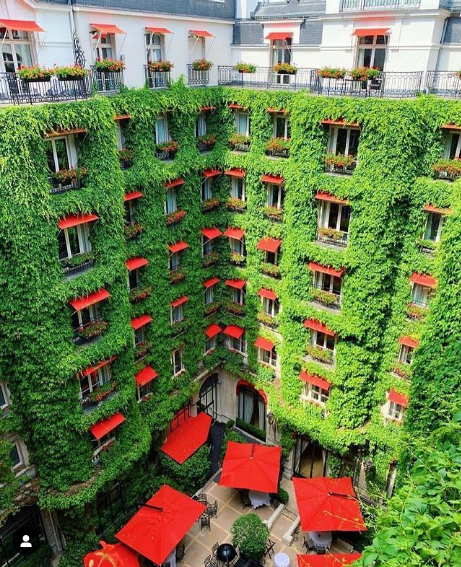 The bottom line
The Hotel Plaza Athénée is a family hotel in the heart of Paris. The rooms have a flat-screen TV, air conditioning, minibar, and free Wi-Fi.
You can also make use of the hotel's services, which include 24-hour reception, room service, and concierge. Guests can also have a nice moment at a hot tub and a restaurant during their stay. In addition, guests can access the parking lot.
The Louvre Museum (2.4 km) and Montmartre (3.4 km) are also nearby, making the Hôtel Plaza Athénée an excellent choice for a stay in Paris.
If you're looking for bars, consider trying Petit Boutary, Oinari, or Hoppy Corner, which are very close to the Hotel Plaza Athénée.
If you have time, the Eiffel Tower, the Musée d'Orsay, and the Arc de Triomphe are well-known attractions within walking distance.
We are sure you will love the Hotel Plaza Athénée while discovering all that Paris has to offer.
Blog Posts
Recommendations