Best Online Travel Agency: Travel has been redefined by the Covid-19 pandemic. We are navigating a new normal. Despite this, love for travel has grown as travelers long for the day when they can travel without Covid-19 related travel restrictions. As we prepare for travels this year, The Travel Virgin is here to provide a guide to finding the best accommodations, flights, bus, train, car rental services, attractions, and tours.
Exclusive Offer- Travel Discounts and Promo Codes 2021-2022-Deals for Over 150 Countries with Bonus of 300 Self Development ebooks
Whether you are seeking an online travel agency that provides and caters to all your travel needs or one that is a leader in a specific travel niche, The Travel Virgin has what you are looking for in our Top Ten Best Online Travel Agencies of 2021. We are certain that you will be pleasantly surprised at the ease with which you can plan your vacation online and cover your travel needs from start to finish.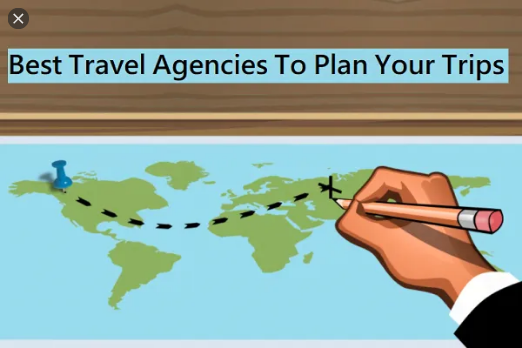 The Travel Virgin Team has independently researched all travel agencies recommended in our Top 10 Best Travel Agencies of 2021.
We may receive commissions on purchases made from links on our website.
Top 10
Booking.com– #1 Online Travel Agency
Rating : 10/10 Excellent
A trusted and established online travel agency, Booking.com was founded 25 years ago in 1996. It has an extensive listing of over 28 million which allows travelers to find listings that suits their varied needs. Whether you are searching for vacation homes, a bed and breakfast, hotels, apartments, villas, luxury resorts, cabins, or hostels, booking.com has it all. Booking.com not only provides accommodation offerings but offers car rental, airport taxi service, attractions, and flights. The site makes vacation accommodation selection easy as it provides guest reviews and amenities list. Additionally, the site clearly indicates whether bookings are non-refundable and the penalties attached to cancellations.
Features
Trip.com– Most Comprehensive
Rating : 9.8/10 Excellent
Founded in 2017, Trip.com has established itself as a leading online travel agency even though it has been in existence for less than 5-years. Boasting over 350 million users worldwide, Trip.com offers over 1.4 million hotels in over 150 countries and over 2 million flight routes. As seen below by the feature offerings, Trip.com is a comprehensive online travel agency that provides a one-stop-shop for travel arrangements. From accommodations, flights, car rental, and tours, Trip.com has it all. In 2019, Trip.com was awarded for its thoughtful, user-friendly, and inclusive app design by receiving Google's prestigious Material Design Award: Universality.
Features
Agoda.com – Best Price Guaranteed Online Travel Agency
Rating : 9.5/10 Excellent
Launched in 2005, Agoda is highly reputed for providing the best prices for hotels and vacation rentals. A popular online travel agency in Asia, it guarantees that it will match any price on the internet and also offers refunds for the difference. Agoda also has a special VIP program where users who have had 5 or more completed bookings in 24 months are offered exclusive discounts. In 2019, Agoda launched its "book without a credit card feature" available to Filipinos who can now instantly book hotels in the Philippines without a credit card.
Agoda has leveraged its offering in Australia by allowing Australians to book and pay for accommodations through payment installments that are interest-free. It also has a mix and save feature, which is very innovative as it allows travelers to have multiple bookings whilst experiencing savings by booking different rooms for different nights of stay. Agoda also provides flights through a third party redirect.
Features
HomeAway.com – Best Vacation Home Rental Online Travel Agency
Rating : 9.3/10 Excellent
HomeAway.com is the best vacation home rental website. Whether you are looking for a beach home, cottage, or apartment, Homeaway.com has it all. The filtering option on the website includes location type (beachfront, oceanfront, rural, golf course, rural, city center, etc.), amenities, property reviews ( 4+ stars, highly rated for location or cleanliness), house rules, neighborhood, and nearby activities. HomeAway.com also allows users to filter by the number of bathrooms and bedrooms which is not available on some other popular vacation home rental websites. This feature is ideal for those who are traveling in large groups or for families.
Features
Hotelopia.com– Best Online Travel Agency
Rating : 9/10 Excellent
Founded in 2004, Hotelopia is a leading online travel agency, which provides accommodations at over 90,000 hotels from North and Latin America, Europe, Asia, and the Caribbean. The Hotelopia website is available in over 15 languages and accepts over 30 different currencies. Hotelopia distinguishes itself by offering two methods of reservations which are: pay online or pay at the hotel. If you use your credit card to pay for your hotel booking online with Hotelopia, there are no credit card fees attached. Hotelopia distinguishes itself as reviews on its website are from real clients who have used Hotelopia to stay at the hotels listed on the website.
Features
CheapAir.com– Leading Online Travel Agency For Cheap Airfare
Rating : 9/10 Excellent
Founded in 1989, CheapAir is a leading online travel agency that provides affordable airfares in addition to hotel accommodation and car rental services. Over the years it has been the first in many areas such as creating a voice-activated flight search app, accepting bitcoin as an alternative form of payment, and providing a semantic search feature allowing users to search for travel deals in their native language.
Features
Airwander.com– Best Online Travel Agency For Stop-over Deals
Rating : 8.8/10 Good
Airwander through its flight search tool allows users to determine the cheapest stopover city to add to their travel itinerary. This is ideal for travelers who love to explore multiple cities on their travel journey. Who doesn't love getting to visit more places at an affordable cost? Airwander provides stopovers that are 65% cheaper than regular fares.
Features
Rating : 8.7/10 Good
Sky-Tours is apart of the Big Sky Group which has been in operation for over 40 years. It distinguishes itself by providing a personalized online service where its customers are not just tickets. Sky-Tours is fast, flexible, and personal in responding to their customers. Responses to customers are personable and not scripted as it is provided by real travel experts and not bots. They provide accommodations, flight, and other travel services.
Features
Wanderu.com– Best Online Travel Agency for Bus and Train Bookings
Rating : 8.4/10 Good
Founded in 2012, Wanderu provides an efficient way to compare and find the best route and cost to reach your travel destination by combining bus and train trips. Frequent travelers are aware that traveling by train and bus is more affordable than traveling by airplane, however, navigating and finding reliable bus and train services is often challenging when you are in an unfamiliar location. Wanderu makes the task of finding train and bus services easy as it is the best online travel agency for on ground transportation. It has partnerships with hundreds of carriers and allows users to use its search technology to find affordable travel especially when there are no direct travel options to your destination. Wanderu has over 800,000 bus routes and over 1 million train routes across 30+ countries.
Features
DanCenter– Best Online Travel Agency For European Holiday Homes
Rating : 8/10 Good
Founded in 1957, DanCenter is an award-winning travel agency that has over 25,000-holiday homes in major European countries such as Norway, Denmark, Sweden, and Germany. DanCenter personally ensures the quality of its listed home through assessments done by its in-house specialist.
Best Reads
Top 10 Tourist Attractions in Denmark 2021-50% OFF Vacation Discount Code
Top 20 Hotels in Amsterdam 2021
10 Best Travel Destinations To Find Your Husband or Wife: Finding Love in 2021 Bucket List, Love Tips Included
Negril, Jamaica-The Best Destination in The Era of Social Distance
How to Select the Best Travel Insurance 2021
The Travel Virgin's Ultimate Packing List 2021