Are you a frequent traveler? Do you love to explore new places and experience cultures from all over the world? If so, then this blog post is for you! We will be discussing 5 essential travel gadgets that everyone should pack with them as they plan their next trip. These items are perfect for making your life easier while traveling, and they can also help make your trips more enjoyable. So without further ado, here are the five gadgets:
1. Portable power bank – never be without a charge again
A portable power bank is an absolute necessity for any traveler. You never know when your phone will run out of battery life, and you don't want to find yourself unable to take pictures or communicate with loved ones back home without a charge. There are many different options available on the market that fit every type of budget, so it's easy to find the perfect power bank for you.
2. A universal adapter – can plug into any outlet in the world
Finding an outlet in a foreign country can be one of the most frustrating things for travelers. Thankfully, though, you don't need to worry about that problem if you pack a universal adapter! These adapters will allow you to plug them into any outlet from all over the world and they come with multiple different plugs so it's easy to find what works for you.
A universal adapter is a great way to save time and frustration while traveling abroad. It's the perfect thing for those who are always on the go, especially because they also come with surge protection so your electronics will be safe from power surges!
You can get these adapters at any major retailer or online at many different websites.
3. Travel-sized toiletries kit with all your essentials for travel
When traveling, it's essential to have all of your toiletries with you so that you're always prepared. Packing a travel-sized toiletry kit will allow you to stay fresh while on the go and also save space in your luggage!
A good idea for this is to pack all of the essentials: toothbrush, toothpaste, shampoo and conditioner, soap, lotion or body wash, deodorant. Pack some makeup if you like to put it on every day as well!
This kit should be able to fit in your carry-on bag easily without taking up too much space or weight. Make sure that these items are travel size so they don't take up too much space in your luggage.
4. An adjustable truck hitch in case your car stuck on road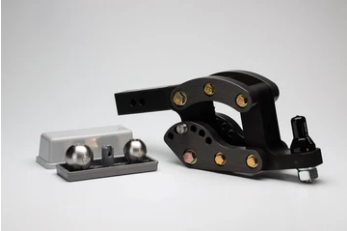 If you are traveling by car and emergencies do occur, it is good to have an adjustable truck hitch installed on your car. These hitches are very versatile and can adapt to any type of situation you might find yourself in, whether that's a tow truck needing access or the need for extra pulling power when getting out of mud or snow.
An adjustable truck hitch will be able to fit any type of car and can be installed in just a couple of hours. This is the perfect thing to have if you're traveling by car!
An adjustable truck hitch will ensure that your travel plans never get spoiled – it's like having insurance for adventurous travelers who want to explore new places without fear of being stranded on remote roads or trails. If you are stuck in the road in a remote area, you will be able to call for help and get out of your predicament safely.
As an added bonus, these hitches come with built-in safety features so you won't have to worry about anything going wrong when they are installed!
5. Luggage scale, so you know how much weight you're packing!
If you're traveling by plane, it's very important to keep your luggage weight and size in mind. Not everyone has time to pack lightly for their trip abroad – especially if they are leaving at a moment's notice!
A good idea is to use a luggage scale so that you know how much weight you're packing before heading out the door. This will allow you to be mindful of how much weight your luggage is carrying without having to guess.
A good way to save space in your suitcase, especially if you're not sure what you might need while traveling abroad, is by packing everything into a compression bag or backpack. These bags are specifically designed for travelers who want to minimize the size of their bags while still being able to pack everything they need.
This is a great thing for travelers with short notice! You could also ask family members or friends who might be willing to help you out by doing some of the packing and bringing it all on your trip abroad – this way, you'll have plenty of room in your luggage without having to worry about over packing.
In order to have a successful trip, it's important that you're prepared and can carry your belongings with ease. With these 5 essential travel gadgets, we hope that you'll be able to pack lighter and enjoy the journey!